30
Mar
2021
Published by Bonnita Calhoun Comments Off on The Importance Of Updating Your Storefront Sign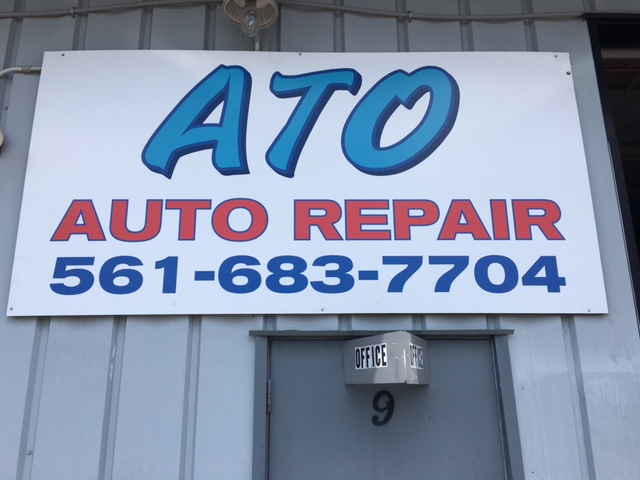 No matter the line of business you're in, your competition is always bound to be fierce. One of the top ways to ensure that you always impress your target audience is to keep things fresh. Sometimes, that can mean going to such measures as renovating your store and/or revamping your website. And, in other cases, it can be as simple as updating your storefront signage.
Believe it or not, getting a new sign for the front of your place of business can have a huge impact. It communicates to the public that your brand is forward-moving, innovative and successful. With the help of Stellar Signs & Graphics, you can take your business to the next level! What is the current condition of your storefront sign?
Check out the new ATO Auto Repair sign!
Your new storefront sign doesn't necessarily have to entail a huge overhaul. Our signage experts recently had the pleasure of creating a simple new sign for ATO Auto Repair. It is a full-color print with UV lamination on Max Metal sub-straight. The new sign has already generated a greater buzz for this fantastic auto repair shop.
"ATO Auto Repair is the only auto repair shop you'll ever need to know in West Palm Beach," reports their website, "Our computer systems experts and factory-trained mechanics can do it all, from minor auto repairs to engine and transmission replacement. You can bring us any make or model vehicle, foreign and domestic, and expect the best automotive service money can buy."
Is it time to update your storefront sign?
Perhaps your current signage isn't doing such a great job at communicating what your business is all about it. Maybe the sign you use, at the moment, isn't in keeping with your company's branding. Are the colors all wrong? Is the layout confusing? Are the letters hard to read? It's wise to provide both clarity and consistency in all of the marketing materials released by your company. Your storefront signage is no different!
"Successful businesses build a brand for themselves," agrees Pickering, Ontario's AGC Signs, "Your brand should clearly tell your customers who you are and what you do. All of your customs signs should reflect that brand. Building your brand is an important step in helping your customers easily recognize you. Rebranding could be as simple as choosing an appropriate new graphic such as a pair of scissors for a hair dresser or a cup of coffee for a cafe, and incorporating that image in all of your custom signage."
Let's get to work on a new storefront sign for your business!
The experts at Stellar Signs & Graphics serve the business communities in and around Palm Beach County, West Palm Beach, Royal Palm Beach, Wellington, Lake Worth, Boynton Beach, and Greenacres, Florida. Give us a call at 561-721-6060 today!


Tags: ATO Auto Repair, auto repair, branding, full-color print, Max Metal sub-straight, new signage, storefront sign, storefront signage, UV lamination


Categorised in: Storefront Signage

This post was written by Bonnita Calhoun