22
May
2018
Published by Bonnita Calhoun Comments Off on The New Pines Vision Care Lobby Sign Is Quite A Sight!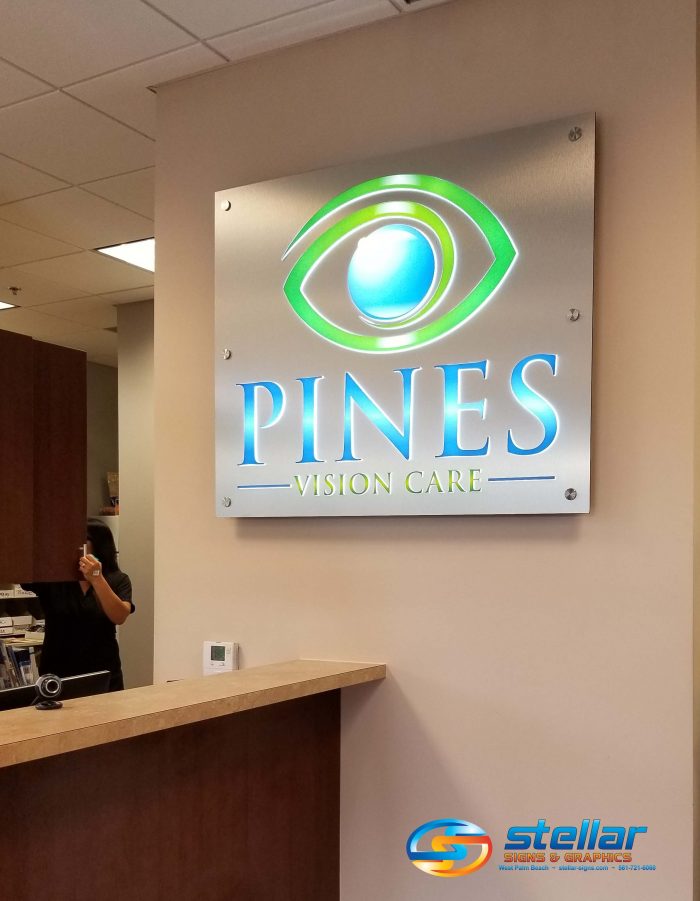 At Stellar Signs & Graphics, we care a lot about eyes. And why wouldn't we? The better a person's vision, the better he/she is able to gaze upon the wondrous signage products we've constructed for our many awesome clients all across South Florida. One of those amazing clients is Pines Vision Care. And, quite obviously, they care a lot about eyes too!
"Pines Vision Care is a full scope optometric private practice providing primary eyecare, urgent care, contact lens services, and refractive eyecare services including LASIK and premium multifocal implants," explains their website, "We have a full service laboratory on premises and are able to offer same day service on most eyeglass prescriptions."
The new Pines Vision Care lobby sign is one of our favourites!
We recently had the pleasure of manufacturing a brand new lobby sign for their Pembroke Pines location and we have to admit that we really love the way it turned out. We're sure that the uniquely designed and vividly colored logo has something to do with it. The vibrant blues and greens really complement each other.
However, we're also quite proud of the lobby sign's construction. The custom illuminated lobby sign was made using 1/2" frosted acrylic CNC cut letters and shapes with translucent print vinyl. Both a clear and an acrylic backer were used to allow for the push-thru letters and shapes to pulsate from its foundation. The sign was then mounted to a standard painted sheet rock wall with six 1 1/4" stainless steel stand-offs
The new lobby sign gives visitors something to behold!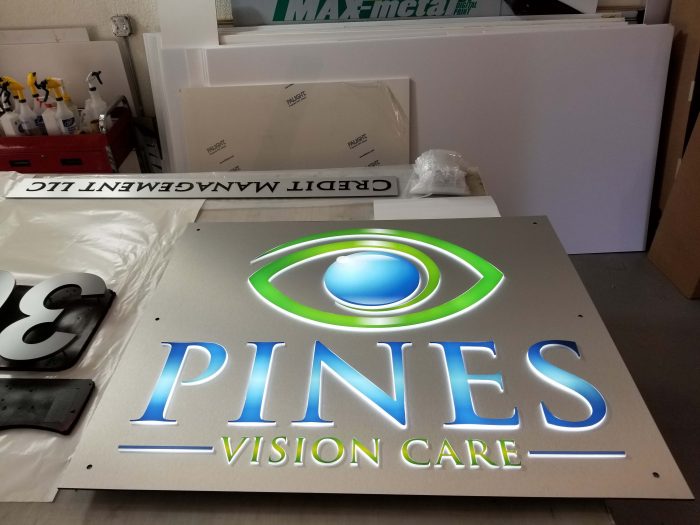 We must say that the new Pines Vision Care lobby sign definitely gives people something to look at. In keeping with the company's services, their new signage product is certainly eye-catching. That is one of the biggest benefits of having a lobby sign adorn the walls of your place of business. It actively markets your business while creating brand awareness.

Please don't hesitate to contact the signage experts at Stellar Signs & Graphics for information about the creation, manufacture and installation of a lobby sign that would be expertly customized for your company. We look forward to visiting your business location for a site survey and to discuss the vision you have for your ideal lobby marker. Our team can use any artwork that you already have on file or create a design from scratch!

We serve the business communities in and around Palm Beach County, West Palm Beach, Royal Palm Beach, Wellington, Lake Worth, Boynton Beach, and Greenacres, Florida. Give us a call at 561-721-6060 today!


Tags: lobby sign, lobby signage, Lobby Signs, Pembroke Pines, Pines Vision Care, South Florida


Categorised in: Lobby Signs

This post was written by Bonnita Calhoun