17
Oct
2016
Published by Bonnita Calhoun Comments Off on Tropical Shipping Takes Advantage of Wall Murals for Shipping Companies in West Palm Beach FL
In the business of commercial website development, target-driven online marketing, and media relations for a broad range of businesses and niches, Yuit Communication is an advertising powerhouse. When its client, Tropical Shipping, needed wall murals for shipping companies in West Palm Beach FL, Yuit's creative team put together the mural design and then contacted our professionals for the manufacture and installation of the products. Our technicians treated two areas.
An upstairs timeline wall features an 118-inch-by-119.5-inch full-color print we treated with luster lamination. We added the slogan, "Committed to Island Life," by using half-inch-thick white, acrylic lettering. Incorporating the logo was a snap with our cutting equipment. This mural fits beautifully in the setting that features beige and off-white tones.
For the downstairs timeline wall, we manufactured two sections. One measures 119 inches by 120 inches while the other ones' measurements are 191 inches by 120 inches. Another full-color, luster-laminated product set, we repeated the slogan's addition with white acrylic. We used quarter-inch brushed aluminum that we clear coated to add the year markers. Our experts achieved the depiction of the ports with the use of full-color prints that we contour-cut and then attached in a layered fashion to the mural itself.
Flat or Textured Murals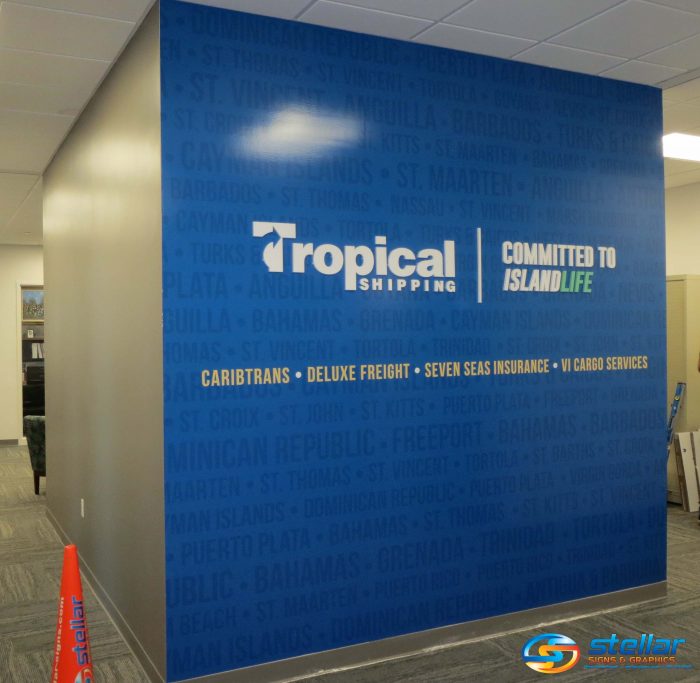 The typical mural features an attractive matte finish with a smooth look and feel. It is possible to apply it to standard painted walls, textured substrates, and even bricks. But what happens when our clients prefer a textured look? As we did for Yuit, it is possible to layer some style elements rather than adding them as part of the print pattern. Doing so creates attractive three-dimensional displays.
However, there are some additional options. For example, some of our clients like the idea of using a textured vinyl product. Examples might include the presence of honeycomb patterns or a carbon fiber appearance. Other products remind of a painter's canvas, which is ideal when you like to feature classic art reproductions on your walls. Many of our clients also like the idea of a texture reproducing the appearance of crushed stones or stucco. The latter is ideal for the printing of nature scenes, roads, or skies.
Selecting a Mural for Your Business
When discussing a mural's appearance with our clients, we usually like to visit the location for a site survey. Doing so allows us to take a close look at the substrate, which helps us to recommend the right vinyl material for the job. After taking measurements, we are better equipped to advise the client regarding the correct image sizes for their desired displays. For example, in settings where we have to make many cutouts for doors and windows, the presentation of larger images is not usually a good idea. Doing so interrupts the flow of the appearance. In these situations, smaller repetitive images are better options.
Whether you need us to manufacture and install wall murals for shipping companies in West Palm Beach FL, or you would like us to tackle a project from inception to installation, we can help. Contact us today to schedule your design consultation.

Tags: Best Sign Shop for Wall Murals For Shipping Companies in West Palm Beach FL, Tropical Shipping Takes Advantage of Wall Murals for Shipping Companies in West Palm Beach FL, Where To Buy Wall Murals for Shipping Companies in West Palm Beach FL


Categorised in: Wall Lettering, Wall Murals & Graphics

This post was written by Bonnita Calhoun