10
Sep
2019
Published by Bonnita Calhoun Comments Off on Truckside Lettering Brings More Business And Better Bang For Your Buck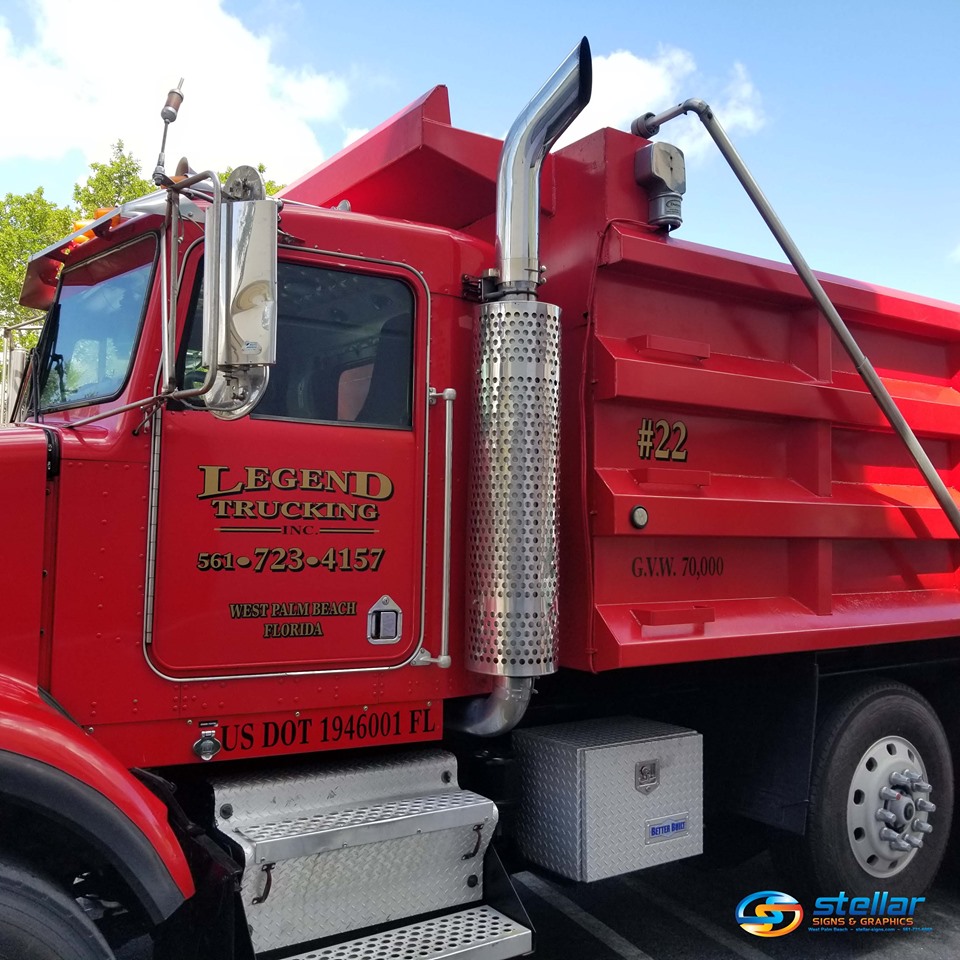 The signage experts at Stellar Signs & Graphics recently had the pleasure of completing a truck lettering project for Legend Trucking Inc. in West Palm Beach. Their big and beautiful dump trucks are now complete with the company's branding. A clever combination of the sleek Legend Trucking Inc. logo and the company's phone number adorn both the driver and passenger side doors.
We can't say enough about how important it is to beautify your company vehicle with your company's branding. Naturally, the images on your car, van or truck travel along with you wherever you happen to drive. As a result, you significantly grow the number of viewers your advertising receives.
You significantly increase your number of viewers.
"Think about it, 98% of Americans have been in a vehicle in the past week," reports IdentifyYourself.ca, "91% of those people notice truckside advertising. Many times viewers believe that the products being advertised is being delivered, they think their neighbors are using their services and they begin to generate those positive feelings toward a brand."
Vehicle wraps and lettering designs are moving billboards. Unlike traditional billboards, they don't stand in one place. Instead, they have the ability to advertise your company in countless locations. This doesn't just help to grow your audience, it also helps you to avoid the annoying rules and regulations that often come with traditional billboard advertising.
You avoid billboard restrictions.
"With truck lettering service, you can make your business vehicle a moving billboard and avoid sky-high rates and any possible restrictions that come with billboards," explains New Jersey's Image Fleet Graphics, "Additionally, you can reach your target audience more effectively. You can tap into a profitable market as your truck moves with heavy commuters. Great truck lettering gives you much-needed advertising with numerous benefits."
It's important to remember, as well, that vehicle wraps and lettering provide you with more bang for your advertising bucks. According to IdentifyYourself.ca, truckside advertising can produce about 40,000 to 60,000 impressions a day. The site also highlights the fact that vehicle graphics last for many years. By comparison, television commercials last about 30 seconds each and can't guarantee the capturing of a specific number of eyes.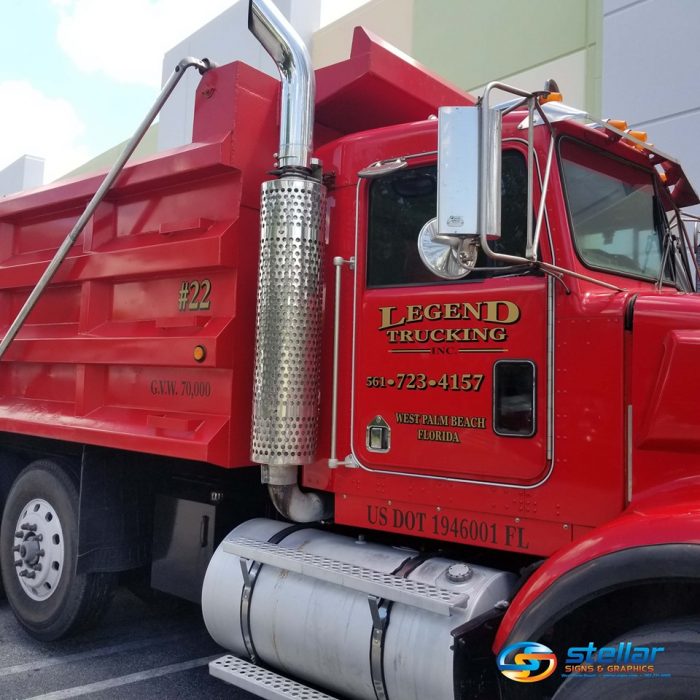 Let's get started on a vehicle wrap and lettering design for your company vehicle!
The experts at Stellar Signs & Graphics serve the business communities in and around Palm Beach County, West Palm Beach, Royal Palm Beach, Wellington, Lake Worth, Boynton Beach, and Greenacres, Florida. Give us a call at 561-721-6060 today!


Tags: dump truck, Legend Trucking Inc., truck graphics, truck lettering, vehicle graphics and lettering


Categorised in: Truck Graphics, Truck Lettering, Vehicle Vinyl Lettering, Vehicle Wraps

This post was written by Bonnita Calhoun