22
Aug
2017
Published by Bonnita Calhoun Comments Off on Turning Your Windows Into Eye-Catching Advertising Spaces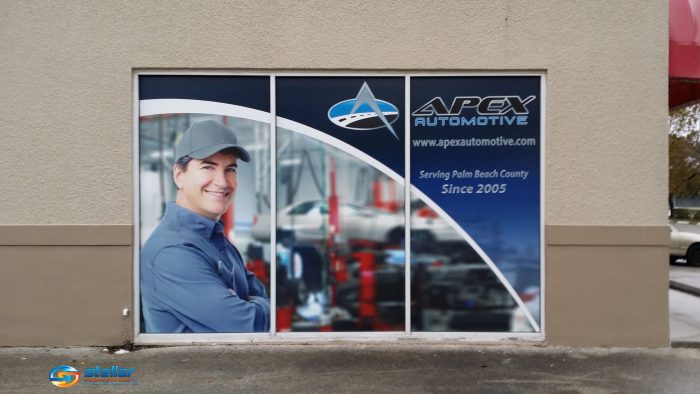 Each and every day, people leave their homes to do shopping they never expected to do. Sure, they may have had it in their minds to pick up some eggs and bread at the grocery store, but they didn't necessarily expect to come home with a new set of headphones. Consumers make impulse buys every day. And it's businesses that intrigue shoppers to come into their stores that benefit the most from such purchases.
It's all about creating attention for your brand.
When your place of business offers eye-catching imagery that can easily be seen by walkers-by, you give it a much greater chance of welcoming more visitors on a daily basis. This is what makes window graphics and lettering such an effective signage product. They are both attractive and inexpensive ways to catch the eyes of just about anyone who is in the vicinity of your business.
By covering the windows of your storefront with window graphics and lettering, you not only beautify your place of business, but enhance its image. Plain windows don't provide much of a message. Using your window space to vividly advertise your store, however, is great way to intrigue people who would otherwise just walk by. Window graphics give your place of business a much greater appeal.
Window graphics turn your windows into attention-grabbing advertising spaces.
Keep in mind that you have many options when it comes to your window graphics. You can use them to simply display your company's name, logo and/or motto or you can create inventive advertising campaigns for your products and services. Many business owners utilize their window spaces to promote their seasonal sales. That's one of the best aspects of window graphics – they can very easily be installed and uninstalled.
"With window decals, you can tell prospective customers on the street exactly who you are and what you do," reports Nancy Browning on SmallBusinessesDoItBetter.com, "With this information, word-of-mouth advertising about your company will grow within your neighborhood and spread."
Window graphics enhance your privacy.
There is somewhat of a magic element to this type of signage. It doesn't take up any additional space at your business location. And it enables you to keep yourself out of sight from the people outside while not losing sight of those same people. You can see through it from the inside looking out, but not the other way around! Awesome, right?

Of course, there are many more business-boosting benefits to installing window graphics on our windows. The signage experts at Stellar Signs & Graphics would be happy to discuss them with you in greater detail. We serve the business communities in and around Palm Beach County, West Palm Beach, Royal Palm Beach, Wellington, Lake Worth, Boynton Beach, and Greenacres, Florida. Please don't hesitate to give us a call at 561-721-6060!


Tags: Best Sign Shop for Window Graphics and Lettering in Palm Beach Gardens FL, lettering, Vinyl Door and Window Perf in Palm Beach Gardens FL, window graphics


Categorised in: Window Graphics, Window Lettering

This post was written by Bonnita Calhoun