17
Feb
2017
Published by Bonnita Calhoun Comments Off on Upscale Home Builder Promotes Company with Property Signage in Palm Beach County FL!
Frequent readers of our blog will remember the cast bronze plaques we created for a Shapiro Pertnoy project last year. These products became suitable street number and venue name displays that fit in beautifully with the area's overall atmosphere. After installing this property signage in Palm Beach County FL, it resulted in artistic displays of wayfinding information that perfectly suited homeowners' tastes. It also highlighted the builder's brand message.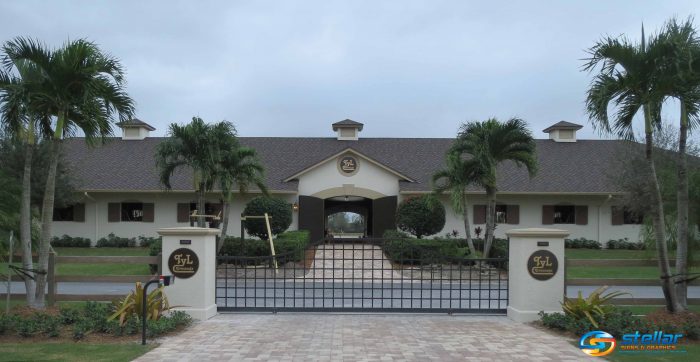 When Shapiro Pertnoy contacted us again, the business needed a post and panel sign for its Pembroke Pines medical office space location. Available as a "for lease" or "build to suit" location, the custom builders requested a marker product that would bespeak its upscale and sophisticated brand. We complied with an ornamental post and frame display that features a blue and white board with the information. We placed it in the landscape where it stands out in all the right ways.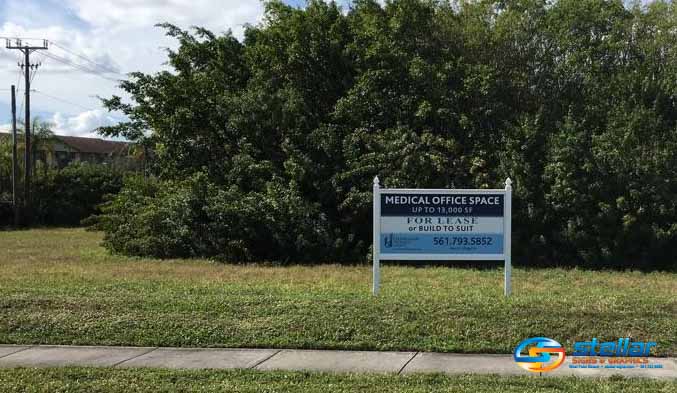 Home builders do, of course, recognize the importance of communicating their brand messages succinctly. The goal is the introduction of a company, its overall approach to doing business, and a good understanding of what this particular group of professionals can do for the consumer. In addition to cast metal plaques as well as post and panel signage, there are other options, too.
Flags. Choose from flutter flags that catch the eyes of motorists or passersby. If you are in the business of leasing a set of offices or condominiums, the use of light post flags works well. These products remain in place and address prospective tenants with the benefits of living or working at the location. Include your corporate color palette as well as your brand message.
Banners. Business clients have had excellent success with oversized vinyl banners that hang suspended from the side of a building. You have seen these at special occasions hosted by art galleries and museums. We can create these types of products for your properties, too. Whether you plan on welcoming potential buyers at a pre-sale walk-through of model homes, or you are ensuring that a Class A office building is filled, these products deliver. For interior banners, we recommend the display of fabric as opposed to vinyl. The material bespeaks the upscale vibe you want to get across.
Fence signs. Vinyl clad aluminum signs are ideally suited to present an architect's drawing of the property. Whether it is a commercial or residential setting, this is the kind of signage that resonates with passersby. Envisioning themselves living at a new building development, it is possible to sell properties even before you finish some or all of the project. Other fence signs you might consider would identify the name and logo of your business as well as its niche.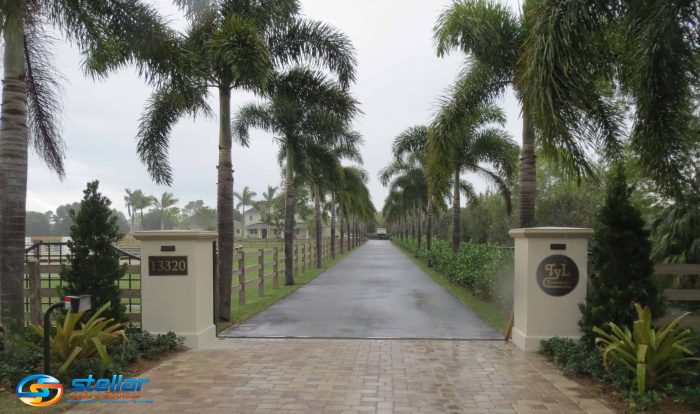 Do you need property signage in Palm Beach County FL? Contact our experts at Stellar Signs & Graphics. We serve the business communities in and around Palm Beach County, West Palm Beach, Royal Palm Beach, Wellington, Lake Worth, Boynton Beach, Palm Beach Gardens and Green Acres.
Call us today!


Tags: Best Sign Shop for Property Signage in Palm Beach County FL, Upscale Home Builder Promotes Company with Property Signage in Palm Beach County FL!, Where To Buy Property Signage in Palm Beach County FL


Categorised in: Plaques, Post and Panel Signs, Property Signage

This post was written by Bonnita Calhoun