20
Feb
2017
Published by Bonnita Calhoun Comments Off on Using Vinyl Covers for Dedicated Parking Spaces in West Palm Beach FL
Located at 5407 North Haverhill Road, JKA Pump is the go-to pumping equipment supplier of the area and beyond. Because the company does business in a location where there is plenty of foot and vehicle traffic, customers cannot always find parking spots. To ensure that its clients get use of the spots the company pays for, its management team contacted our professionals to design, manufacture, and install vinyl covers for dedicated parking spaces in West Palm Beach FL.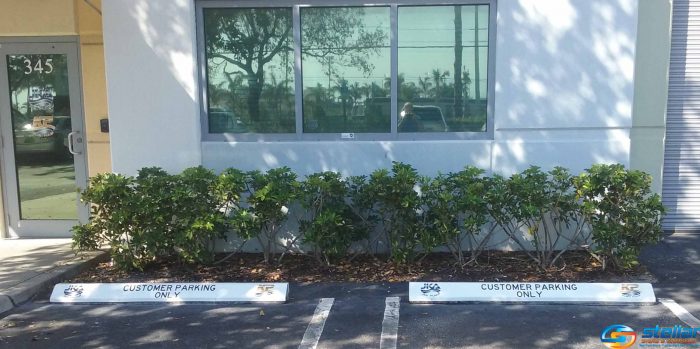 After consulting with our clients, we created white parking stop covers that feature the company's logo on either end. In the middle, the lettering identifies that the spots are reserved for customer parking only. Doing so gives the customers of other businesses a heads up that these areas are reserved for JKA Pump's clients. Since we used long-wearing vinyl, we ensured that cleanup would be easy. This guarantees that the parking area looks neat, professional, and inviting for a long time to come.
Express a Brand Message with Stop Covers
Of course, if you have a different color combination in mind, we can most certainly accommodate your vision. In fact, did you know that you could generate plenty of interest in your company by dressing up the parking stops? If you use paint, you are committed to the look for a long time. However, if you opt for vinyl covers instead, you can change the appearance with the seasons or for special occasions. Imagine the impressions you could make on shoppers by having festive stop covers for the winter holiday shopping season. Now, envision how curious they will be when you change them to something else altogether. Add messages to the mix that encourage shoppers to come closer and learn more.
Enhance Parking Lot Safety with Vinyl Products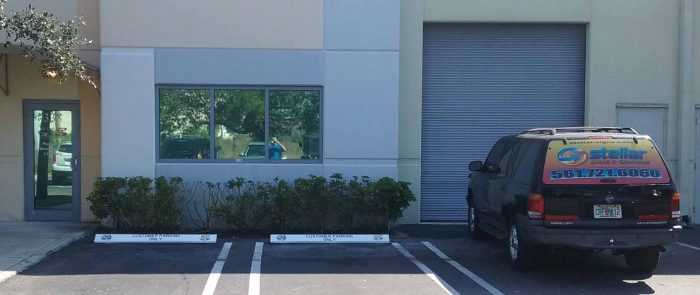 Stop covers are also instrumental in improving the safety of the parking area. For example, add vinyl covers featuring reflective colors to enhance visibility after dark. This practice prevents those using the lot from overshooting the spots and damaging the bottoms of their vehicles. Nevertheless, you might also consider other vinyl products. For example, vinyl floor graphics are instrumental in dressing up speed bumps to signal drivers that it is time to slow down. Additional vinyl floor stickers create zebra crossings, pedestrian zones, and no-parking areas.
Augment the floor stickers with signs. We typically produce aluminum post and panel signs that we cover with an imprinted vinyl overlay. Doing so allows us to customize the message with your needs in mind. Retailers, in particular, appreciate the opportunity of ensuring a safe parking and walking environment. In the medical field, those managing hospitals and similar facilities rely on parking lot safety signage and floor stickers to allow access for emergency vehicles.
Need Vinyl Covers for Dedicated Parking Spaces in West Palm Beach, FL?
If post and panel signs are not to your liking and the daily transport of an A-frame sign with a parking notice does not sound like a workable solution, consider the installation of these vinyl parking stop covers. Call us today to learn more!


Tags: Branded Parking Space Vinyl Curb Covers, Parking Space Curb Covers, Vinyl Covers for Dedicated Parking Spaces in West Palm Beach FL


Categorised in: Branded Curb Covers, Parking Lot Curb Covers, Vinyl Curb Covers

This post was written by Bonnita Calhoun