6
Mar
2017
Published by Bonnita Calhoun Comments Off on Veterinarian Brands with Vinyl Door and Window Perf in Palm Beach Gardens FL
Located at 4019 Hood Road, the Veterinary Specialty Hospital of Palm Beach Gardens is a 24-hour emergency clinic as well as a standard go-to location for all of your pet's health care needs. The experts specialize in a new cancer treatment for dogs that is getting a lot of attention. To ensure that clients have an easy time locating the entrance to the clinic, the business' management team contacted our professionals to put together a vinyl door and window perf in Palm Beach Gardens FL
After consulting with the client, we put together a top to bottom perforated plastic product with a 65/35 micropuncture ratio. Displaying a frosted white color, the window portion features the colorful image of a dog and cat as well as the "Advanced Care" and "24 Hours A Day" notations. On the door itself, we display the logo, name abbreviation, and contact details. The entryway is now an ideally suited wayfinding, branding, and advertising tool rolled into one. It also creates an attractive visual presentation at the end of a well-manicured walkway.
Why Choose Perforated Vinyl?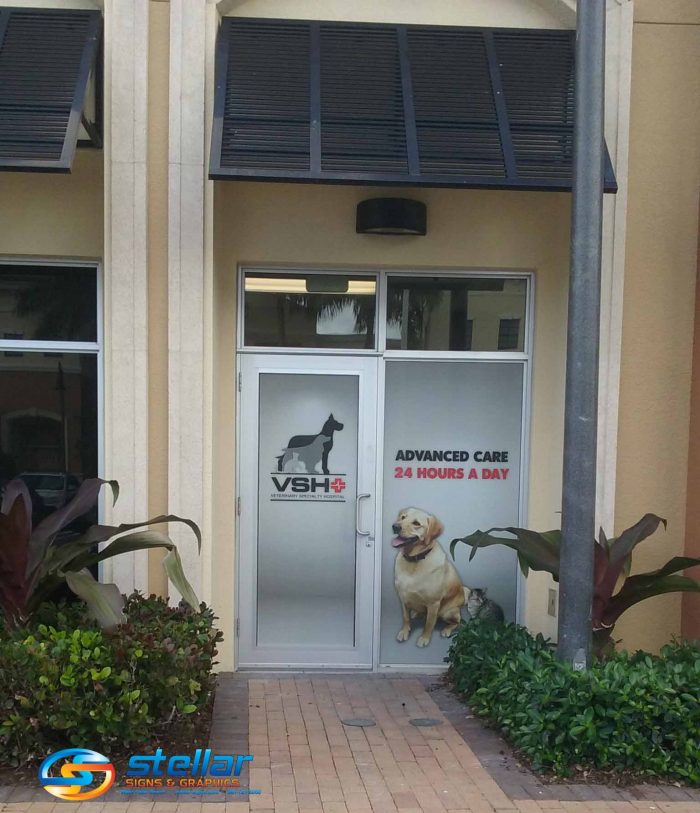 Could the client have chosen an opaque product instead? Sure, and it would have looked just as nice. But by picking out a perforated vinyl material, it allows light to stream into the venue and those on the interior to see outside. The 65/35 notation spells out that there is 65 percent vinyl to 35 percent in micropunctures. Although this would not be suitable for a vehicle's rear window, which is a highly popular application for the product, it is ideally suited for an entrance.
We install the product on the glass' exterior. First, of course, we prepare the area by expertly cleaning and drying the substrate. During our consultation appointment, technicians already measured the windows to ensure that the product would fit perfectly with just a tiny gap around the edge of the window and door glass panes. This procedure is a necessity to allow for a future removal (if you were intent to update the product, re-brand, or simply want to remove it because you change locations). The typical lifespan of a perf varies, depending on the overall site conditions and care you take with the product. Most business clients get between three and seven years of useful life out of the vinyl; some might even enjoy it for longer.
Ordering a Vinyl Door and Window Perf in Palm Beach Gardens FL
The experts at Stellar Signs & Graphics serve the business communities in and around Palm Beach Gardens, West Palm Beach, Palm Beach County, Royal Palm Beach, Wellington, Lake Worth, Boynton Beach, and Green Acres, FL. Our graphic artists assist you with the creation of a graphics product that encapsulates your brand message while advertising the business. We help you with the wording if needed.
If you prefer to commission standard window graphics and lettering instead of a perforated setup, we can assist you with that as well. Contact us today to get started on the project!


Tags: Best Sign Shop for Vinyl Door Graphics in Palm Beach Gardens FL, Veterinarian Brands with Vinyl Door and Window Perf in Palm Beach Gardens FL, Where To Buy Vinyl Door and Window Perf in Palm Beach Gardens FL


Categorised in: Perforated Window Wraps, Vinyl Window Graphics, Vinyl Window Graphics Palm Beach Gardens FL

This post was written by Bonnita Calhoun