11
Dec
2015
Published by Bonnita Calhoun Comments Off on Wall Art and Lighted Signs Shine at Greenacres Bowl
Located at 6126 Lake Worth Road, Greenacres Bowl is your destination for league and family bowling. On weekends, laser rock and bowl events draw younger crowds. Leagues form to accommodate players of all ages. The Get Smart youth program is another feature that endears this bowling center to parents and the community alike. When the business needed new signage, its management team contacted the professionals at Stellar Signs & Graphics.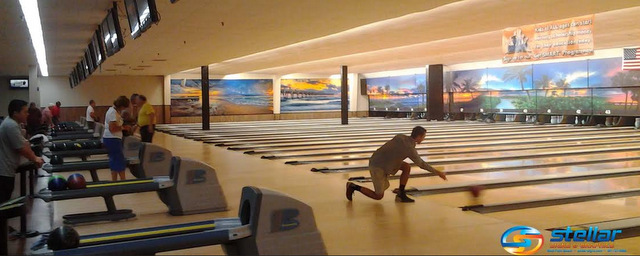 At the heart of the need for signs and graphics for bowling centers in Palm Beach County, FL, was the team's desire to update the look of the center. A short deadline for the project had to accommodate arriving snowbirds and active leagues. Could our graphic artists, technicians, and installers get everything done in time? You bet!
Greenacres Bowl Gets a New Look
For starters, we created four illuminated, large lobby logo signs. They feature the iconic Gator that is illuminated from behind. These signs measure 49 inches in width and 47.5 inches in height. A clear acrylic backer features a laminated and printed graphics scheme on the top and brushed metal laminate on the bottom half. For the palm tree, we used black acrylic. We used the same material for the gator but covered it with an imprinted laminate that shows off its design. Mounted with half-inch standoffs, white LEDs create the halo effect that makes the sign pop. For the lettering, we used PVC that we painted with the company's colors.
Another part of the project included 36 main back wall panels that feature full-color prints on vinyl material. Next, we mounted the vinyl to corrugated cardboard. The panels measure 133.5 inches by 48 inches. Beach, palm and evening scenes now set the tone. For the sides, we created 48 wall panels. They measure 96 inches by 48 inches and rely on full color imprinted vinyl for the image display. We mounted these graphics to stinger boards. They continue the imagery of the ocean and sunset motif. Finally, we added five record signs, one pricing board, and one sponsor banner.
Changing the Atmosphere with Signage Combos
When you enter Greenacres Bowling now, you immediately notice the change in the environment. The cohesive wall art and lighted signs suite welcomes bowlers and combines fun and the promise of excitement with a calming set of lane images. This combination succeeds at appealing to multiple age groups and making this the type of facility that becomes a destination for locals and tourists alike.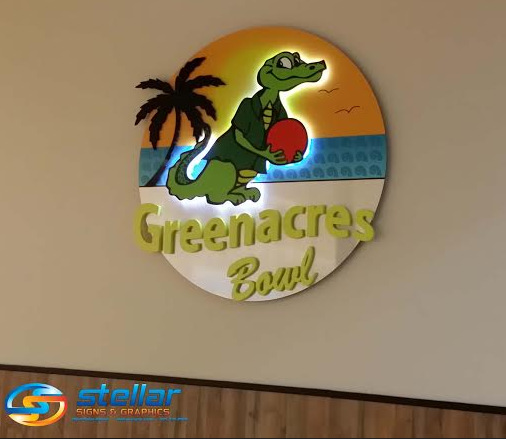 When you want to revamp the look and feel of your business with a combination of signage products, the secret to success is your selection of the right signage shop. While discussing signs and graphics for bowling centers in Palm Beach County, FL, our graphic artists succeeded in determining a common thread that tied all the products together and then incorporating it into the design and installation method of each one. Moreover, these pros knew how to mix and match multiple material types for a layered visual appeal that does not disappoint. Contact us today for more information on this product design and to discuss your own project.

Tags: Lighted Signs for Bowling Centers Palm Beach County, Wall Art and Lighted Signs for Bowling Centers, Wall Mural Panels for Bowling Centers in Palm Beach County


Categorised in: Interior Signs, Lobby Signs, Wall Murals & Graphics

This post was written by Bonnita Calhoun