30
May
2017
Published by Bonnita Calhoun Comments Off on How Wall Murals & Digital Art Can Tell The Story Of Your Brand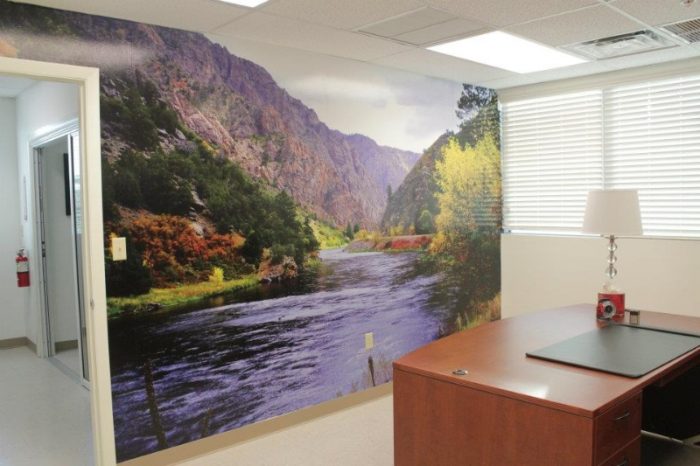 Your place of business is made up of at least four walls – likely more. What's on them? Perhaps, you have a clock. Chances are you may have some pictures up too. But what are your walls truly doing for your business? Other than keeping you safe and dry when the clouds open up, your walls are most likely being underutilized. The incredible Wall Murals & Digital Art offered by Stellar Signs & Graphics can change all that!
Believe it or not, the vast flat surfaces that are the walls of your place of business make for excellent advertising spaces. Wall murals allow you to use your company's wall space to its full potential. Consider the impact a dazzling "billboard" will have on the visitors to your place of business. This type of signage is known for influencing visitors to businesses to make purchases.
How can your company's walls tell its "story"?
The interior design of your place of business says a lot about your company's brand image. This is why wall murals have been such popular choices inside restaurants, car showrooms and sales centers, reception areas at health and sports clubs and even waiting rooms for doctors and dentists. The eye-catching qualities of wall murals practically demand attention from current and potential customers.
Wall murals are bold statements about your place of business. They have the ability to vividly showcase your products and/or the glee that people experience when using them! When uniquely created to represent your brand, a wall mural can do a lot to generate particular impressions of your company. In fact, research has shown that large, bold, bright and colorful images encourage customers to spend money.
What is the best location for your wall mural?
The truth is that there is no one answer to this question! It all depends on the makeup of your office or store space. Wall murals have been known to add a boost of energy to a wide variety of locations – conference rooms, lobbies, corridors and hallways, to name a few. And one of the best aspects of wall murals is that, unlike a standard paint job, they can be placed on your walls easily and very efficiently.

Call Stellar Signs & Graphics at 561-721-6060 to learn more! We serve the business communities in and around Palm Beach County, West Palm Beach, Royal Palm Beach, Wellington, Lake Worth, Boynton Beach, and Greenacres, Florida.


Tags: digital art, wall lettering, Wall Murals, wall murals and graphics, wall signs


Categorised in: Wall Lettering, Wall Murals & Graphics, Wall Signs

This post was written by Bonnita Calhoun