8
Sep
2020
Published by Bonnita Calhoun Comments Off on We're Happy To Have Designed An All-Star Monument Sign!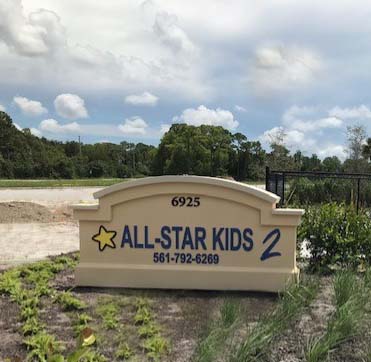 We all want the best for our children. This is especially true as we all continue to endure the coronavirus pandemic. It is imperative we find safe solutions for our children when childcare is needed. Loxahatchee's All-Star Kids Early Learning Center is the perfect choice for your family! This excellent childcare and education facility offers a unique mix of technology-filled classrooms, highly trained educational staff, security code entry and age-appropriate curriculum.
"What we can offer your child sets us apart from other preschools," insists the All-Star Kids website, "Our age-specific programs range from infant through pre-K (6 weeks – 5 years old), as well as before and after school care for youth 5 years to 12 years old. Your child is your pride and joy, and we would love the opportunity to contribute to the educational foundation they deserve!"
Check out the new All-Star Kids monument sign!
In the fall season, that is soon approaching, All-Star Kids Early Learning Center will be opening a brand new location. We're elated to have been entrusted with manufacturing a brand new monument sign for their second facility in Loxahatchee.  As you can see in the photo above, the new location will be known as All-Star Kids 2. The monument sign is made with double sided custom fabricated 5′ x 10' PolyArmor EPS foam with raised letters.
We're confident this new monument sign will work wonders in alerting all passers-by of the new All-Star Kids location. That's the great benefit of monument signs. They make clear the location of your place of business!
"Outdoor monument signs can be very useful to create a lasting impression," writes Lisa Anderson on ExpertBusinessAdvices.com, "Architectural monument signs guide the customers to your business. They are highly visible and attract the potential clients. As they are permanent signs beside the sidewalk, they provide more exposure and promote company's brand for both feet as well as vehicular traffic."
Let's design a monument sign for your place of business!
At Stellar Signs & Graphics, we work with a broad range of materials. We make it our mission to get the look of every monument sign just right. Stucco, foam, acrylic, aluminum – we utilize whatever is necessary to get you the look you're looking for. In addition, we provide you with the option of installing a lit or unlit marker. This all depends on the set up of your site and your preference.

The experts at Stellar Signs & Graphics serve the business communities in and around Palm Beach County, West Palm Beach, Royal Palm Beach, Wellington, Lake Worth, Boynton Beach, and Greenacres, Florida. Please don't hesitate to give us a call at 561-721-6060 today!


Tags: All-Star Kids Learning Center, benefits of monument signs, childcare, education, Loxahatchee, monument sign, monument signs, new location


Categorised in: Monument Sign Letters, Monument Signs

This post was written by Bonnita Calhoun