14
May
2019
Published by Bonnita Calhoun Comments Off on Why New Signage Is Critical At Your New Location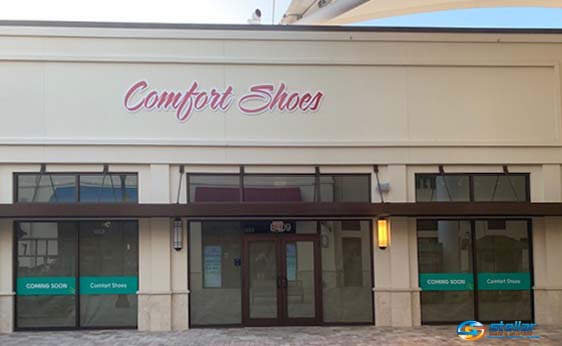 The signage experts at Stellar Signs & Graphics recently had the pleasure of completing a new storefront sign for Comfort Shoes inside the Palm Beach Outlet Mall. We have completed numerous projects for a variety of clients who have businesses inside the mall and, as a result, know just how important it is for such signage to be vibrant and eye-catching.
A mall, quite obviously, contains numerous businesses all vying for the attention of the same shoppers. Having a business location inside a mall requires you to have a storefront sign that helps to distinguish your brand from all of the others that surround you. This is especially important if you're moving locations.
Comfort Shoes moved from one location to another inside the Palm Beach Outlet Mall.
To many shoppers looking for the store, it would be pretty confusing if a new sign wasn't erected at the new location. Comfort Shoes made the smart move of having their new sign constructed and installed before the new location was even opened. That way, shoppers are given the heads up about the store's new spot inside the mall.
Without the new sign, shoppers may have been given the impression that Comfort Shoes had left the Palm Beach Outlet Mall for good or, worse, went out of business completely! The new Comfort Shoes sign is made up of white PVC letters and shapes with contour cut red vinyl on its face. The sign was stud mounted to the building.
Signage is critical to your business.
Not only does your storefront sign alert people to where your business is located, it projects a particular impression about your brand. Is it worth checking out? The quality of your sign will often determine that answer for most onlookers.
"When customers or clients come to your facility, they expect to be able to find what they need quickly and easily," says Piedmont Plastics, "Signage introduces them to your brand when they first enter your property, holding your logo and name, and then directs them through the parking area…Attractive signage supports your branding efforts and makes your company look professional. It can also support your marketing efforts at trade shows and in your storefront windows."
Are you moving locations and need a new sign constructed for your storefront?
Please don't hesitate to contact the signage experts at Stellar Signs & Graphics today! We serve the business communities in and around Palm Beach County, West Palm Beach, Royal Palm Beach, Wellington, Lake Worth, Boynton Beach, and Greenacres, Florida. Give us a call at 561-721-6060.


Tags: Comfort Shoes, new location, Palm Beach Outlet Mall, red cut vinyl, signage, storefront signage


Categorised in: Signage Planning, Signs for Mall Stores

This post was written by Bonnita Calhoun