6
Jul
2021
Published by Bonnita Calhoun Comments Off on 3 Important Reasons To Update Your Company's Signage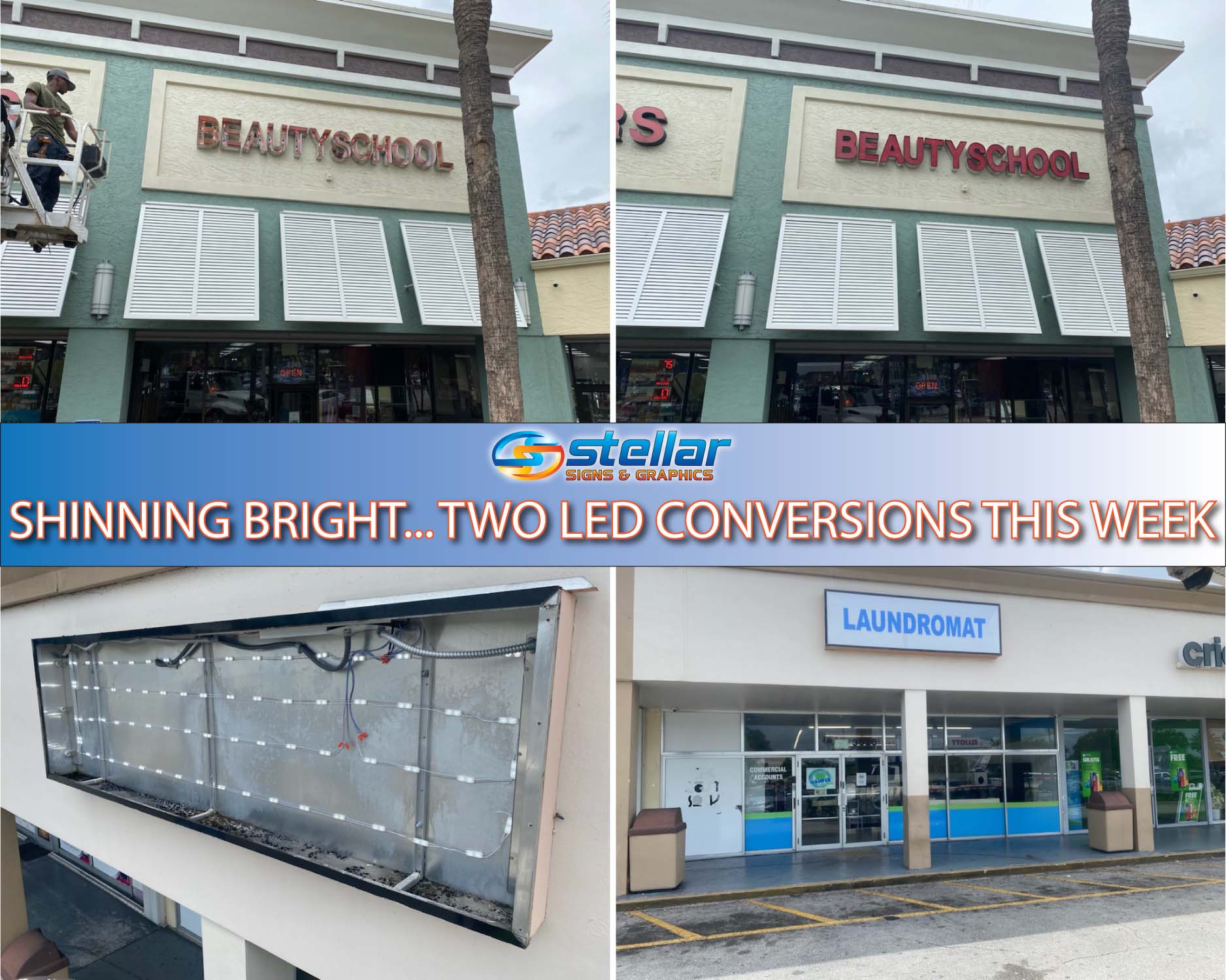 When is the last time you updated the signage for your business? It may sound strange, but the signs that represent your brand are kind of like your car. Every now and then, they need a bit of a tune up. Not only should they be kept in pristine condition, but your signage should be updated to reflect the forward-moving and innovative nature of your brand. A sign that never changes is a sign of a business not progressing.
The Stellar Signs & Graphics team recently completed two different LED conversion projects. Part of the Beauty School's sign wasn't working. While we were on site, we realized it would be more cost-effective to convert the sign to LED instead of simply replacing the bad bulbs.
The Laundromat's sign wasn't working at all. Our crew converted the sign to LED and added a new face with lettering. The new owners, Fifi & RYB Investments LLC, are not only updating the storefront signage, but they are renovating the inside as well.
Do you need to change your storefront sign? Here are three important reasons to update your company's signage:
1. To establish your brand as reputable.
Every single day, people walk past your store and don't give it a second glance. Because they see the exact same signage all the time, it effectively becomes white noise. It's not even noticeable to them. To genuinely intrigue onlookers and have them get excited about your business, you need to ensure your signage is impressive.
"A 2012 FedEx survey found that 76% of consumers will enter a shop they've never visited before based on the strength of the signage," reveals the marketing solutions firm, Hygrade Business Group, Inc., "but more importantly, 52% said they would be reluctant to shop if the signs were not well done."
2. To save money on electricity.
Do you have a neon sign? While it's a great idea to use illumination to attract eyes towards your company's signage, you could be overspending on your electric bill. By making the switch to LED, you'll not only enjoy longer lasting reliability, you will save a bundle on electricity costs.
"LED signs can last an average of 10 years so you won't have to worry about constant replacement," reports Renu Sharma on SmallBusinessBonfire.com, "Neon signs, on the other hand, will need periodic refills and maintenance so as to keep them working."
3. To attract members of your target audience.
Do you own a toy store but have its signage written in calligraphy? Although that's an unlikely scenario, it's important to keep in mind the need to speak directly to your target audience. Has your audience changed over the years? It's vital that you capture the attention of the consumers most likely to support your brand. What images would interest them the most? Consider those images for your new signage.
"To be effective, your signage must reach the customers you're going after in look, in feel, and in messaging," says Hygrade Business Group, "You have the right customer, at the right time, but do you have the right message? Clear signage can make all the difference."
Let's get working on a new sign for your business today!
The experts at Stellar Signs & Graphics serve the business communities in and around Palm Beach County, West Palm Beach, Royal Palm Beach, Wellington, Lake Worth, Boynton Beach, and Greenacres, Florida. Please don't hesitate to give us a call at 561-721-6060.


Tags: beauty school, laundromat, LED, LED conversions, LED lights, new signage, signage, storefront signage, updated signage


Categorised in: Illuminated Signs, LED, Sign Refurbishing, Sign Restoration, Storefront Signage

This post was written by Bonnita Calhoun