30
Oct
2018
Published by Bonnita Calhoun Comments Off on 4 Benefits Of Creating Retractable Banner Stands For Your Business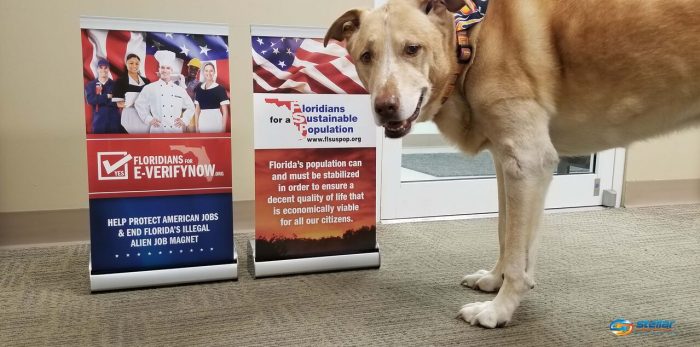 As numerous business owners from all over South Florida can attest to, trade shows and conferences are among the absolute best places to set up shop in order to grow a business. The opportunity to meet countless new industry contemporaries and consumers alike is one that trade shows and conferences provide like no other experience.
In order to make a memorable impact at any such event, it's vital that you come equipped with eye-catching signage. For the ultimate trade show experience, you need a retractable banner stand. They can be constructed for placement on either the floor (for "human-sized" displays) or for table tops. No matter the size of the retractable banner stand you choose, you will enjoy a long list of benefits.
Here are four:
1. They are super easy to set up and take down.
As their name implies, retractable banner stands allow you to pull out your exquisitely designed signage for display and then retract it to pack up and carry with you after use. They literally take just a few seconds to set up and take down. Simply pull the banner out of its base the same way you would a window shade. Attach the banner to its support pole and you're all set to wow your trade show visitors all day long.
2. They are conveniently portable.
Retractable banner stands are just as easy to carry around with you as they are to set up and take down. Because the signs retract into their aluminum bases, transporting them from one venue to another is incredibly effortless. Most of our clients simply fit their stands into nylon-padded traveling cases and place them into the trunks of their cars.
3. They are effective at communicating your brand message.
You can choose any design you wish for your retractable banner stand. Vivid photos, your company logo and slogan, your contact information – you name it! – they can all be part of your retractable banner stand design. At trade shows and conferences, these signs work wonders at attracting walkers-by, giving business owners ample opportunities to introduce their products and services to new potential customers.
4. They are cost-effective.
If you're looking for a way to advertise your company without digging too far into your advertising budget, retractable banner stands are your answer. As mentioned, there is a variety of sizes and design options to choose from in order to suit your specific price range. Our many years of experience have taught us that retractable banner stands provide excellent value for the investment.

Let's get to work on a retractable banner stand for your company! The experts at Stellar Signs & Graphics serve the business communities in and around Palm Beach County, West Palm Beach, Royal Palm Beach, Wellington, Lake Worth, Boynton Beach, and Greenacres, Florida. Give us a call at 561-721-6060 today!


Tags: banner stands, retractable banner stands, table top banner stands, trade show displays, trade shows


Categorised in: Backdrop Banners, Banners, Retractable Banner Stands, Table Top Displays, Trade Show Displays, Trade Show Graphics

This post was written by Bonnita Calhoun