5
Jul
2017
Published by Bonnita Calhoun Comments Off on ADA Signs: Ensuring Safety For All With A Touch Of Class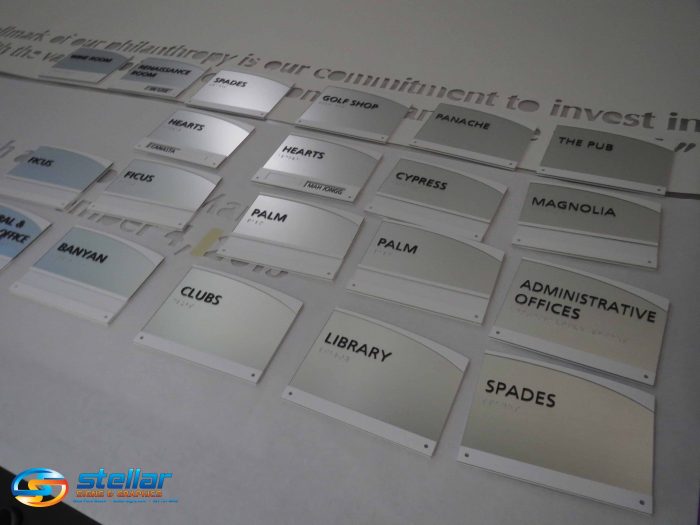 On behalf of the entire team, here at Stellar Signs & Graphics, we hope you enjoyed an amazing Independence Day with your families and friends! As proud Americans, we always enjoy the opportunity to honor our country every July 4th. But, of course, it's back to work today. And our team looks forward to helping your team enjoy an incredible second half of the year.
One way we feel we're able to do that is by equipping your office with ADA safety signs. These aren't your average signs, by the way. They are a type of way-finding signage that is ideal for big office spaces with various hallways and offices. ADA signs are regulated by the Americans with Disabilities Act – hence the initials. That means that they must adhere to certain rules in order to be compliant with the law.
What rules are set out by the ADA?
ADA safety signs are designed to assist those who have physical disabilities and vision impairments with finding their ways around the places of business they visit. The rules and regulations include having signs display a contrast of 70 percent so that they can easily be seen against the walls they are mounted on.
In addition to having contrasting colors, ADA signs must also have specified font styles, heights and mounting locations. As well, many ADA safety signs are required to incorporate Braille. That way, those with vision impairments can read them. With this type of way-finding signage, it makes your place of business a welcome venue to everyone who visits it. ADA signs make it easy to find your company's appropriate departments as well as elevators, washrooms and offices.
How can Stellar Signs & Graphics help you to get the perfect ADA safety signs for your business?
Our signage experts are committed to creating ADA signs that service a double purpose.
They must adhere to ADA regulations – that goes without saying.
They must be uniquely designed to both compliment and enhance your brand image. We make it a point to ensure that your company's ADA signs match the interiors of your place of business. The signs should add to your office's décor while also helping it to be an easy place to navigate.
We serve the business communities in and around West Palm Beach, Palm Beach County, Royal Palm Beach, Wellington, Lake Worth, Boynton Beach, and Greenacres, Florida. Contact us to learn more about how our ADA safety signs can enhance the look and feel of your place of business. Give us a call at 561-721-6060 today!


Tags: ADA safety signs, ADA Signs, Americans with Disabilities Act, Wayfinding Signs


Categorised in: ADA Accessibility Signs, ADA Signs, Wayfinding Signs

This post was written by Bonnita Calhoun