10
Apr
2017
Published by Bonnita Calhoun Comments Off on Ask Us About Office Signs for Attorneys in Palm Beach County FL!
When selecting office signs for attorneys in Palm Beach County FL, there are three main design strategies we follow.
Professional presentation.
Excellent use of available space.
Clear wayfinding messages.
Do you ever wonder what this looks like in practice?
A Professional Presentation Relies on the Right Material Selection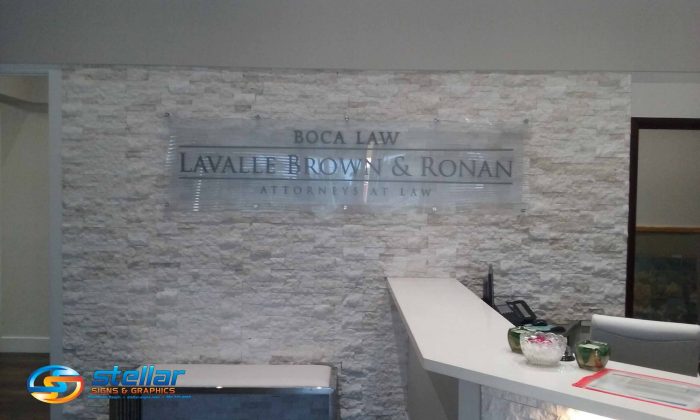 The most important decision you make when selecting your law firm's lobby sign is the material choice. You may have already discussed with our experts whether you want to present a logo board or a set of dimensional letters. Beyond this decision, you now get to pick out the raw materials we use for the task. For panel lobby signs, we typically favor acrylic or aluminum. When you choose dimensional letters, you might also add other metals, PVC, and sign foam to the mix.
What makes the material selection so important is the set of possibilities it opens up for other decisions. For example, an acrylic logo board easily installs with airplane cables, brushed aluminum standoffs, or flush mounting hardware. Sign foam, on the other hand, typically fits flush on the wall. If you want to present a few little extras for pizzazz, it will have to come in the way of design specifications. Examples might include facings, hidden LEDs, and vinyl overlays featuring 3D designs.
Condensing Information for a Value-added Experience Exemplifies the Best Use of Window Graphics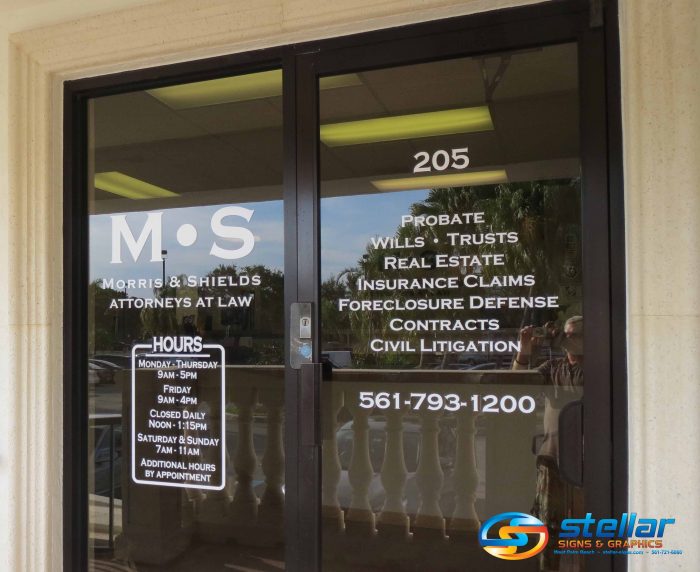 Prospective clients want information about your law office. Sure, they probably looked up your information on the internet. Some may have received a personal recommendation. Even so, once these consumers arrive at your office, the judicious use of window and door graphics can make a great first impression. It can also answer a lot of questions that your receptionist would otherwise have to field.
As a general rule of thumb, we recommend featuring your firm's name, logo, and contact information. A phone number is ordinarily enough although some clients like to include a website address as well. Follow up on this information with a brief listing of your areas of practice. Doing so adds value to the presentation for passersby. Rather than having to go online and research what you do, the lettering already spells it out. Finally, remember to present your hours of operation. This setup allows clients to plan their appointments according to your availability.
Excellent Wayfinding Functionalities Bring in Clients and Foot Traffic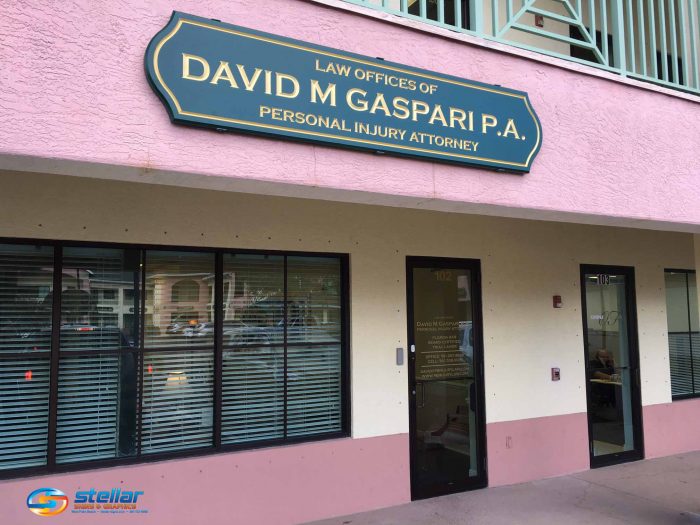 Building signs should impress, but they also have to identify your location clearly. The wayfinding function becomes even more important when there is no other opportunity for signage such as window lettering, a monument sign, or a similar setup. But how can you stand out from other enterprises that are around you? Our business clients have had excellent success with the use of high-density urethane (HDU) that we sandblast or carve. By filling in the lettering with tones from the corporate color palette, you present your brand message while also heightening the aesthetic value of the sign's appearance.
Of course, you have many more options open to you when thinking through a set of office signs for attorneys in Palm Beach County FL. Call us today to get additional information!


Tags: Ask Us About Office Signs for Attorneys in Palm Beach County FL!, Best Sign Shop For Office Signs For Attorneys in Palm Beach County FL, Where To Buy Office Signs in Palm Beach County FL


Categorised in: Business Signs, Office Signs and Graphics, Wayfinding Signs

This post was written by Bonnita Calhoun