31
Mar
2017
Published by Bonnita Calhoun Comments Off on Ask Us About Boat Decals for Palm Beach County FL!
Florida boaters treat their vessels in the way Southern California car aficionados baby their rides. The boats typically come with a white gel coat from the factory. However, customizing the display with the required numbers and lettering is one thing. Decking it out with eye-catching custom boat decals in Palm Beach County FL, is quite another. For the latter, we frequently work with boat owners who overhaul the appearances of their vessels before the season heats up or who want to get that first graphic and name display.
Case Study: the Pole Bender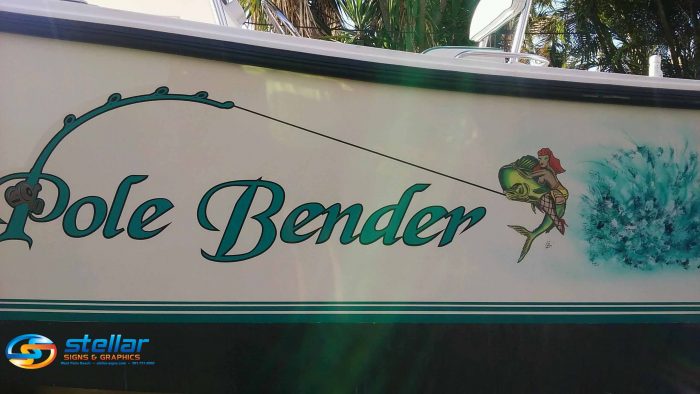 When you love fishing – and not just from the pier – you need a boat that bespeaks your personality. We did work for the owner of the Pole Bender, an elegant vessel that features multiple optical boosts. The name displays in an easy-to-read but nevertheless slightly ornate font. Its color matches the display of the striping package that runs along the length of the sides. The name display connects to a graphic that encapsulates the meaning of "Pole Bender" with a visual while a fanciful decal features artwork depicting the depth of the sea from which the fish are being pulled.
Letting Your Personality Shine Through
This case study is an example of what it means to let your personality shine through. Could this boat owner have just opted for a standard name display? Sure; but when you have the opportunity to stand out and become known simply by the way your boat looks, go for it! There are numerous ways of doing so.
Boat lettering. The lettering typically displays the name of the vessel. Some boaters get quite creative with the information. Others prefer the more standardized appearance, but they will add in an up or downward arc.
Graphics. Your taste determines the graphics. The most common displays feature nautical themes, sea creatures, or black decals that contrast well with the otherwise white surface of most boats. That said, the customization of the graphics is what makes you stand out. If you already have some images in mind, we gladly look at these graphics. We can also modify pictures that you bring us.
Wraps. Some boat owners want to stand out and do so with gusto. They ask for color change wraps that feature teals, greens, and blues in shimmering hues. These products are fantastic for catching the eye and give your vessel an entirely new personality.
Striping packages. If you want to add definition to the dimensions of a boat, you cannot go wrong with the use of a stripe kit. Colors vary, and these lines typically apply in pairs. We can adjust widths and overall presentations to make your boat stand out in the marina and beyond.
Do You Need Boat Decals in Palm Beach County, FL?
Discuss your thoughts with our graphic artists. Whether you envision a wrap with a gradient color change fade, or you need a name display alongside the legally mandated information, we can help. Call us today to schedule a consultation!


Tags: Ask Us About Boat Decals for Palm Beach County FL!, Types of Boat Decals Available in Palm Beach County FL, Where To Buy Boat Decals in Palm Beach County FL


Categorised in: Boat Decals, Vehicle Graphics Palm Beach County FL, Vehicle Vinyl Lettering

This post was written by Bonnita Calhoun