2
May
2023
Published by Walkiria Gutierrez Comments Off on Changing Your Place Of Business From Bland To Beautiful With Wall Murals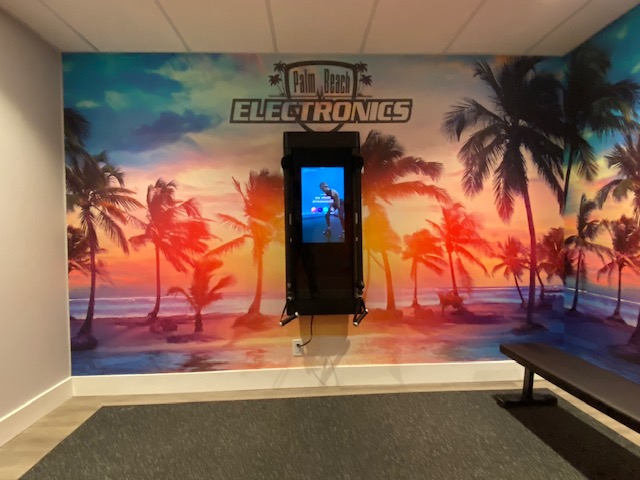 In today's competitive business world, it's important to create unique and memorable experiences for your customers. One way to achieve this is by installing wall murals at your place of business. Wall murals can transform a dull and uninspiring space into a vibrant and engaging environment.
As you can see from the photos both above and below, the Stellar Signs & Graphics team recently completed a couple of wall mural projects for Palm Beach Electronics! Now, their place of business is just bursting with lively energy, don't you think? Let's discuss why you should install wall murals at your place of business!
They increase brand awareness.
Wall murals can be customized with your company's logo, colors and branding. By incorporating your brand into the design, you can increase brand awareness and create a cohesive look throughout your business. This can help you stand out from your competitors and create memorable impressions on your customers.
They improve customer experiences.
Wall murals can help create an immersive and engaging experience for your customers. By using images, colors and textures that are relevant to your business, you can create a unique environment that resonates with your customers. This can help create a positive association with your brand and increase customer loyalty.
They boost employee morale.
Wall murals can also benefit your employees by creating a more inspiring and engaging work environment. By incorporating images or quotes that align with your company values, you can create a sense of purpose and motivation among your team. This can help improve employee morale and productivity.
"Murals are found in many of top brands' headquarters including AirBnB, Hulu, and Avocado Mattress," reports Evan Meyer on BeautifyEarth.com, "Bringing the brand's message inside company space, they elevate employee experience and show a serious investment in workplace culture and community."
They offer a cost-effective marketing solution.
Wall murals are a cost-effective way to market your business. Unlike traditional advertising, which can be expensive and short-lived, wall murals are a one-time investment that can last for years. They can also be a great way to create buzz on social media and attract new customers.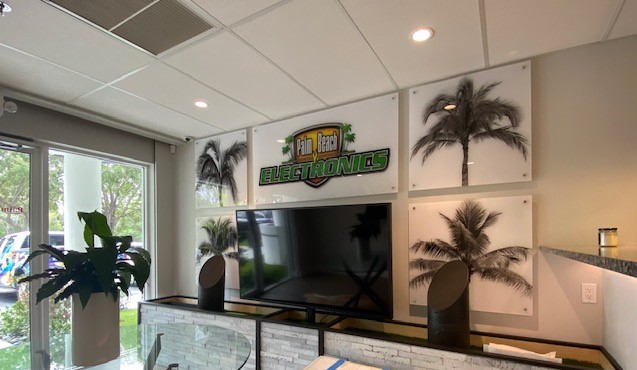 They come with flexible design options.
Wall murals offer endless design possibilities. Whether you want to create a bold and colorful statement or a subtle and sophisticated look, there are endless design options to choose from. You can also work with a professional artist or graphic designer to create a custom design that reflects your brand and vision.
They are easy to install and maintain.
Wall murals can be installed on a variety of surfaces, including drywall, brick and concrete. As well, they can be removed without damaging the underlying surface. They are also easy to clean and maintain, making them a practical choice for high-traffic areas.
Let's get started on a wall mural project for your place of business!
The experts at Stellar Signs & Graphics serve the business communities in and around Palm Beach County, West Palm Beach, Royal Palm Beach, Wellington, Lake Worth, Boynton Beach, and Greenacres, Florida. Please don't hesitate to give us a call at 561-721-6060 today!


Tags: branding, digital art, graphics, Palm Beach Electronics, wall art, wall lettering, Wall Murals & Graphics, wall signage, wall signs


Categorised in: Wall Lettering, Wall Murals & Graphics, Wall Signs

This post was written by Walkiria Gutierrez