19
Dec
2017
Published by Bonnita Calhoun Comments Off on Channel Letter Signs Help You To Stand Out From Your Competition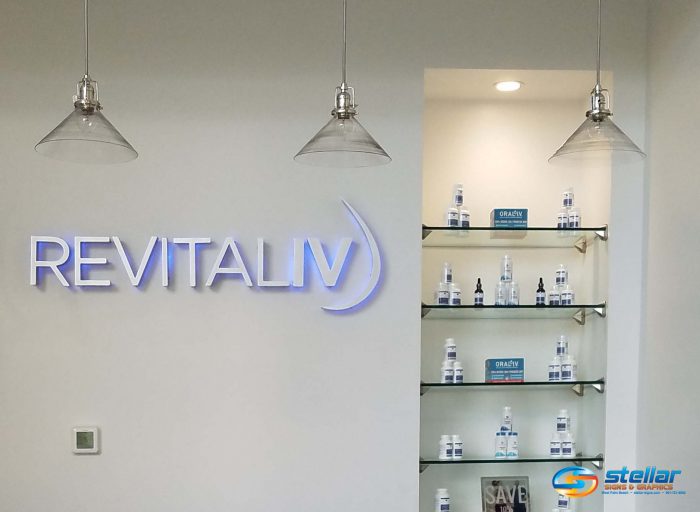 The Stellar Signs & Graphics team recently completed a beautiful new channel letters project for RevitalIV. RevitalIV is an extraordinary company. As their website describes, it is "an IV Hydration wellness clinic that provides the safest and most effective treatment for mild to moderate dehydration and vitamin depletion caused by: alcohol overconsumption, extreme athletics, jet lag, stress, and a host of other causes and illnesses."
We must admit that RevitalIV had already possessed a tranquil and elegant place of business before the signage experts at Stellar Signs & Graphics got their hands on it. But, we're elated to say that with the RevitalIV office now adorned with aluminum reverse blue LED channel letters with clear acrylic backs, it looks better than ever! This is especially true because their amazing new sign incorporates blue LED lights that produce a blue halo glow around each of the letters.
Wouldn't it be great to see your company name in lights?
It's more than an old cliché about attaining fame and fortune. Having your "name in lights" is a great way to command the attention of everyone who visits your place of business. Of course, channel letter signs are also commonly used outdoors as signs for storefronts. Especially when they are lit up at night, they can draw attention from long distances away. They don't just alert people to the location of a business, they also work wonders in making fantastic impressions.
Channel letters signs make for great marketing tools. They expand the visibility of your brand name and literally make bold statements about its caliber. Business owners who utilize channel letters signs for their storefronts often report that they enjoy increased foot traffic and phone calls. Their signs, we keep hearing, help for their business locations to stand out from all of the rest!
We manufacture channel letter signs using your unique specifications.
At Stellar Signs & Graphics, we take great pride in making one-of-a-kind channel letter signs for all of our clients. We adhere to their specific requests so that we complete totally unique products each and every time. We also ensure top quality finished projects. We manufacture the bodies of our channel letter signs from lightweight, but sturdy aluminum. The material doesn't rust and isn't susceptible to insect damage.
For our illuminated channel letter signs – like the ones designed for RevitalIV – we add LEDs to the interiors of the letters. If you prefer unlit channel letters, you also have the option of commissioning a whole-body aluminum construction that we then customize with paint.
What type of channel letter sign would work best for your business?
The experts at Stellar Signs & Graphics serve the business communities in and around Palm Beach County, West Palm Beach, Royal Palm Beach, Wellington, Lake Worth, Boynton Beach, and Greenacres, Florida. Please don't hesitate to give us a call at 561-721-6060 today as we will be closed all of next week!

Happy Holidays!


Tags: aluminum, channel letter signs, channel letters, illluminated channel letter signs, LEDs, RevitalIV


Categorised in: Channel Letter Installation, Channel Letter Signs, Channel Letters, Channel Letters Palm Beach Gardens FL

This post was written by Bonnita Calhoun