14
Dec
2021
Published by Bonnita Calhoun Comments Off on Check Out The New Lendmarq Monument Sign!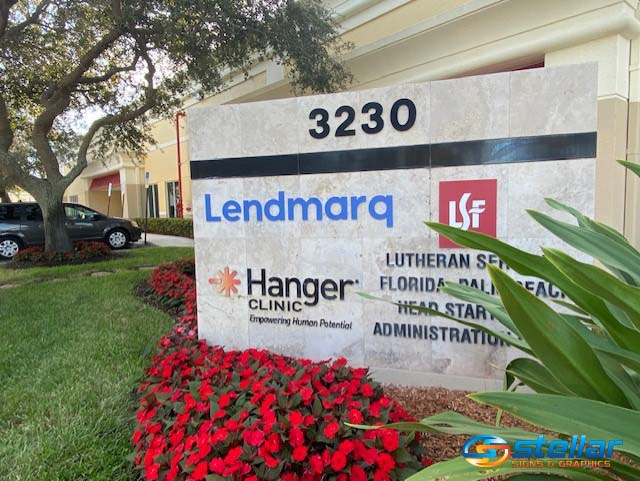 Lendmarq is a mortgage lending and investment platform. The company is focused on providing credit solutions to both residential and commercial real estate projects. They do so by funding new originations and purchasing whole loans from qualified sellers. Lendmarq is led by experienced real estate finance professionals with backgrounds in commercial mortgages, residential mortgages, structured finance and special servicing.
"Lendmarq was founded to respond to the growing demand for flexible real estate capital," declares their website, "Our loan programs provide credit solutions that allow Borrowers to unlock property values by executing their investment plan…Our team has worked in the industry for over two decades and developed the expertise needed to help you prudently grow your real estate investment business."
Lendmarq has a new monument sign!
Last week, the Stellar Signs & Graphics team completed a new monument sign project for Lendmarq. Check out the photo above! The project consists of 1/2″ thick acrylic letters that were painted with Lendmarq's signature blue color in a satin finish. The overall size of the sign is 57.5″ W X 10.6″H. Each letter was stud mounted to the face of the monument.
There are many benefits to erecting a high-quality monument sign in front of your place of business. The first is improved visibility of your company's location. A monument sign provides both walkers and drivers-by with a clear indication of where your business is located. The sign makes it so much easier for your company to grow profitability with the help of consumers in its local and surrounding areas.
Monument signs provide enhanced marketing power.
A monument signs provides 24/7 advertising power. It ensures that your brand is highly recognizable to the community within which your business operates. Unlike traditional advertising campaigns, a monument sign doesn't require ongoing costs to promote your brand. Its ability to deliver a strong and constant message provides an excellent return on investment.
Monument signs also provide consumers with better navigation. When people are looking for your business, a monument sign makes it impossible to miss. With a clearly visible sign made from brick, stucco or foam in front of your business facility, you will be sure to easily draw the attention of both pedestrians and motorists.
Let's get started on a monument sign for your company!
The experts at Stellar Signs & Graphics serve the business communities in and around Palm Beach County, West Palm Beach, Royal Palm Beach, Wellington, Lake Worth, Boynton Beach, and Greenacres, Florida. Please don't hesitate to give us a call at 561-721-6060 today!


Tags: advertising, brick, foam, funding, Lendmarq, marketing, monument sign, mortgage loans, promotion, sign, signage, stucco


Categorised in: Monument Sign Letters, Monument Signs

This post was written by Bonnita Calhoun