12
Apr
2022
Published by Bonnita Calhoun Comments Off on Constructing The New Taylor Chiropractic & Laser Center Lobby Sign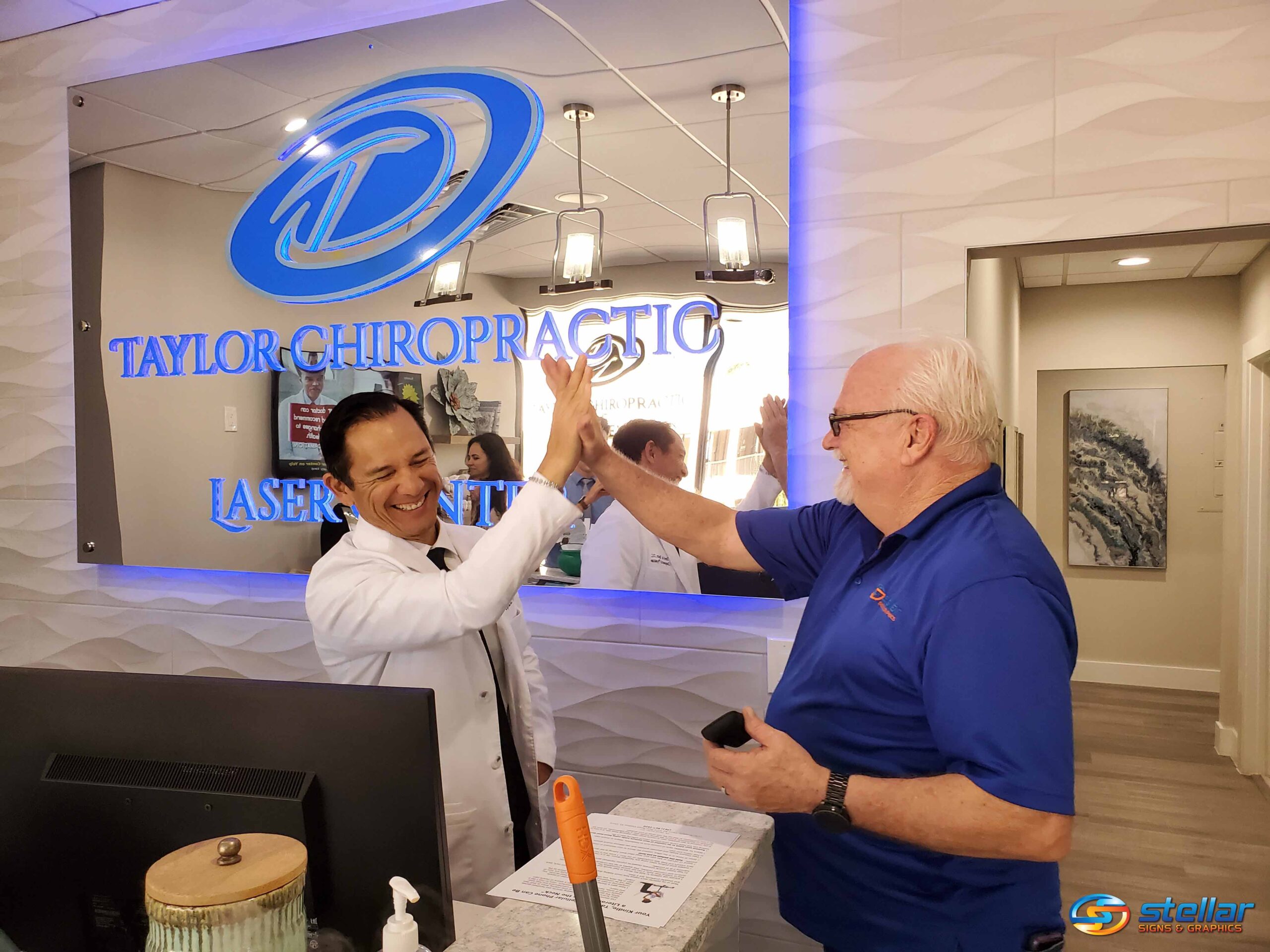 Chiropractic care is known for offering people substantial pain relief. While chiropractors are often sought after for back relief, the spinal adjustments they offer have proven to aid in a number of other types of chronic pain. Luckily, Palm Beach Gardens is home to Taylor Chiropractic & Laser Center. The clinic goes over and above the traditional offering of chiropractic care. They use the Taylor Method.
As their website describes, it involves "Class IV 60 watt Laser, Shockwave Therapy, Galileo Mechanotherapy combined with Ventosa Therapy, Teslamax therapy, or Rebuilder therapy…We work very hard keeping up to date with the latest and greatest technology & techniques while demonstrating how much we care through our doctor/patient relationship."
Check out the incredible new Taylor Chiropractic & Laser Center lobby sign!
The Stellar Signs & Graphics team is elated to have recently completed work on a brand new lobby sign for Taylor Chiropractic & Laser Center. Their Palm Beach Gardens location is now home to exquisite lobby signage that doubles as a mirror. The custom-designed sign is made up of an 85" X 55" X .125" mirror acrylic on a 3/16 clear acrylic backer. It utilizes RGBW remote-controlled LED lights around its perimeter to give it an alluring halo glow.
The face of Taylor Chiropractic & Laser Center's "T" logo was created with clear 36.5" X 21" X1/2" translucent vinyl. It includes a 1/4" outside stroke light teal vinyl accent. The "Taylor Chiropractic & Laser Center" lettering was made from clear acrylic with blue translucent vinyl. It is RGBW LED back-lighted with remote full color control. The completed lobby sign was installed on a textured wall behind the reception desk.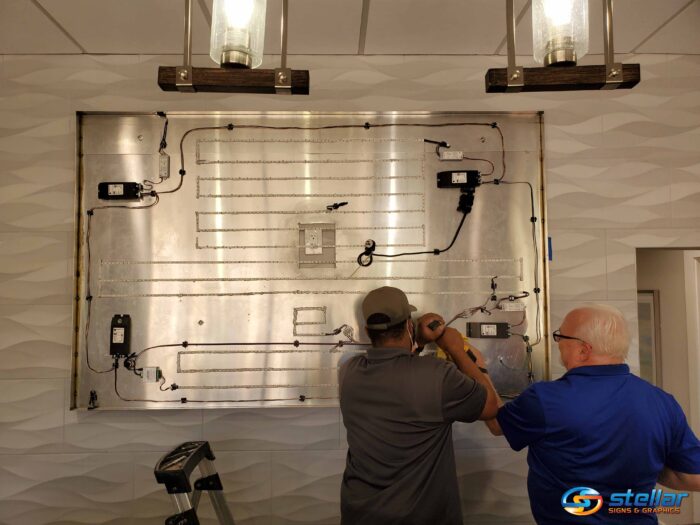 A new lobby sign can completely revitalize your office space!
Lobby signs undeniably breathe new life into work spaces. Our team prides itself on creating, manufacturing and installing lobby signage that is expertly customized for each client. Plenty of professionals like the idea of using individual lettering for their lobby signage. Whether you opt for acrylic letters, foam or metal products, you will succeed at creating a look that uniquely fits your space.
We're so happy that everyone at Taylor Chiropractic & Laser Center is happy with their new lobby sign. You should check it out for yourself! Of course, visiting their clinic will provide you with an excellent opportunity to significantly improve your health. If you give them a call at 561-867-1020, you can set up a free 5-10 minute consultation with Dr. Taylor today!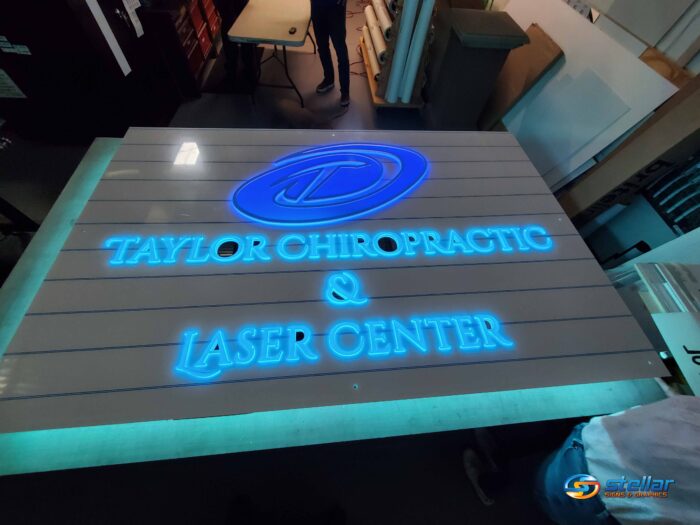 Call Stellar Signs & Graphics to get to work on your new lobby sign!
Let's beautify your place of business! The experts at Stellar Signs & Graphics serve the business communities in and around Palm Beach County, West Palm Beach, Royal Palm Beach, Wellington, Lake Worth, Boynton Beach, and Greenacres, Florida. Please don't hesitate to give us a call at 561-721-6060 today!


Tags: 3D Lobby Signs, acrylic, Acrylic Signs, LED, LED lights, lobby sign, Lobby Signs, logo signs, mirror, Palm Beach Gardens, Taylor Chiropractic & Laser Center, vinyl, vinyl signs


Categorised in: 3D Lobby Signs, Acrylic Signs, LED, Lobby Signs, Logo Signs, Vinyl Signs

This post was written by Bonnita Calhoun