1
Mar
2016
Published by Bonnita Calhoun Comments Off on Custom Signs for Restaurants in Doral Florida
Located at 8550 NW 53rd Street, Stellino's Trattoria & Bar is opening its doors after this weekend. Although this particular Italian eatery is new, its concept hearkens back to the founder of Sal's Italian Ristorante, which was established in 1977. With authentic Italian dishes on the menu and the opportunity to make reservations for a leisurely meal experience, the eatery is bound to make a huge splash. Getting ready for opening day, the management team for the restaurant contacted us to discuss its signage needs.
Customized Signs for Restaurants in Doral, FL
After consulting with the client, we designed, manufactured and installed three unique products.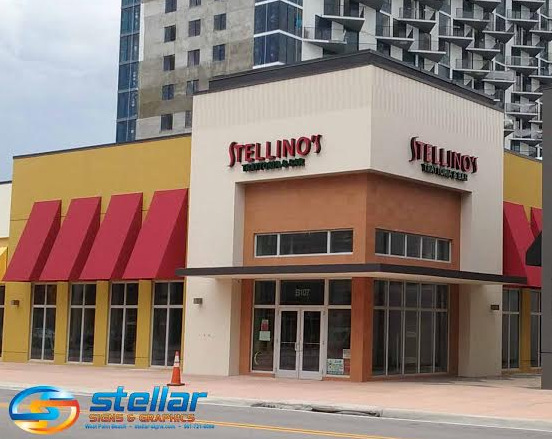 Channel letters. For the building sign, the management team had chosen channel letters. Our artists were asked to display the company's name in different sizes. The "S" measures 30 inches in height while the remainder of the Stellino name displays with 21-inch letters that show off a red color. Spelling out "Trattoria & Bar" in eight-inch lettering with green faces rounds out the presentation. We also installed 12-inch gooseneck arm lights.
Hostess stand. For the hungry guest, the hostess stand is the first go-to location when entering the venue. We created a clear acrylic panel with etched, frosted vinyl on the back. The restaurant's logo displays in full-color digital print with a green to brown gradient. For the "Trattoria & Bar" lettering, we used printed and cut vinyl.
Blade sign for the take-out pickup. Since this Italian restaurant also prepares take-out orders, its management team liked the idea of identifying the pickup location. We designed a blade sign that our technicians installed perpendicular to the wall with an extension arm. The arm features a light, which gives the blade sign a friendly appearance after dark.
Visibility Equals Success
A restaurant cannot afford to be invisible. Although word-of-mouth referrals quickly lead to an increase in guest numbers, the failure to provide clear signage may turn away some customers who have simply come to expect this type of display from any business. Wow your first-time guests with an excellent presentation. It is a great way of inviting them to come back. Channel letters, blade signs, and the hostess panels are ideal starting points.
Did you know that there are other options, too?
Menu boards. For eateries that welcome guests with a listing of the available dishes and the pricing structure, menu boards are the ideal vehicle for communicating this information. Consider displaying them in the same color as your building signage and adding your branding details.
Window decals. Choose from full-color, digital image displays of dishes or product offerings. Vinyl lettering shows your restaurant's name, hours of operation and hints at the cuisine you provide.
A-frames and banners. A-frame signage can function as an extension of your menu board by alerting customers to daily specials. Banners celebrate grand openings, special dishes and limited time, themed products. Use them also to invite guests to your happy hour.
If we have inspired you to think through custom restaurant signs for Doral, FL, locations, contact our specialists to learn more about your options.

Tags: Channel Letters for Restaurants Doral FL, Custom Restaurant Signs Doral FL, Hostess Stand Graphics for Restaurants in Doral FL, Take Out Food Signs for Restaurants in Doral FL


Categorised in: Channel Letter Signs, Custom Signs, Restaurant Signs

This post was written by Bonnita Calhoun