19
Sep
2016
Published by Bonnita Calhoun Comments Off on Dimensional Letters for Restaurant Reception Desk Welcome at The Club at Ibis Atrium Eatery
Over the last year, our sign shop has built a professional relationship with The Club at Ibis. After undergoing an extensive renovation project that added space for upscale dining and meeting venues, the business' management team initially contacted us to create a channel letter sign that would welcome members. A short month later, we were called back to design customized ADA plaques that underscored the ambiance at the setting but still met the legal requirements of the Americans with Disability Act (ADA).
Out next interaction involved the setup of a post and panel sign that acted as a branding and wayfinding tool rolled into one. It provided directions to prospective members as well as current members in search of the golf shop. Our latest call came with the request for signage that would introduce The Atrium Restaurant. It is the newest addition to The Club's dining experience. Buffets, carving stations, and a view of The Legend Course set the tone for a relaxed but classy lunch or dinner setting.
Dimensional Letters for Restaurant Reception Desks in West Palm Beach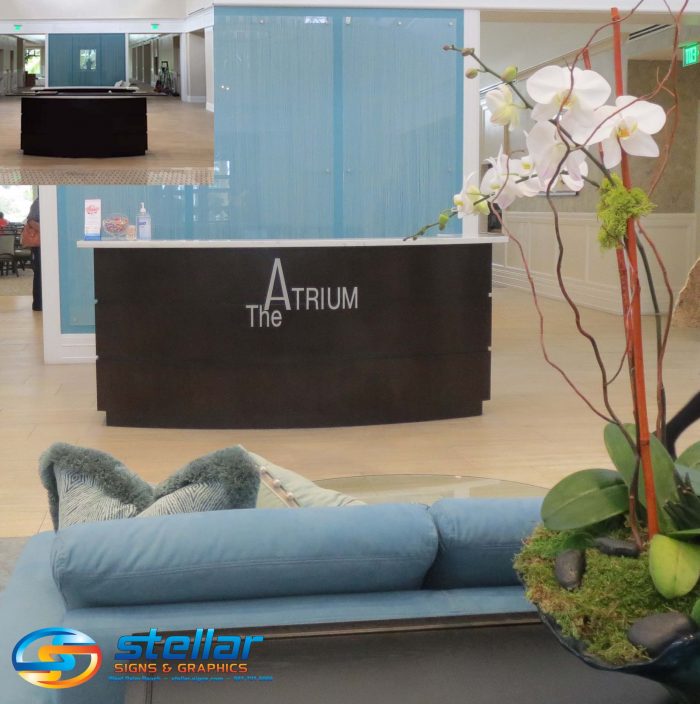 After consulting with the client and visiting the location for the proposed signage installation, we noted that texture is a major component of the setting's interior décor. To ensure that the signage would fit right in, we discussed the design of dimensional letters with the client. After getting the green light to proceed, we manufactured 0.25-inch flat cut aluminum letters that we painted white and mounted to the front of the black reception desk. They perfectly capture the essence of the setting's elegance awhile harmonizing with a variety of white accent pieces around the room.
What Restaurant Signage Says about an Eatery
There is never a wrong time to present your brand message. Unfortunately, some restaurant owners miss out on numerous branding opportunities.
Window graphics. Showing off the name and logo of your restaurant on the windows is a good idea. Upscale establishments like to use the combination of frosted and etched vinyl. Other eateries like colorful presentations. In some cases, the display of graphics depicting dishes that are gaining rave reviews works well.
Reception desk images. We have worked with restaurateurs who have installed dimensional letters, sandblasted high-density urethane (HDU) plaques, acrylic blades, and posters to the fronts of these desks. Each setup carries a different message, but they all hint at the ambiance the guest will find inside.
Menu boards. Place them inside as well as outside for best effects. We tailor them to the atmosphere you seek to create. Some are utilitarian in design featuring metal and vinyl overlays. Others look like framed pictures featuring faux chalk marks.
Buying Dimensional Letters for Restaurant Reception Desks
If you love the idea of the dimensional letter setup and would like to see it come to life in your restaurant, contact our graphic artists to schedule a design consultation. Of course, we can also help you with any other signage design and installation for your venue. Contact us today to start discussing your project.

Tags: Dimensional Letters For Restaurant Reception Desk, Dimensional Letters for Restaurant Reception Desk Welcome at The Club at Ibis Atrium Eatery, Where To Buy Dimensional Letters for Restaurants in West Palm Beach FL


Categorised in: Dimensional Lettering, Dimensional Letters, Restaurant Signs

This post was written by Bonnita Calhoun