15
Oct
2019
Published by Bonnita Calhoun Comments Off on Finding A Budget-Friendly Way To Make Your Business Look Good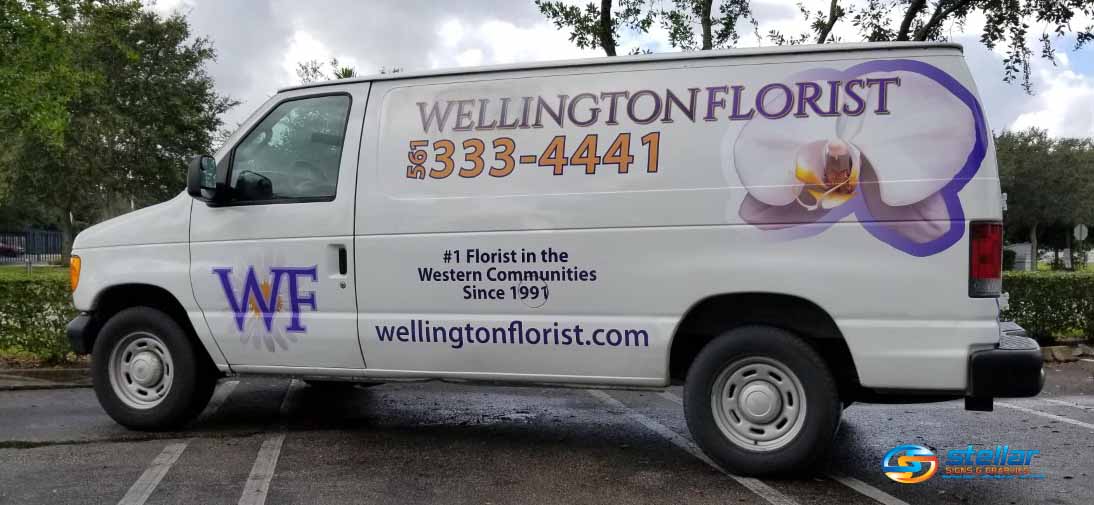 Wellington Florist is a long-time client of Stellar Signs & Graphics. As the company name clearly gives away, they are a florist that proudly serves Wellington. What the name doesn't quite give away is that the company has been a staple in the community since 1991. A family-owned and operated business with over 90 years of experience in its core staff, Wellington Florist has been the voted the #1 florist in the western communities 15 years in a row!
"We are committed to offering only the finest floral, plant, and orchid arrangements, backed by service that is detail oriented and dependable," reads their website, "Because all of our customers are important, our professional staff is dedicated to making your experience a pleasant one. That is why we always go the extra mile to make your floral gift perfect."
Check out their new vehicle wrap!
We recently had the pleasure of completing a brand new vehicle wrap for Wellington Florist. This recent project wasn't our first vehicle wrap for the company, but it certainly was an interesting undertaking. For this particular project, Wellington Florist wanted their 2006 Ford Econoline spruced up with its company branding.
With over 250,000 miles on the vehicle, our long-time client was hoping to keep costs down for the project. Our team was only too happy to oblige. We offered Wellington Florist a budget-friendly print cut to ensure that the van looked as awesome as possible. From the photos both above and below, you can see that we gave our all in making this company van a big time attention-grabber.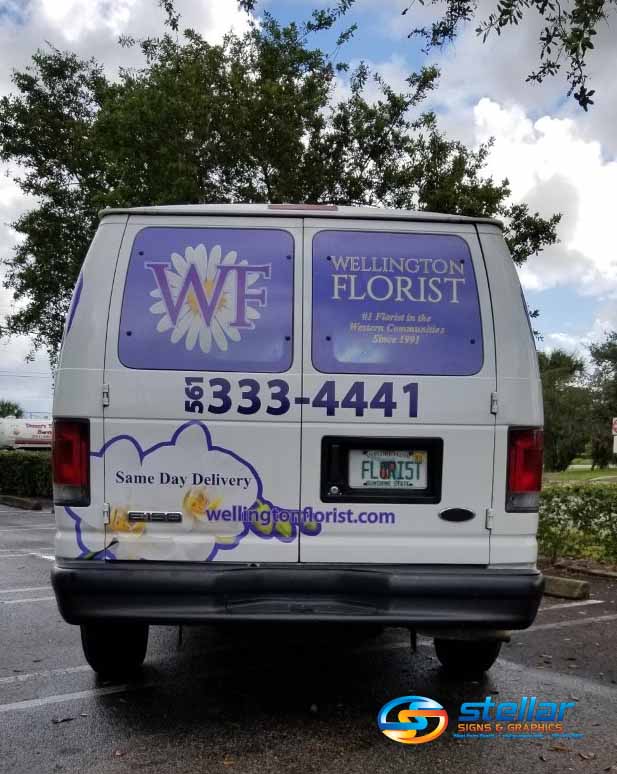 The vehicle is now an awesome moving billboard!
The formerly all-white Ford Econoline has now been beautified by the company's eye-catching purple logo, its phone number, website and even a declaration about being the #1 florist in western communities since 1991. We also found a way to incorporate Wellington Florist's ever-important promise to customers – it offers same day delivery.
Check out the Wellington Florist website to learn more about the numerous flower arrangements they provide as well as the various occasions they cater to. Birthdays, anniversaries, the arrival of new babies and even Thanksgiving, which comes next month, can be made all the more beautiful with the help of this amazing florist.
Do you have a company vehicle that needs to be beautified on a budget?
Contact the experts at Stellar Signs & Graphics to learn more about our vehicle wraps. We serve the business communities in and around Palm Beach County, West Palm Beach, Royal Palm Beach, Wellington, Lake Worth, Boynton Beach, and Greenacres, Florida. Give us a call at 561-721-6060 today!


Tags: florist, Ford Econoline, van, van wrap, vehicle wrap, Vehicle Wraps and Lettering, Wellington, Wellington Florist


Categorised in: Van Wraps, Vehicle Graphics, Vehicle Vinyl Lettering, Vehicle Wraps

This post was written by Bonnita Calhoun