21
Aug
2018
Published by Bonnita Calhoun Comments Off on Helping To Bring Mandel Public Library's Studio 411 To Life!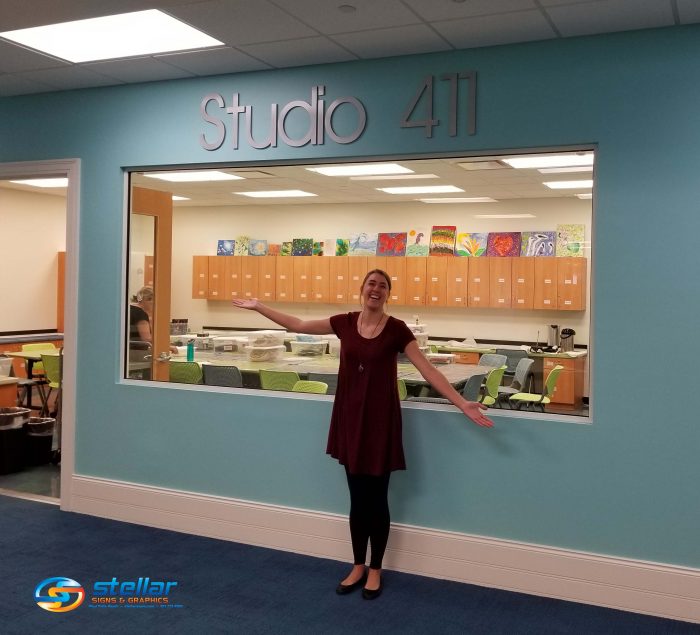 Located at 411 Clematis Street in the heart of downtown West Palm Beach, Florida, the Mandel Public Library serves the community with more than just books. The incredible venue is both an excellent source for research, entertainment, technology and music and a great host of numerous live performances and classes.
Introducing Studio 411!
In keeping with its mandate to foster creative growth, the Mandel Public Library recently opened a brand new comprehensive studio space on its second floor. It's known as "Studio 411" and it aims to support the library's popular and growing range of arts programs.
As the library's news release informs, "the new studio was formed to create one central location for artistic adults to create, explore, and learn about a variety of arts and crafts from painting, drawing and sculpture to crocheting, soap-making and jewelry-making."
The Stellar Signs & Graphics team was honored to have been selected to manufacture a wonderful dimensional letter sign for Studio 411. Presented in the photos above and below, the sign was created with aluminum flat cut dimensional letters, painted metallic silver and mounted with flush mount studs and DF tape against a standard sheet rock wall. This enabled us to pull off a sleek and stylish appearance for the library's new studio space.
Dimensional letter signs are known for helping venues stand out!
The signs are successful in capturing attention because of their 3D qualities. They tend to work especially well in busy plazas and downtown areas where drivers and pedestrians are abound. Because the letters stand out from their backgrounds, they have the ability to draw the gazes of individuals from a variety of angles and distances.
The 3D lettering used for the Studio 411 sign provides a very classy signage option. The intent was to compliment, not take away from, the library's already beautiful architecture. At Stellar Signs & Graphics, our custom dimensional letter signs can be designed with acrylic, PVC, plastic, foam or metal – all options that provide elegant contrasts to their backgrounds for that "popping out" effect.
Be there for the grand opening!
If you're in the West Palm Beach area, we'd be happy to have you visit the Mandel Public Library on Wednesday, September 5th, at 4:00 p.m. They will officially open Studio 411 with a ribbon cutting celebration followed by a studio orientation. It all takes place just in time for the library's fall programming which will give you the option of attending a studio class or stopping by to see the new space.

We also invite you to contact Stellar Signs & Graphics to discuss the options for your company's dimensional letter sign! Our signage experts serve the business communities in and around Palm Beach County, West Palm Beach, Royal Palm Beach, Wellington, Lake Worth, Boynton Beach, and Greenacres, Florida. Give us a call at 561-721-6060 today!


Tags: Dimensional Letter Signs, flat cut, Mandel Public Library, signage, Studio 411, West Palm Beach


Categorised in: Dimensional Lettering, Dimensional Letters, Dimensional Wall Letters

This post was written by Bonnita Calhoun