27
Oct
2020
Published by Bonnita Calhoun Comments Off on How Blade Signs Can Boost Foot Traffic Into Your Business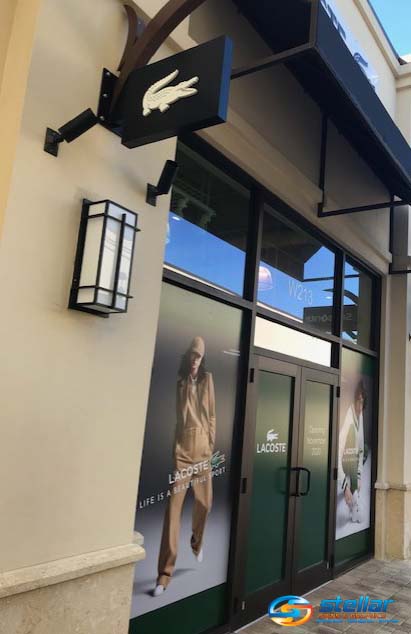 Do you know anyone in the Palm Beach area who hasn't shopped at Palm Beach Outlets? The extremely popular 440,000 square foot outlet shopping center is home to over 130 stores and restaurants. They include such huge name brand shops as Saks Fifth Avenue, Ann Taylor, Banana Republic, Brooks Brothers, J.Crew, Nike, Tommy Hilfiger, Under Armour, Vera Bradley and Lacoste.
The Stellar Signs & Graphics is team is both honored and proud to have manufactured signage for several shops within the mall over the years. Most recently, we completed a blade sign for the forthcoming Lacoste store. Check it out in the photo posted above!
What is a blade sign?
As you can see, a blade sign is a type of sign that projects out from the surface it is mounted on. It generally protrudes from a building facade or storefront pole. Blade signs are unique in that they are perpendicular to their foundations. That means they can be seen by two-way flows of foot traffic.
In other words, they are easily viewed by those who are on either side of the store, but are not facing it directly. As a result, blade signs are known to be among the most effective ways of attracting foot traffic into establishments.
How do blade signs offer way-finding functions?
Because blade signs jut out perpendicularly from buildings, they are very effective at grabbing attention from those looking for where to go. They are especially good at drawing the eyes of those in busy streets or malls. With a blade sign, a place of business helps itself to stand out from the others that surround it. While it helps for people to realize where they are, it also encourages onlookers to go inside the shop to take a look around.
Blade signs are well known for being popular in downtown shopping areas. Naturally, this is where there is a lot of foot and street traffic.  Of course, your store's blade sign can be designed in a very unique way. You have the ability to choose its size, shape, color and message. Nearly all blade signs are double-sided. That way, they communicate the same message on either side. This doubles your store's opportunity to lure in customers. But also it keeps your brand identity, look and feel consistent.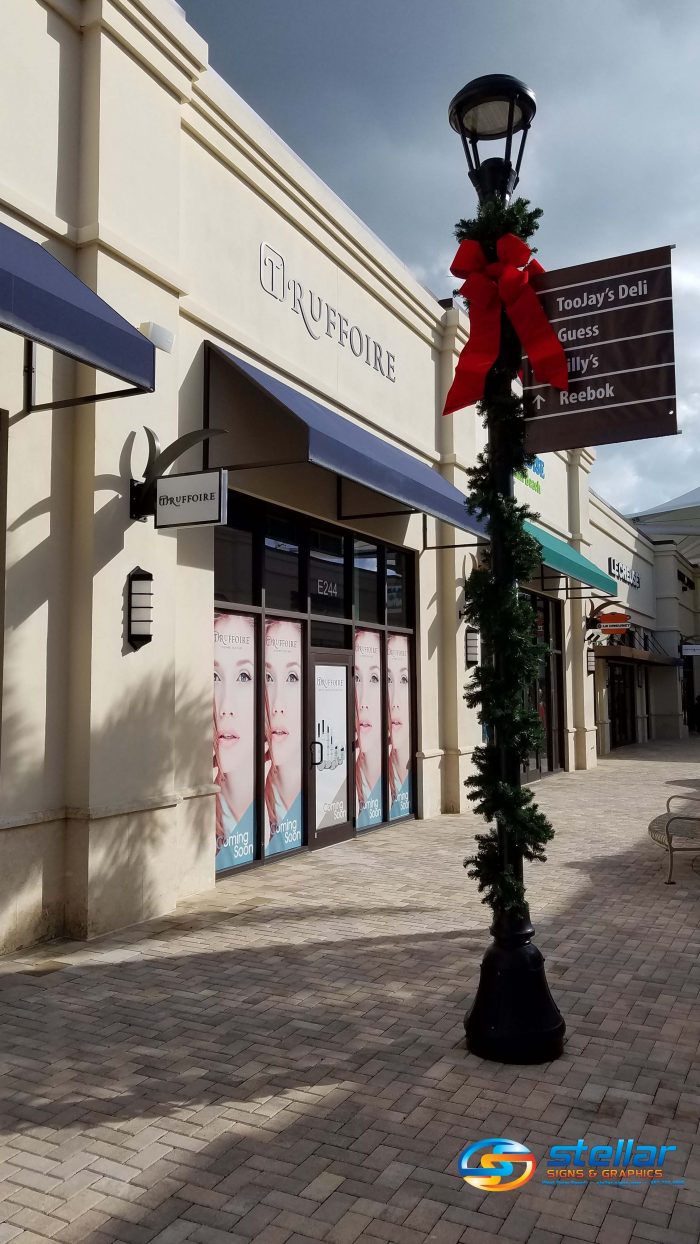 Would a blade sign work for your business location?
Let's discuss! The experts at Stellar Signs & Graphics serve the business communities in and around Palm Beach County, West Palm Beach, Royal Palm Beach, Wellington, Lake Worth, Boynton Beach, and Greenacres, Florida. Give us a call at 561-721-6060 today!


Tags: blade signs, branding, foot traffic, Lacoste, Palm Beach Outlets, Signs for Mall Stores, storefront signage, storefront signs


Categorised in: Blade Signs, Signs for Mall Stores, Storefront Signage

This post was written by Bonnita Calhoun