5
Nov
2019
Published by Bonnita Calhoun Comments Off on How To Advertise Your Company…The Wright Way!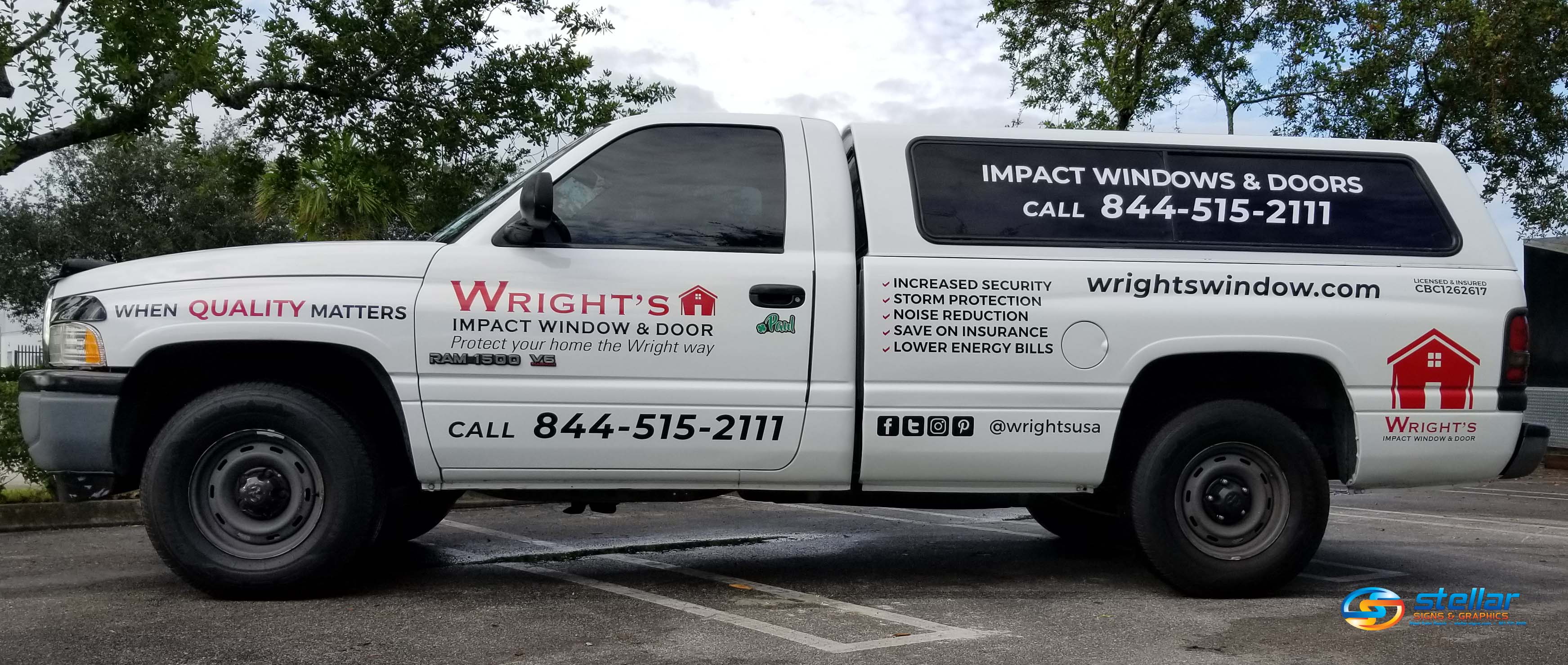 Since 1973, the amazing team at Wright's Impact Window & Doors has provided South Floridians with high-quality doors and windows that protect homes during the toughest of times. Knowing the extreme importance of safeguarding its clients against everything from hurricanes to sunlight to intruders, this great company goes out of its way to make its customers happy.
The Stellar Signs & Graphics team is privileged to have worked with Wright's Impact Window & Doors on a number of occasions. We've completed work on exquisite lobby signs and, most recently, some new vehicle wrap projects. As you can see in the photo above, we designed a full wrap on their truck. In the photo below, you'll also notice our lettering/print cut job on their trailer.
We particularly like the wealth of information this project provides.
On both the truck and the trailer, Wright's Impact Window & Doors takes full advantage of the space they have to detail everything the company offers. In addition to highlighting its phone number and company website, the vehicle wraps and lettering list the various benefits of trusting this great company with your windows and doors.
Among those benefits are increased security, storm protection, noise reduction, insurance savings and lower energy bills. As their clever slogan informs, when you hire Wright's Impact Window & Doors, you "Protect your home the Wright way". Naturally, the Stellar Signs & Graphics team is happy that this awesome business has chosen to advertise itself the right way.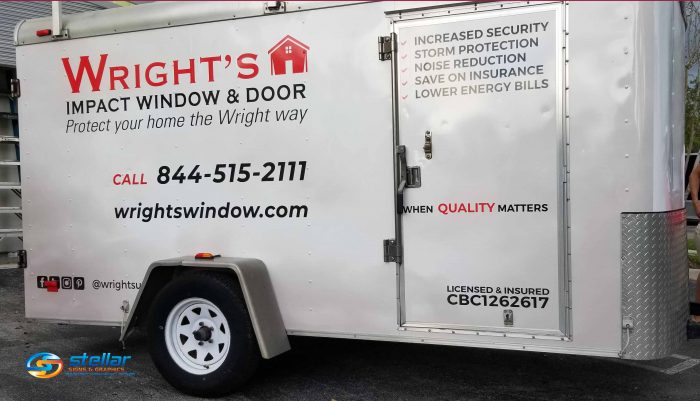 Truckside advertising can produce about 40,000 to 60,000 impressions a day.
This statistic, coming from IdentifyYourself.ca, clarifies just how effective it is to advertise your business with your company truck. Obviously, vehicles can be driven just about anywhere. By doing so, it significantly increases the ability you have to grow the reach of your audience. Vehicle wraps are known for taking your advertising dollars much farther.
"So if you put an ad in the paper it's only there for one day, at most a week right?" asks IdentifyYourself.ca, "And when you pay for air time on television, how many times is that run? Who will see it if it airs twice at midnight? Not to mention these ads are usually only 30 seconds. Vehicle graphics last years…and then some."
Let's get started on a vehicle wrap and lettering design for your company vehicle!
The experts at Stellar Signs & Graphics serve the business communities in and around Palm Beach County, West Palm Beach, Royal Palm Beach, Wellington, Lake Worth, Boynton Beach, and Greenacres, Florida. Give us a call at 561-721-6060 today!


Tags: advertising, lettering, Lobby Signs, print cut, vehicle wraps, Wright's Impact Window & Doors


Categorised in: Truck Graphics, Truck Lettering, Vehicle Graphics, Vehicle Wraps

This post was written by Bonnita Calhoun