30
Nov
2021
Published by Bonnita Calhoun Comments Off on How To Get The Most Out Of Your Holiday Signage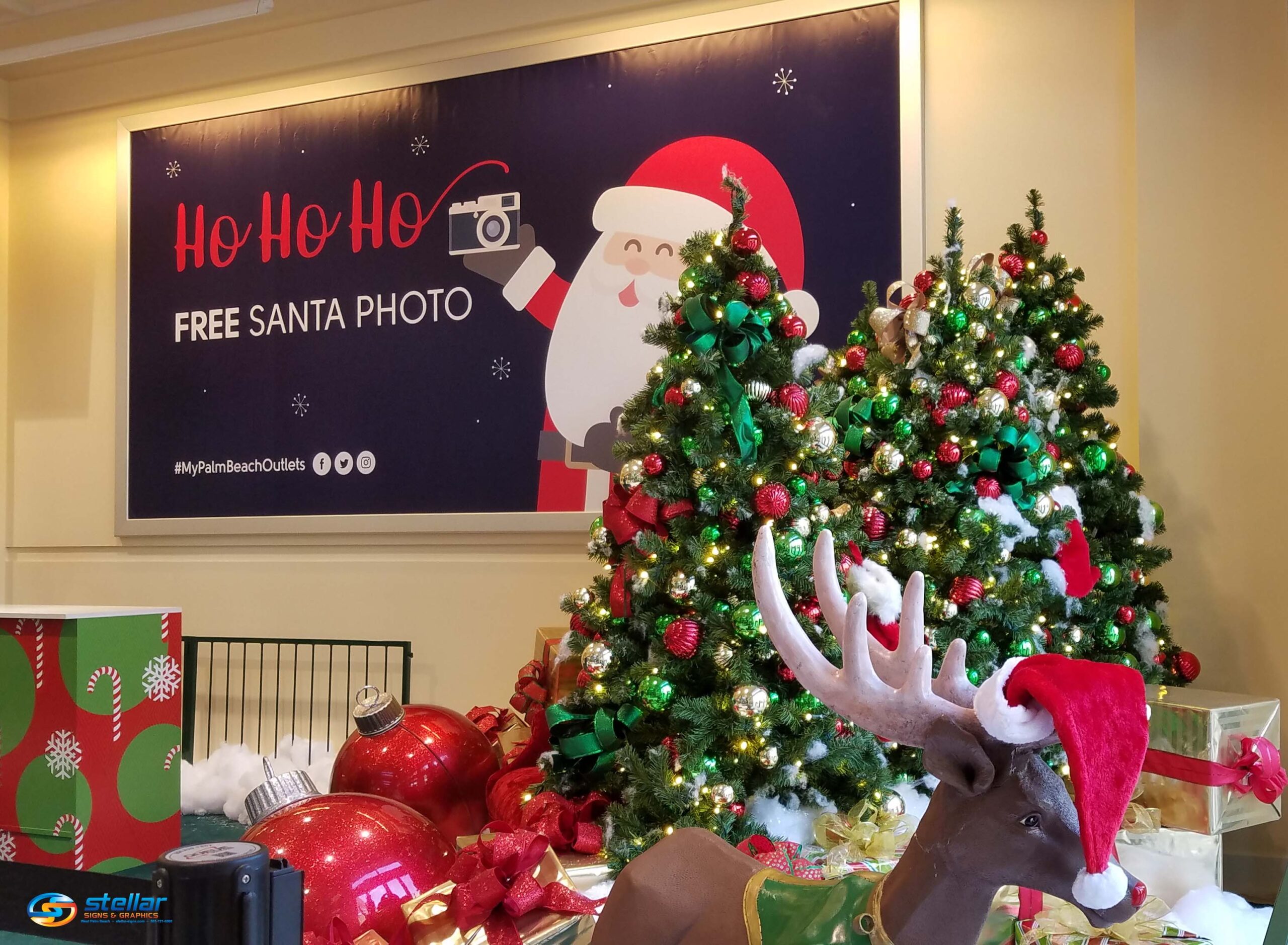 With less than a month to go until Christmas Day, there's no question that your place of business should be all decked out for the holidays. Increasing sales, during the busy holiday shopping season, often comes by way of simply getting into the spirit. To do so, your signage needs to stand out. So what can you do to get the most out of your holiday signage?
Make your signage highly visible.
What good is signage that can't be seen, right? When it comes to the holiday season, consumers are bound to be inundated with signs. With so many competitors, it's vital you find ways to stand out from the crowd. At this time of year, bigger is better. Mounting a large, bold sign that is brightly colored will help attract eyes away from other signs.
As well, be sure that the messages you convey through your signage is simple. "Less is more" is another rule of thumb to follow. During the holiday season, shoppers get hit with sensory overload. Don't force people to read too much text. Simple statements such as "Everything is 40% off!" is all you should need to lure bodies into your shop.
Combine seasonal branding with your traditional logo.
Red, white and green colors are bound to make it into your seasonal signage. However, it's important that you don't completely do away with your traditional branding. Your company's logo and brand image remains important. Be sure to make it clear which business is being advertised amidst the snowmen, snowflakes, angels and reindeer you may choose to add to the sign's design.
Place signage throughout your store.
Of course, it's wise to strategically place seasonal signage that promotes your business all throughout your community. However, your place of business needs signage to be installed within it too. Give your customers all the information they need to locate the items they're looking for and the prices they're being sold at. In-store signage is a key way to boost sales.
Use lights!
Is there a holiday more associated with bright lights than the end-of-year holiday season? If your sign isn't brightly lit, it may have some trouble getting noticed. Naturally, there are lights everywhere at this time of year. How eye-catching is your sign? To improve its ability to turn heads, your sign should incorporate LED lights. At Stellar Signs & Graphics, we highly recommend them for any and all illuminated signs. LEDs offer brightness, durability and energy-saving abilities.
Do you need holiday signage designed for your business?
The experts at Stellar Signs & Graphics serve the business communities in and around Palm Beach County, West Palm Beach, Royal Palm Beach, Wellington, Lake Worth, Boynton Beach, and Greenacres, Florida. Give us a call at 561-721-6060 today!


Tags: holiday signage, illuminated signs, in-store signs, mall signage, signage planning, Signs for Mall Stores, storefront signage


Categorised in: Illuminated Signs, Signage Planning, Signs for Mall Stores, Storefront Signage

This post was written by Bonnita Calhoun