22
Mar
2017
Published by Bonnita Calhoun Comments Off on Why Invest in Vehicle Wraps for Home Healthcare Companies in Southwest FL?
Home Health Care Resources is a Southwest FL, healthcare partner for your in-home care needs. Whether you require someone for a few hours to a few days or you need more intensive care, this business offers the assistance at your level. When it came time to take its message to a larger consumer demographic, the business' management team contacted our experts to discuss vehicle wraps for home healthcare companies in Southwest FL.
Vehicle Wraps Tell a Story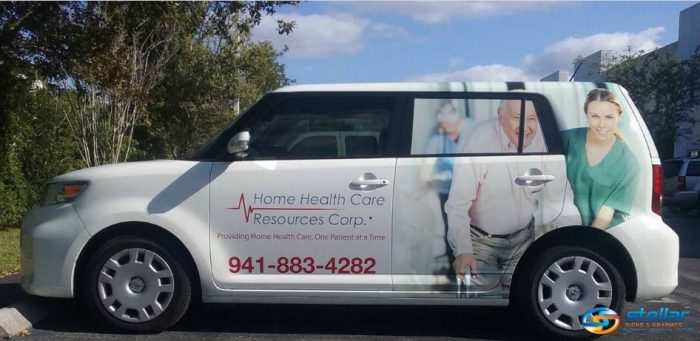 Why should a company invest in a wrap? Although not cost prohibitive, these products do call for somewhat of a financial commitment to the message. When we consulted with our client, we proposed a wrap that displays a vignette of the services the business provides. It shows a happy client with a friendly caregiver, which perfectly encapsulates the branding. The details of the images fade in expertly with the Scion's white paint job.
On the doors, you notice the company's name, logo, contact information, and tagline. You see the same information on the other side of the vehicle, except that the image features a different client and caregiver pairing. The Scion's back displays the contact phone number as well as a repetition of the company's name, logo, and tagline. Because this is a passenger vehicle, we used perforated vinyl to treat the back window as well as the rear side windows of the car. Its finished appearance offers tremendous brand appeal simply by showing vignettes of a story.
Graphics Reach Audiences You May Not Connect with Otherwise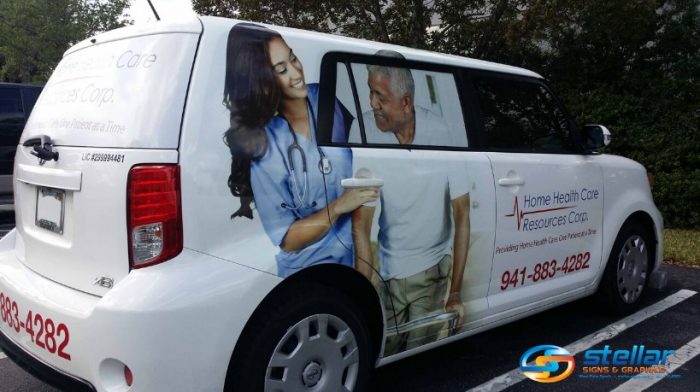 When this vehicle pulls up in front of a client's home, neighbors will notice that the family has enlisted the help of a home caregiver. There is a good chance that friends will discuss your services with the client and ask for a recommendation. But if it had not been for the presentation of the wrap-treated vehicle, these prospective customers would have never known about your presence or the services you offer. Although it might have come up in a conversation between these individuals at some point, the branding and marketing presentation hastened the process.
Mobile Marketing is Less Expensive than Other Advertising Tools
Besides, it is not just cheaper but also more effective. For example, to reach a segment of consumers with a newspaper ad, you have to pay a good chunk of money. However, the problem arises when the paper gets recycled – without ever being read. You spent the money on the advertisement without having anyone see it. Vehicle wraps are the exact opposite. You invest in a marketing and branding message display that gets noticed. When you drive down the road, the car turns heads. No matter where you place this ad, it attracts attention.
But do not just take our word for it. Whether you need vehicle wraps for home healthcare companies in Southwest, FL, or for contracting businesses in other parts of the state, we can help. Discuss your thoughts with our vehicle graphics experts and let us run the numbers. We are sure that you will be convinced that this is the right ad setup for your business, too. Call us today!

Tags: Types of Vehicle Wraps Available for Healthcare Companies in Southwest FL, Where To Buy Vehicle Wraps For Home Healthcare Companies in Southwest FL, Why Invest in Vehicle Wraps for Home Healthcare Companies in Southwest FL?


Categorised in: Fleet Graphics, Vehicle Graphics, Vehicle Wraps

This post was written by Bonnita Calhoun