31
May
2022
Published by Bonnita Calhoun Comments Off on Making A Big Impact With Movement Mortgage's New Wall Mural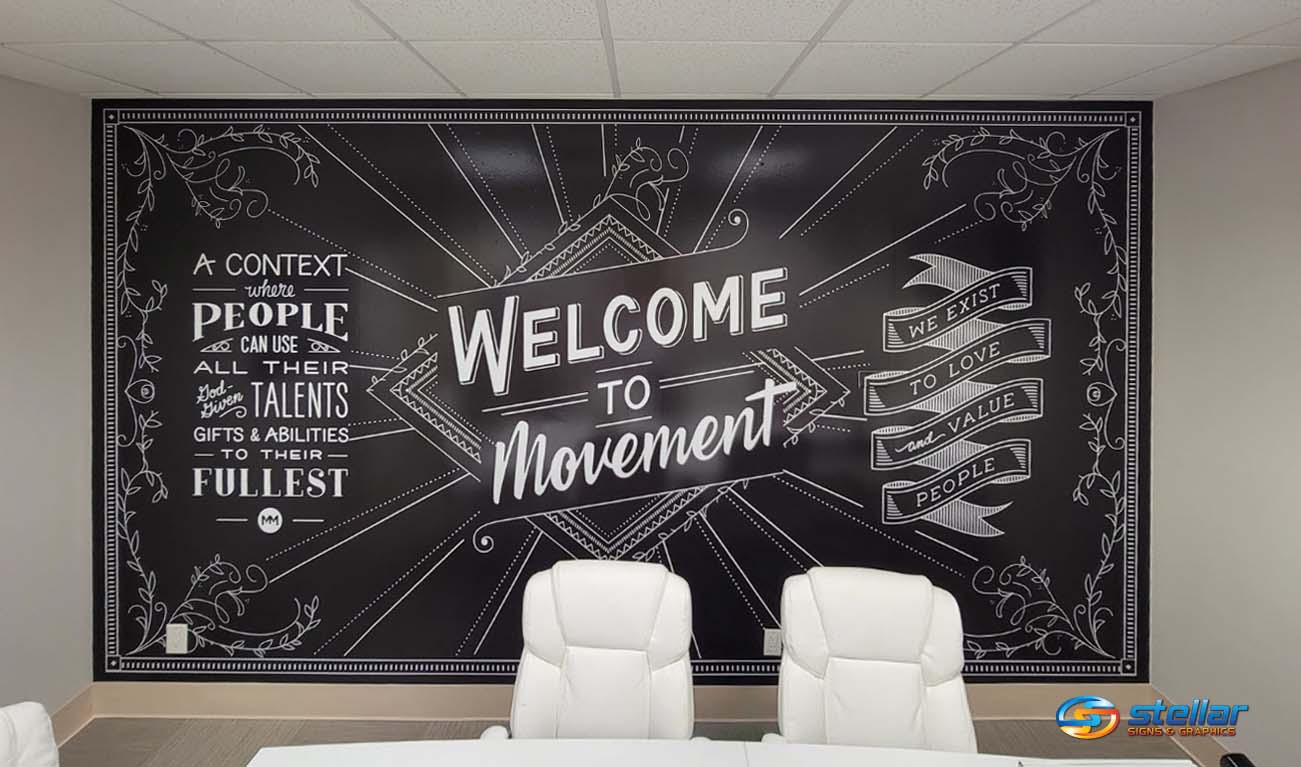 Back in May, the Stellar Signs & Graphics team proudly completed work on a new lobby sign for Movement Mortgage. As we reported in the blog that announced the project, the sign was constructed using flat cut dimensional letters that were non-illuminated.
The round Movement Mortgage logo was made using .5" acrylic with a brushed metal face. The edges were painted in silver. The 14" X 14" logo was flushed mounted. The "Movement" lettering was also constructed using .5" acrylic with a brushed metal face. The edges were painted silver as well. This portion of the lobby sign is 42" X 5" and was also flushed mounted.
Check out the new Movement Mortgage wall mural!
Last week, our team of signage experts reunited with our friends at Movement to complete an exquisite new wall mural. We really love wall graphic projects as they completely change the looks of rooms, making big impacts. This project was certainly no exception.
The graphics cover an area of 170″ W X 102″ H and it is printed on 3M IJ40 with 3M Lamination. However, as you can see in the photo above, this wall mural has a lot of character. It proudly proclaims not one, but two of Movement's mission statements.
"A context where people can use all their God-given talents, gifts & abilities to their fullest" is the phrase that adorns the left side of the wall mural. On the right, it reads "We exist to love and value people". How cool is that? Evidently, Movement is so much more than a mortgage company. They seek to build relationships and make lives better through the expert services they provide.
Movement is a people-first company!
This is made evident the second you visit their website. The first thing you see isn't any information about mortgage rates and real estate properties. You see a family. "Meet the Klatts," introduces the site, "Before house hunting, the Klatts did their homework to make sure they were pre-approved so that their offer meant more. Even in a crazy San Diego market, they closed on a great home they love."
As if their family-oriented approach to business wasn't amazing enough, Movement Mortgage's website also declares that the company donates its profits. "Yes, really," it proclaims, "With no Wall Street investors to repay, almost half of our profits go to Movement Foundation to help uplift our communities."
Let's get to work on a wall mural for your place of business!
The experts at Stellar Signs & Graphics serve the business communities in and around Palm Beach County, West Palm Beach, Royal Palm Beach, Wellington, Lake Worth, Boynton Beach, and Greenacres, Florida. Please don't hesitate to give us a call at 561-721-6060 today!


Tags: acrylic, Dimensional Letters, lobby signage, mortgage, Movement, office, signage, signs, wall graphics, wall mural, wall sign, wall signage


Categorised in: Lobby Signs, Wall Lettering, Wall Murals & Graphics, Wall Signs

This post was written by Bonnita Calhoun