1
Aug
2017
Published by Bonnita Calhoun Comments Off on Making Great First Impressions With Banners And Trade Show Displays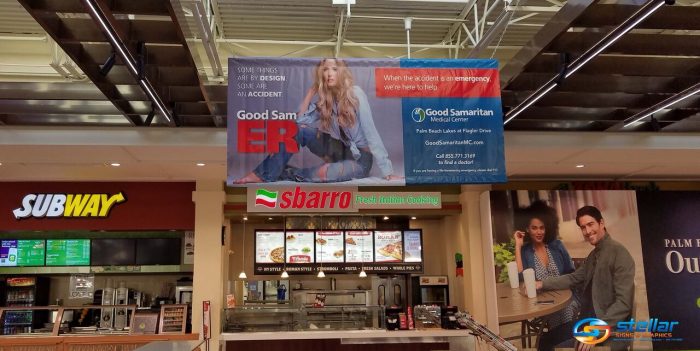 Trade shows provide excellent venues for business owners from all industries to showcase their goods and highlight the benefits of their services. Providing ample opportunities to meet with both curious consumers and like-minded business owners, trade shows are the perfect places to boost your brand's image.
Naturally, securing a booth at a trade show means that you'll need to vibrantly display your business name, logo and contact information through signage. The experts at Stellar Signs & Graphics are happy to inform you that we specialize in helping business owners make amazing first impressions with dazzling banners and trade show displays!
Why is it so important to invest in an eye-catching trade show display?
It can mean the difference between meeting a throng of new customers and having people aimlessly walk by your booth. If you're looking to attract eyes – especially away from competitors – then you'll certainly want your booth to stand out from all of the rest at every trade show you attend. The way you set up your booth is of paramount importance. Among its components should be a backdrop, which we believe is the most important part of your trade show presentation.
Your backdrop should be designed with vibrant graphics that grab the attention of all those who walk by. The graphics can be digitally imprinted on poster paper, backlit films or fabrics. It all depends on the makeup of the display. We can also help you with supporting components such as retractable banner stands, table throws, floor graphics, folding display panels and tabletop displays – all of which turn your booth into a super branding machine!
How do the supporting components help you to reinforce brand awareness?
Your trade show display should be designed to generate name recognition for your company. As a result, you should carefully choose your colors, textures and messages. You should also consider the height of your supporting components. Variations in the depths and heights of your setup help for it to be that much more visually stimulating.

The signage experts at Stellar Signs & Graphics regularly work with both large and small companies to create the types of trade show displays that are attention-grabbing and newsworthy. We serve the business communities in and around Palm Beach County, West Palm Beach, Royal Palm Beach, Wellington, Lake Worth, Boynton Beach, and Greenacres, Florida.

Call us today at 561-721-6060 for more information about our trade show products and to get started on your order!


Tags: banners, tradeshow banners, tradeshow displays, tradeshow graphics


Categorised in: Trade Show Displays, Trade Show Graphics

This post was written by Bonnita Calhoun