6
Jun
2023
Published by Walkiria Gutierrez Comments Off on Making Post And Panel Signs Your Company's Secret Marketing Weapon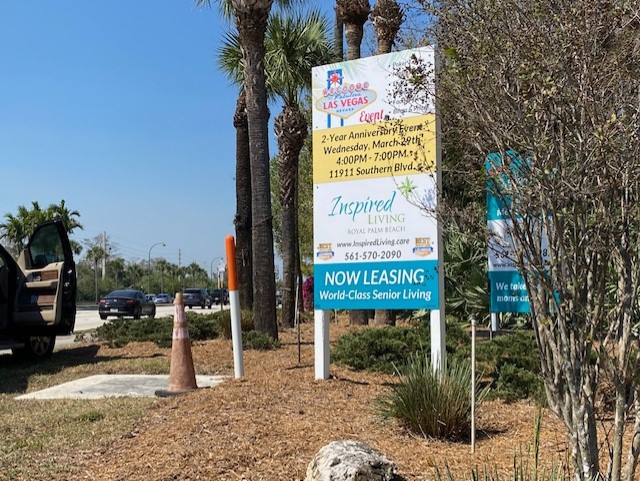 It should go without saying that when it comes to promoting your business, having eye-catching signage is crucial. One effective signage solution that often goes overlooked is post and panel signs. These versatile and attention-grabbing signs offer numerous benefits for businesses of all types.
As you can see in the photos both above and below, the Stellar Signs & Graphics team recently created a post and panel sign for Inspired Living. They smartly used it to convey a plethora of information. Let's discuss why a post and panel sign can become your company's secret marketing weapon!
Post and panel signs are designed to capture attention from a distance.
With their prominent size and height, post and panel signs ensure maximum visibility even in crowded areas. Whether placed along busy streets or in front of your business, these signs act as beacons, directing customers to your location. Their bold and captivating designs make it hard to ignore your company's presence, increasing the chances of attracting new customers.
Post and panel signs offer immense creative freedom.
When it comes to design and customization, the sky's the limit with post and panel signs. From colors and fonts to logos and graphics, you can tailor your sign to match your brand identity perfectly. Incorporating your unique style and messaging helps your business to stand out from competitors. Not to mention, it creates a lasting impression on passersby.
As well, keep in mind that you can easily update the signage with seasonal promotions or new offerings. Post and panel signs are widely used for keeping a company's messaging fresh and relevant.
Post and panel signs are cost-effective signage solutions.
Compared to other marketing channels like digital advertising or traditional billboards, post and panel signs require a lower upfront investment. They offer long-term value, serving as a constant marketing tool that can generate leads and customers for years to come. Once installed, these signs require minimal maintenance, making them a budget-friendly option for businesses looking to maximize their marketing dollars.
Post and panel signs are built to withstand various weather conditions.
Constructed with durable materials such as wood, aluminum, PVC or high-density foam, these signs are designed to last. They can withstand rain, wind and even harsh sunlight without losing their vibrant colors or structural integrity. This durability ensures that your investment remains intact for an extended period, delivering consistent marketing results and providing a strong return on investment.
Post and panel signs offer customizable options.
Naturally, you want your marketing messages to suit your company's specific needs. A post and panel sign is easily customizable so that you can easily communicate your messages. Whether you need a single-sided sign, double-sided visibility or even multi-panel displays, these signs can be tailored to your preferences. You can also choose from various sizes and shapes to fit the available space and maximize the impact of your signage.
Post and panel signs are powerful branding tools.
By prominently displaying your company's name, logo and key messages, a post and panel sign can help establish and reinforce brand awareness in the minds of potential customers. Consistency in branding across all touchpoints builds trust and recognition, increasing the likelihood of customers choosing your business over competitors.
Let's get to work on a post and panel sign for your business!
The experts at Stellar Signs & Graphics serve the business communities in and around Palm Beach County, West Palm Beach, Royal Palm Beach, Wellington, Lake Worth, Boynton Beach, and Greenacres, Florida. Give us a call at 561-721-6060 today! You may also email sales@stellar-signs.com or fill out the form on our Contact Us page!


Tags: aluminum, branding, creative freedom, customizable, durability, foam, Inspired Living, marketing, post and panel signs, PVC, signage, wood


Categorised in: Post and Panel Signs

This post was written by Walkiria Gutierrez