16
Apr
2019
Published by Bonnita Calhoun Comments Off on Parking Lot Signs Are A Huge Attraction For Your Business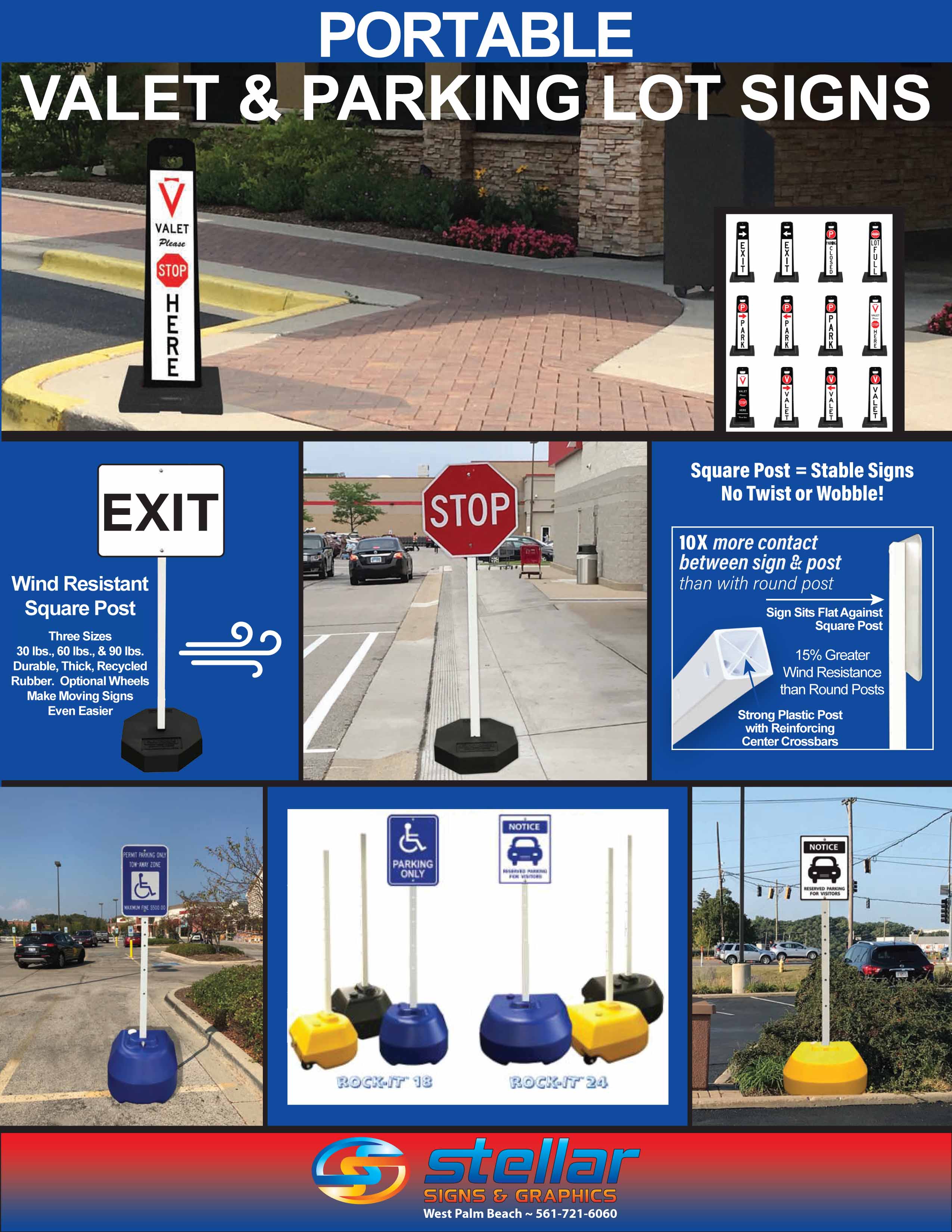 Most consumers much prefer shopping at stores that have parking lots. Finding space to park a car (especially if it's relatively close to a desired store) is a huge incentive for a shopper to choose a specific place to shop. If your place of business is located where there is ample parking, you're likely reaping the benefits of steady traffic in your store.
Not all parking lots are created equal.
It's integral to the success of your business to have a parking lot that isn't consistently bogged down with heavy traffic and confused drivers who have trouble finding their ways in and out. This is what makes parking lot signs so vital. And this is especially true if you offer valet parking.
"Valet parking signs immediately inform your visitors valet parking is an option," Santa Fe's The Valet Spot informs us, "When customers enter your business' parking lot, they have just had their first interaction with your business. Once they're in your parking lot, it's up to you to create a positive valet parking experience by having visible valet parking signs and fast, friendly valet service."
Improve your parking lot with portable signs!
At Stellar Signs & Graphics, we're elated to offer South Floridian business owners the opportunity to vastly improve their parking lots with our incredibly effective, high-quality portable valet and parking lot signs. With our portable signs, you are able to place your signs and then relocate them to any other areas where they are needed. And because of their high durability, you can move them around without compromising their quality and effectiveness.
One of the top features of our portable parking lots signs is their wind resistant square posts. Unlike their rounded counterparts, square posts don't twist or wobble. In fact, there is ten times more contact between signs and square posts because of their flat surfaces. Square posts also offer 15 percent greater wind resistance than round posts.
Our square posts are made with strong plastic and reinforced center crossbars.
Their bases are constructed from thick, durable, recycled rubber. This ensures that the signs are able to hold steady in their positions. You can also have optional wheels attached to the bases to make moving the signs that much easier. Our parking lot signs are available in three sizes: 30 lbs., 60 lbs. and 90 lbs.

Please don't hesitate to contact Stellar Signs & Graphics to learn more about our valet and parking lot signs. We serve the business communities in and around Palm Beach County, West Palm Beach, Royal Palm Beach, Wellington, Lake Worth, Boynton Beach, and Greenacres, Florida. Please don't hesitate to give us a call at 561-721-6060 today!


Tags: parking lot signs, portable signs, square posts, valet and parking lot signs, valet signs


Categorised in: Parking Lot Signs, Portable Signs, Valet Signs

This post was written by Bonnita Calhoun