18
Mar
2016
Published by Bonnita Calhoun Comments Off on Partial Wraps in Palm Beach County Boost Brand for Auto Detailer
When you have an excellent business model, you owe it to yourself to advertise it with partial vehicle wraps in Palm Beach County, FL. Case in point is Fine Shine Auto Detailing. This company brings a complete car detailing experience to your home or business. Get a full detailing job, wash and wax without having to wait in line at the car wash or doing it yourself. To ensure that everyone would quickly learn about the company and its services, the business' owners contacted us for a partial wrap package.
We designed a graphics and lettering package that put the wrap portion on the rear and sides of the van. It displays water and bubbles running down the back and sides of the silver vehicle. Our technicians installed the lettering partially on the wrap and partially on the van's untreated portion. The transition between vinyl and the regular paint job is smooth, which adds to the visual appeal of the display. We highlighted the company's contact information via a phone number and email address. When this van now drives down the road, the combination of colors and three-dimensional design elements makes the vehicle stand out.
Advertising Your Business with Vehicle Graphics
A partial wrap is a budget-friendly method of advertising your company, products, or services with the help of your vehicle. Whether you drive a passenger car, van or truck of any size, the installation of a partial wrap has the power to make a significant difference in the name recognition of your company. The use of this advertising method also assists consumers to heighten their brand awareness. Whenever they are waiting next to or behind your vehicle in traffic, they learn more about the products you sell or services you offer.
Of Course, You Have Other Options, Too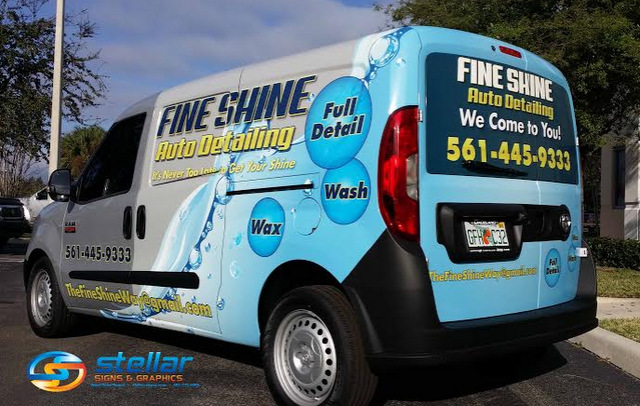 Graphics and lettering package. When you like the idea of only adding spot graphics and a lettering package to your work vehicle, consider the installation of niche-specific images that make it clear – at a glance – what type of business you operate. The lettering spells out any information you want prospective customers to know about.
Spot graphics or lettering alone. Another option is the installation of spot graphics that show your company's name and display it on the image of your logo. This type of spot graphic displays well on the hood of your car, the sides, or on the rear doors of a van. Lettering by itself identifies your company and its contact information. You frequently see this information shown on the sides of a work truck or car.
Full wrap. If you prefer a complete change of color and graphics package, you cannot go wrong with a full wrap. It covers your entire vehicle, no matter the make and model, and presents your advertising message in its best light.
Contact us today to learn more about graphics packages, full, or partial vehicle wraps in Palm Beach County, FL, and its surrounding areas. Whether you run a start-up operation or own a long-established corporation, we work with all types of businesses.

Tags: Partial Vehicle Graphics Palm Beach County, Partial vehicle wraps in Palm Beach County, Vehicle Wraps for Auto Detailers Palm Beach County


Categorised in: Partial Vehicle Wraps, Vehicle Graphics, Vehicle Wraps

This post was written by Bonnita Calhoun