13
Jun
2017
Published by Bonnita Calhoun Comments Off on Perforated Vinyl Window Sheets Beautify Your Store While Enhancing Privacy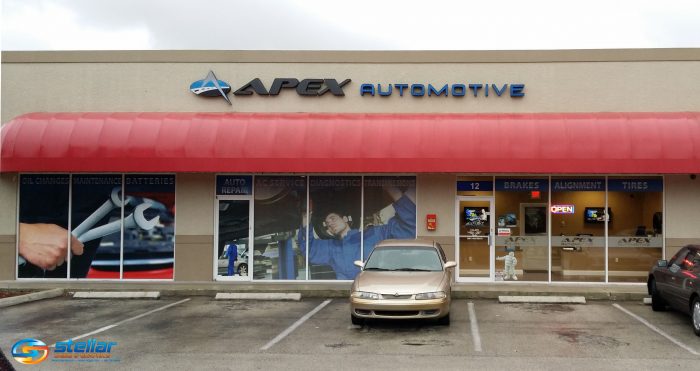 Are you looking for a way to better utilize all of that glass that makes up the better part of your storefront? Could it be used in a way to both attract the attention of those who walk by, while also highlighting the finer points of your brand? As well, wouldn't it be nice to come up with a beautifying advertising solution that also enhances the privacy of your place of business? Look no further than perforated vinyl window sheets!
This incredible product allows you to display vivid attention-grabbing imagery while allowing the sunlight from outside to shine on through the windows of your venue. That way, you can simultaneously attract walkers-by and enjoy the natural light that the beautiful state of Florida often provides your place of business.
However, walkers-by will not be able to see through the windows as your perforated vinyl window sheets double as attractive signage and privacy enhancers. From inside, however, it's a different story. You will still be able to look through your windows.
Why choose perforated vinyl window sheets to beautify your storefront?
Well, let's look at the fact that this type of signage doesn't require any additional space. You require no permit as you're not taking up any extra real estate on your property to erect a sign. Because you're able to use your entire window space to your discretion, you also utilize a vast advertising space that would otherwise serve no other purpose than to be a transparent wall.
Window graphics have proven to be able to provide excellent marketing messages with the power to reel in the foot traffic outside of a store's front doors. Dressing up your storefront or office with window graphics will definitely make an impact. And again, you won't have to worry about losing the brightness of your store's interior. The specially-designed micro-punctures placed throughout the vinyl window sheet make this signage method sunlight-friendly.
What types of businesses can benefit from installing perforated vinyl window sheets?
If you wish to showcase the products and services you offer to your target audience while highlighting the niche market you're in, then whole-window coverings are ideal. In other words, any business type can benefit from the power of perforated vinyl window sheets! As long as you have the window space to install this attention-grabbing signage solution, it can work for you!

The experts at Stellar Signs & Graphics serve the business communities in and around Palm Beach County, West Palm Beach, Royal Palm Beach, Wellington, Lake Worth, Boynton Beach, and Greenacres, Florida. We will happily work with you to design a look for your window graphics that will be unique, eye-catching and appealing to your targeted demographic. Give us a call at 561-721-6060 today!


Tags: lettering, perforated vinyl window sheets, whole-window coverings, window graphics


Categorised in: Window Graphics, Window Lettering

This post was written by Bonnita Calhoun