24
Jul
2018
Published by Bonnita Calhoun Comments Off on Post And Panel Signs Provide Economical Business Advertising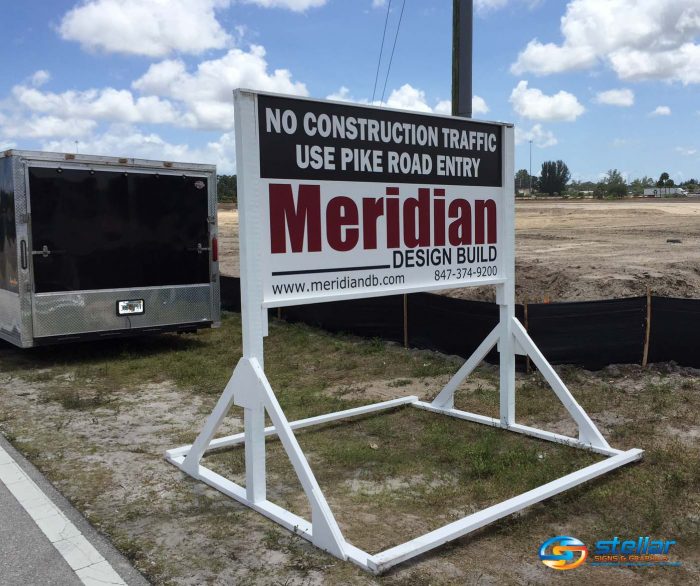 Post and panel signs are among the most cost-conscious and highly effective signs in the signage industry. Not only do they often easily fit within the advertising budgets of small businesses, post and panel signs are incredibly durable. As a result, they provide long-lasting bang for your buck.
Generally, post and panel signs are used as identification signs for businesses, placed either near or directly in front of business locations to alert passers-by of the company's whereabouts. However, these great signs are also excellent choices for directional purposes. In many cases, they are used on construction sites to inform visitors of safety warnings and/or the various locations on the grounds.
The Meridian photo, shown above, is a perfect example. They had this post and panel sign made during their construction of a new FedEx distribution center. Not only does the sign cleverly offer the company's website address and phone number underneath its logo, it also includes pertinent warnings and directions pertaining to the construction site: "No construction traffic, Use pike road entry."
Post and panel signs make great brand builders!
Naturally, your post and panel sign can be designed in any way you see fit. The signs offer vibrant branding opportunities by displaying your company's logo, promotions, sales and other marketing campaigns. This helps to generate greater interest in customers who are within the vicinity of your company's place of business.
However, post and panel signs don't even have to be located on your company's grounds. As evidenced by the photo below, a smartly-designed sign can also showcase your company's promotions, such as an online auction. With this sign, it is made obvious that bids for land on which property is being built are being accepted on the clearly displayed website. A phone number is also included to assist people with any inquiries.
Post and panel signs also help to create queue lines!
Whether for indoor or outdoor use, post and panel signs are cost-effective ways to create queue lines to manage numerous visitors and large audiences at events where line-ups are necessary. Secure your queue line design and prevent line cutting with a solid structural perimeter created by setting up a line of post and panel signs. They've worked for countless organizations and they can work for you!

Let's get to work on your company's post and panel sign today! The signage experts at Stellar Signs & Graphics serve the business communities in and around Palm Beach County, West Palm Beach, Royal Palm Beach, Wellington, Lake Worth, Boynton Beach, and Greenacres, Florida. Please don't hesitate to give us a call at 561-721-6060.


Tags: advertising, construction sites, directional signs, marketing, post and panel, post and panel signs


Categorised in: Directory Signs, Post and Panel Signs

This post was written by Bonnita Calhoun