7
Apr
2017
Published by Bonnita Calhoun Comments Off on Reveal Your Logo and Brand with Post and Panel Signs in Wellington FL!
Located at 14070 Palm Beach Point Boulevard in Wellington, Pine Hollow is a full-range horse training and boarding facility. Professional trainers assist students who are just starting out as well as those who are at the competition levels. The locale offers a variety of care options that cater to competition and show horses.
Because each owner has different needs, the business customizes packages with the requirements of its clientele in mind. When the management team decided to highlight the location of its venue with post and panel signs in Wellington FL, a representative contacted our experts for assistance.
Elegant Post and Panel Setup Highlights an Eye-catching Logo Presentation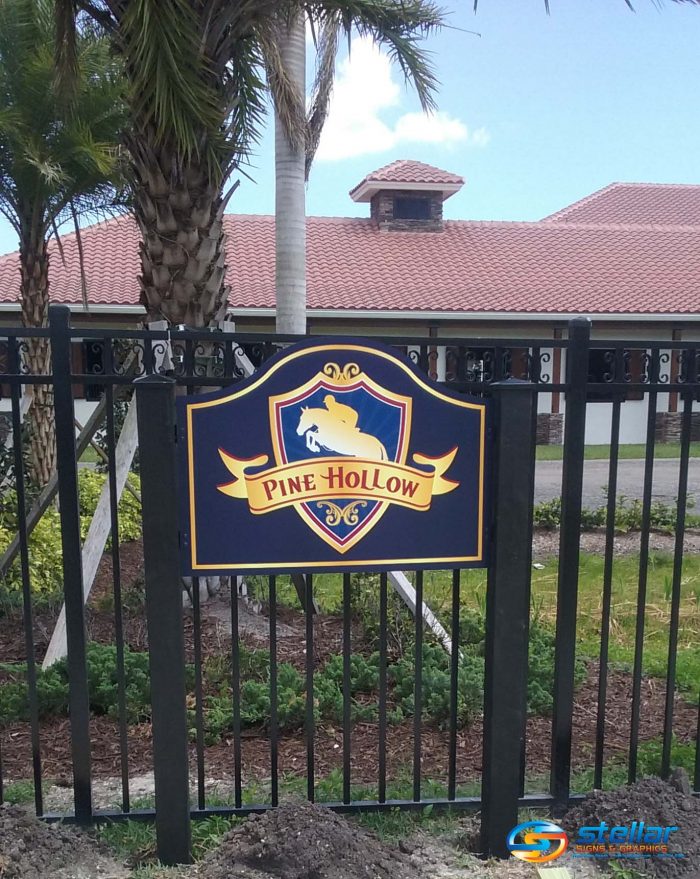 The business already has a logo that identifies its niche with a gold-on-blue horse and rider image. The lettering presents as a layered feature in front of the graphic. We placed this picture against a darker blue backdrop that harmonizes with the business' corporate color palette without detracting from it. The posts feature a darker tone that matches the paint of the fence. Our graphic artists created an ornamental presentation that is in keeping with the ornamentation of the fencing and the surrounding area. In so doing, we ensured that the signage became part of the ambiance even as it fulfilled its wayfinding function.
Post and Panel Products Suit Plenty of Business Clients
For Pine Hollow, the product is primarily a wayfinding tool although it presents a strong brand message. However, did you know that for your business, it might find a different application?
Monument sign. Some companies are now opting for this signage design when putting together their monuments. They no longer pick out the more traditional brick and mortar, aluminum and acrylic, or even preformed sign foam designs. Instead, they request post and panel presentations that show a company's name, logo, address, and frequently also contact information.
Directional signage. In parking lots and on larger campuses, the product is ideally suited as a directional tool. With arrows, it may feature blade inserts that point in various directions. A large facility map with a "you are here" notation also works well. You frequently see this setup in shopping malls.
Welcome sign. Tourist destinations like the post and panel presentation because it offers a large surface on which to display directions, information, the name of a location, hours, and other facts that visitors to a particular venue need to know. Parks, in particular, use this signage solution for these reasons.
Real estate marker. A three-post-and-panel design sells commercial real estate. You have undoubtedly seen these signs along the highway or near new commercial construction sites. Rather than being ornate, these products are more functional and larger since they cater to drivers who go past these markers at a pretty good clip.
Do You Need Post and Panel Signs in Wellington FL?
Whether you are thinking of adding the signage as a wayfinding tool, a marketing option, or a brand message, we can help. Discuss your plans with our business sign experts today!


Tags: Best Sign Shop For Post and Panel Signs in Wellington FL, Reveal Your Logo and Brand with Post and Panel Signs in Wellington FL!, Utilize Post and Panel Signs For Branding Purposes in Wellington FL


Categorised in: Business Signs, Exterior Signs, Post and Panel Signs

This post was written by Bonnita Calhoun