6
Oct
2020
Published by Bonnita Calhoun Comments Off on Revisiting The Importance Of Protecting Your Office With PPE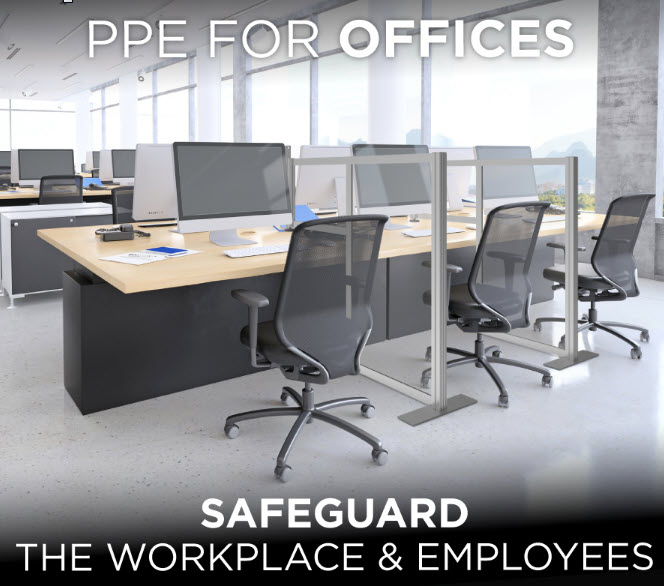 If you're working at your place of business, and not at home, personal protective equipment (PPE) is essential. Ensuring that you're following COVID-19 protocol is necessary to keep both your employees and customers safe. Stopping the spread of this virus couldn't be more important. We likely don't have to tell you that we've all been contending with it for a lot longer than we would have liked or expected.
Is there any end to the pandemic in sight?
At Stellar Signs & Graphics, we believe that the answer depends on how we all approach protecting ourselves. It's important to follow such safety measures as social distancing. Keeping at least six feet apart from other individuals is one way to prevent the spread. Wearing masks and regularly washing your hands are also key factors in keeping safe. But these are likely measures you've heard recommended countless times already.
As a business owner, it's also wise to set up transparent physical barriers at your place of work. They have been highly recommended by the Centers for Disease Control and Prevention (CDC) and the World Health Organization (WHO) in addition to numerous other agencies.
What are transparent physical barriers made out of?
These barriers are often made out of acrylic (Plexiglass) or polycarbonate plastics. That makes them lightweight, easy to shape and even more resistant than glass. As you're likely aware, plexiglass partitions have been widely used in both the health care and food service industries for decades. But, in today's coronavirus-impacted world, they have become part of the new norm for businesses of all kinds.
Plexiglass partitions serve three main functions:
1. To intercept respiratory droplets that are thought to transmit the virus.
2. To reinforce physical distancing requirements.
3. To reduce reliance on face masks, especially if people are uncooperative.
How can you maximize the effectiveness of your plexiglass partitions?
It's important that their dimensions exceed the breathing areas of their users. We're talking about the pockets of air from which people draw their breaths. In other words, the height of a partition should be greater than the height of its user. Are your employees and/or customers generally standing or seated when they interact with each other? This is an important factor to take into account. You want to ensure that any water droplets emitted from noses and mouths are blocked.

The experts at Stellar Signs & Graphics are proud to help you with your office's PPE situation. Please don't hesitate to contact us to learn all about our sneeze guards and partition walls. We serve the business communities in and around Palm Beach County, West Palm Beach, Royal Palm Beach, Wellington, Lake Worth, Boynton Beach and Greenacres, Florida. Give us a call at 561-721-6060 today!


Tags: coronavirus, COVID-19, Cubicle Sneeze Guards, employees, health, Partition Walls, safety, sneeze guard walls, social distancing, staff


Categorised in: Partition Walls, Sneeze Guards

This post was written by Bonnita Calhoun