21
Jun
2022
Published by Bonnita Calhoun Comments Off on Sprucing Up The Palm Beach Yacht Club Parking Lot With Car Stop Branding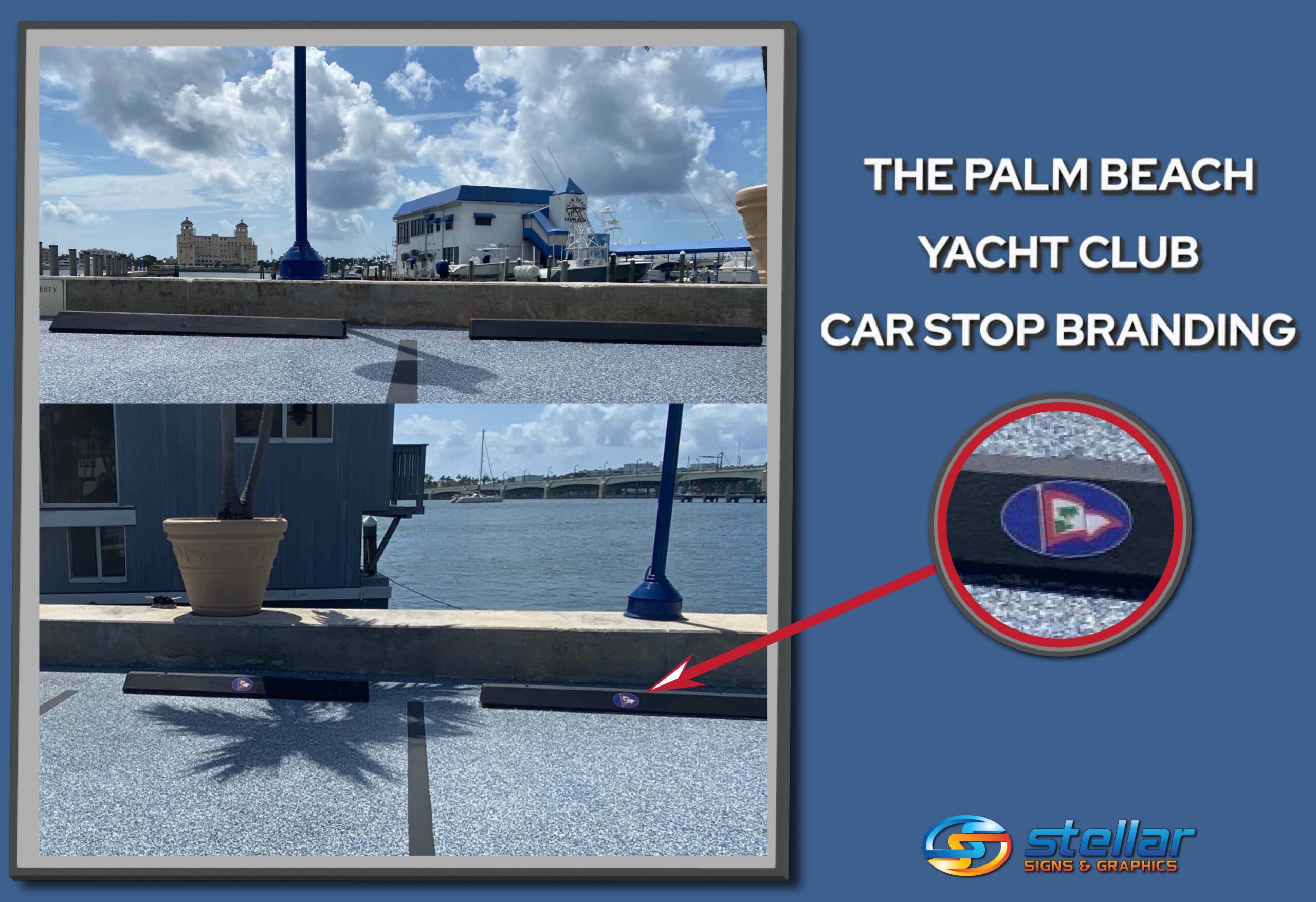 Last month, the Stellar Signs & Graphics team proudly announced the completion of a brand new HDU (High Density Urethane) sign for the Palm Beach Yacht Club. As we described, the attractive new sign is four feet tall and six feet wide and manufactured with a wood grain background. It has a sandblasted wood grain finish and incorporates dimensional lettering.
The Palm Beach Yacht Club parking lot has been spruced up!
As the official start of summer takes place today, we're excited to announce yet another signage product our team has completed for the Palm Beach Yacht Club. It was a small project, but a very fun and unique one for our team. Have you ever heard of car stop branding?
Now, when club members arrive to the site, they will be greeted with special little additions to their parking spots. Our team recently added Palm Beach Yacht Club logos to the parking lot car stops! Each logo is 6.5″ X 4.5″ in size. They were each printed on a vinyl called AlumiGraphics. The material is specially designed for outdoor textured surfaces. That made them perfect for direct installation to the front of each existing car stop in the club's parking lot.
AlumiGraphics vinyl delivers excellent grip.
It is an aluminum-based medium (hence their name) that steadfastly grips any surface it is applied to. Naturally, this is necessary for outdoor elements that endure the wrath of extreme weather conditions. Not to mention, such surfaces as brick, stucco, concrete and stone don't always have smooth flat surfaces.
"These materials, along with our specially formulated adhesive, combine to stand up to harsh weather conditions," explains the AlumiGraphics website, "When installed as directed, material can last for months outdoors!"
AlumiGraphics vinyl easily conforms to textured surfaces.
The material is also very easy to apply. With inferior vinyl wall wrap products, installers can damage painted surfaces. They can also injure themselves with heat guns that are needed to affix the signage to the wall. Because AlumiGraphics are foil-based, it allows the graphics to naturally conform to textured surfaces like brick walls.
"Installers simply use rollers and fingers to work the material between the brick," informs AlumiGraphics, "The specially-formulated adhesive keeps the graphic in place until you're ready to take it down."
Let's get to work on sprucing up your company's textured surfaces!
Contact Stellar Signs & Graphics to get working on some car stop branding or any other wall graphic for your company! We proudly serve the business communities in and around Palm Beach County, West Palm Beach, Royal Palm Beach, Wellington, Lake Worth, Boynton Beach, and Greenacres, Florida. Please don't hesitate to give us a call at 561-721-6060 today!

As well, for information about membership in the Palm Beach Yacht Club, contact Heather Wolfe by e-mailing heather.wolfe@pbyc.com or calling 561-655-8711.


Tags: AlumiGraphics, aluminum, branding, car stop branding, foil, graphics, marketing, Palm Beach Yacht Club, parking lot, signage, textured surfaces


Categorised in: Aluminum Signs, Car Vinyl Graphics, Parking Lot Curb Covers, Parking Lot Signs

This post was written by Bonnita Calhoun