6
Apr
2021
Published by Bonnita Calhoun Comments Off on Take A Look At Our HOA Monument Sign Updates!

Many residential communities in West Palm Beach have a Homeowner Association (HOA). Among many other provided benefits, an HOA helps to maintain a clean and consistent atmosphere in each neighborhood. The Stellar Signs & Graphics team is very happy to have worked on a number of HOA monument sign updates in recent months.
Among the residential communities that received updated monument signs from our team are Siesta, Cateleya Shores, Pine Tree, Verona Lakes and BellaVista West. More are on the way! Each of the monument signs we worked on was vastly improved. Generally, a monument sign update involves a revamping or modernization of its design. The process involves removing the old sign from the monument. We then recreate it with new or repainted letters or a new logo or new colors.
Revamping a monument sign is about more than just giving it a new look.
In many cases, there are very specific requests from clients that are focused on revitalizing their branding. As a result, they wish for their new monument signs to coincide with their newly-updated community colors. As well, the remodeling of their monument signs can be in sync with the interior designs of their clubhouses and/or communities.
In other cases, monument signs are updated to give companies modernized feels. The objective, as always, is to immediately draw the attention of passers-by. Sometimes, a sign that has gone unchanged for too long becomes the equivalent of white noise. It garners next to no attention and therefore, does nothing to improve the business.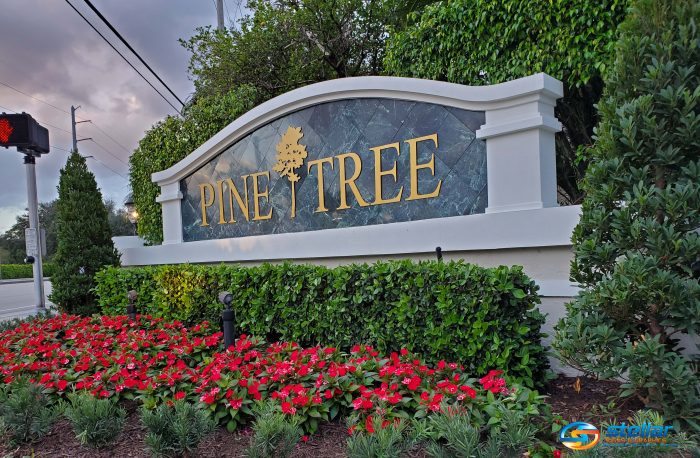 Sometimes, a current monument sign is simply in disrepair.
As with the Cateleya Shores monument sign, missing letters fail to communicate an accurate message. Prior to the revamping of this community's monument sign, it read "At Shores". Not only did the sign not properly display the community's name, it communicated the false impression that the area was in some sort of disarray. However, nothing could be further from the truth.
"Cateleya Shores offers luxury living in a private resort style setting," explains their website, "Spacious living arrangements encompass a pristine multiple acre lake with multiple bedroom apartments open onto our beautifully landscaped parks and tropical pool area. Live the ultimate Florida lifestyle at Cateleya Shores, less than 10 minutes from the beach and the mall."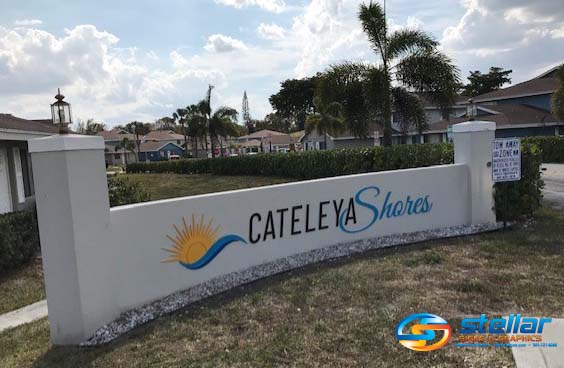 Is it time to update your community's monument sign?
Please don't hesitate to reach out to the signage experts at Stellar Signs & Graphics! We serve the business communities in and around Palm Beach County, West Palm Beach, Royal Palm Beach, Wellington, Lake Worth, Boynton Beach, and Greenacres, Florida. Give us a call at 561-721-6060 today!


Tags: Cateleya Shores, HOA, home owner's association, monument signs, Pine Tree, refurbished signs, revamped signs, Siesta, Verona Lakes, West Palm Beach


Categorised in: Monument Sign Letters, Monument Signs, Refurbished Signs

This post was written by Bonnita Calhoun