22
Sep
2020
Published by Bonnita Calhoun Comments Off on The Condition Of Your Sign Says A Lot About Your Business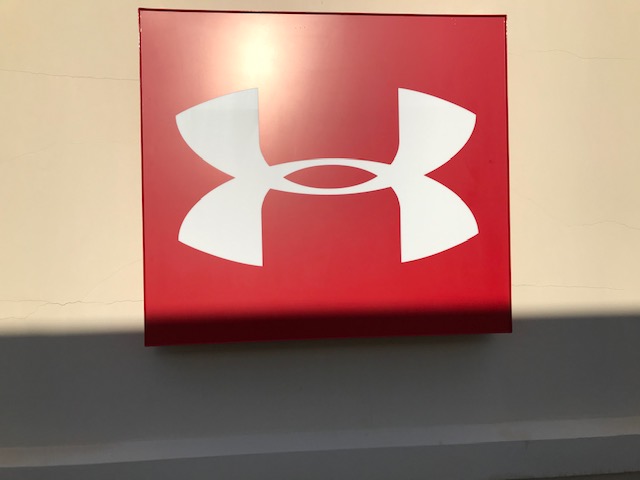 The sign you display to showcase your company's name and logo means a lot. When strategically placed above your store's entrance, a sign becomes the first thing passers-by see to indicate that your business exists. But more importantly, your sign demonstrates the high-quality nature of your brand. Then again, it can do the opposite.
Does your sign look dilapidated? Is it faded or cracked? Are there letters missing or are they unlit? Your business only gains as good an impression as its easily-visible sign gives it. Therefore, it's of vital importance that the shape of your sign is always maintained. And we're not talking about whether it's rectangular or square. It must be kept in good condition!
Check out the newly-updated Under Armour sign!
The sign representing the Under Armour Factory House at Palm Beach Outlets was recently refurbished. The signage experts at Stellar Signs & Graphics had the pleasure of working with Sign Crafters of Texas to replace the old cracked vinyl on the "UA" logo that is displayed on the side of the store. To complete the project, we removed the old facing and fabricated a brand new one with cut vinyl.
The before photo is shown below, displaying the formerly faded and cracked look of the vinyl facing. The after photo is shown above, showcasing a vibrant and fresh new look for the sign!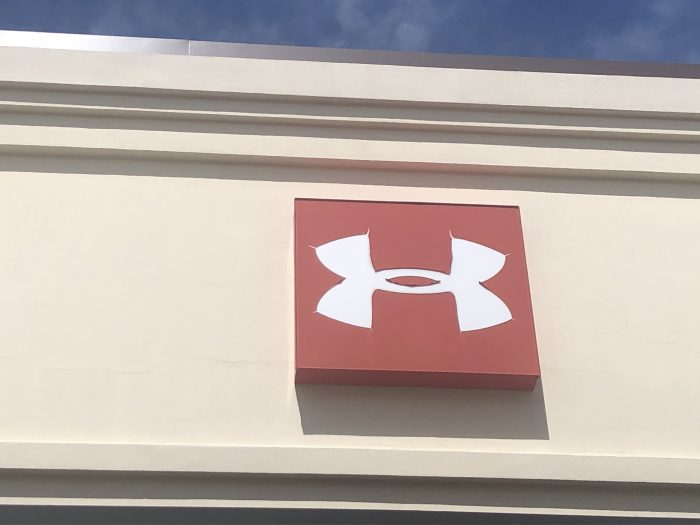 The condition of your sign goes a long way in attracting clientele!
Don't assume that you can simply place a sign above your store and expect it to do its job without receiving any maintenance. Naturally, weather conditions will play a role in fading and cracking your sign over time. Now, our high-quality signs generally provide many years of carefree service. However, it's always wise to refurbish your sign if it endures unforeseen damage. It's the best way to give great impressions.
"Signs play an important role in attracting customers to both a company and its individual products," writes Tom Greenhaw on CashierLive.com, "An attractive sign is memorable and enticing. It makes the initial promise of what a store might offer, and it lays down the framework for what a customer might expect from interactions with that company. In other words, signs are a valuable part of branding, and their value should not be underestimated."
Allow our team to refurbish your storefront sign!
The experts at Stellar Signs & Graphics serve the business communities in and around Palm Beach County, West Palm Beach, Royal Palm Beach, Wellington, Lake Worth, Boynton Beach, and Greenacres, Florida. Please don't hesitate to give us a call at 561-721-6060 today!


Tags: refurbished signs, signage, signage repair, signage replacement, storefront signs, Under Armour, updated signs


Categorised in: Refurbished Signs, Storefront Signage

This post was written by Bonnita Calhoun