21
Apr
2015
Published by Bonnita Calhoun Comments Off on The Necessity of ADA and Wayfinding Signs
Who orders ADA and wayfinding signs? West Palm Beach, FL, business owners know that it makes good sense to help prospective customers or clients find their ways around the company's property. This is particularly important in a setting that involves a large campus or sprawling property featuring multiple buildings. Think like the customer: Would you repeatedly do business with a company that makes it hard to find its products or services? Would you come back if you knew that a competitor had a better spatial setup and accurate signage that made it a lot easier to navigate the venue?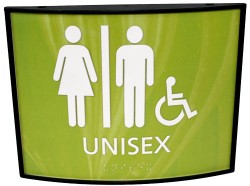 Going hand in hand with wayfinding markers are the ADA signs West Palm Beach, FL, businesses and public institutions know they need to install to meet the stringent requirements of the Americans with Disabilities Act. Although some may consider it a redundant use of resources, we beg to differ. In fact, the professionals at Stellar Signs & Graphics have discussed the matter with our most successful business clients – who are very conscientious about compliance as well as adding wayfinding markers – and found that there were four compelling reasons that pointed to the absolute necessity of the markers.
Safety
Whether you mange a church, are in charge of overseeing a school or run a warehouse store, safety is a primary concern in your business. Ensure that visitors, customers or clients know where to find the emergency exits. In addition, clearly label rooms and areas that are off-limits to anyone but authorized personnel.
Ease of Use
There is nothing more frustrating than pulling up at a multi-building campus and not knowing where to find the administrative offices or the specialty care facility. This is where post and panel markers in the parking lot make a huge difference. With the most sought after locations clearly marked and the directions identified by arrows, wayfinding becomes a snap even on the largest campus.
Convenience
Your customers do not want to have to ask for everything. Finding the restrooms, locating products and getting in touch with the right office should be as simple as seeing a clearly posted wall sign, reading a building directory or following ceiling-mounted shingle signage. A broad array of available signage products fulfills both wayfinding and ADA requirements.
Repeat and Referral Business
A client or customer who feels comfortable on your property will come back. When it is easy to navigate your store and items are grouped logically as well as clearly marked, the shopper may even drive a little farther just to do business at your venue rather than the one that is just down the street. This also results in referral business when the customer shares these experiences with others.
Contact us today for more information on these signage products. Our experts gladly come out and perform a site evaluation, which allows us to pinpoint areas where ADA markers must be installed for compliance reasons. In addition, by visiting your location for the first time, our pros have the advantage of thinking like the customer; in this manner, they easily find areas where wayfinding signage would be a decided asset that has the power to enhance consumers' experiences at your venue.

Tags: ADA Signs West Palm Beach, Wayfinding Signs West Palm Beach


Categorised in: ADA Signs, Wayfinding Signs

This post was written by Bonnita Calhoun