18
Sep
2018
Published by Bonnita Calhoun Comments Off on Vehicle Wraps Can Get Your Company Noticed Nationwide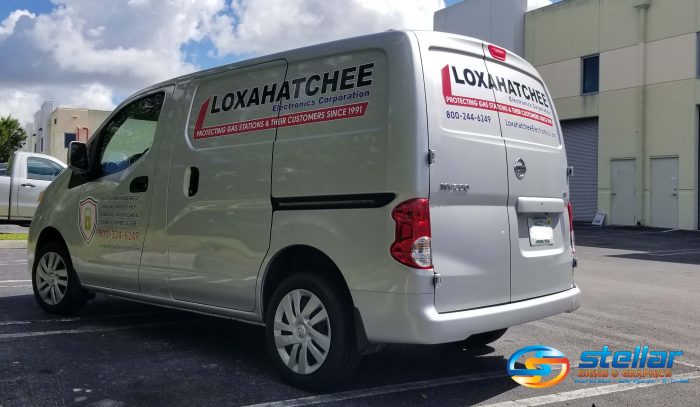 The Stellar Signs & Graphics team recently had the pleasure of completing a vehicle wrap project for Loxahatchee Electronics. Their sleekly-designed Nissan NV200 van is now travelling across the United States as part of the company's mandate to secure gas pumps so that they can't be hacked. Loxahatchee Electronics has been providing products and support for the petroleum industry since 1991.
Vehicle wraps are automatic attention grabbers.
We were thrilled to have had the opportunity to complete a vehicle wrap project for Loxahatchee Electronics as we knew their van would be making a nationwide journey. As we've often heralded, one of the greatest aspects of vehicle wrap projects is that they help companies grab the attention of everyday individuals from a limitless number of locations. On socPub.com, digital marketer, Walter Moore highlights this benefit of vehicle wraps.
"Attractive and brightly colored truck wraps can make your company vehicles to stand out from other cars on the road," he writes, "Passing drivers and pedestrians rarely pay any attention to plain colored trucks while on the road. However, they will quickly notice well-designed vehicle wraps and will be eager to know what they entail. Colorful car wraps are extremely engaging and people's eyes will naturally be drawn to them."
Vehicle wraps help you to reach a wider audience.
Naturally, the more places you travel with your wrapped vehicle, the more opportunities you give your company to reach a wider audience. By intelligently designing their Nissan NV200 van before taking it on the road, Loxahatchee Electronics ensured that their company would be noticed all over the country.
"You will potentially reach many people with your vehicle wraps depending on how far the vehicle travels, and whether your business has a single truck or a fleet of vehicles," explains Moore, "Some of these viewers may be in need of the services or products that you offer. With the use of vehicle wraps, you can reach a larger audience compared to other advertising techniques."
Vehicle wraps offer uninterrupted advertising.
Vehicle wraps aren't like television commercials. They don't give people opportunities to get out of their seats for snacks or bathroom breaks. As Moore points out, "many people tend to relish the striking effects of vibrant vehicle wraps without having a negative feeling about this form of advertising." As a result, they have often been proven to be more effective than TV ads.

Let's get working on a vehicle wrap for your company vehicle! The experts at Stellar Signs & Graphics serve the business communities in and around Palm Beach County, West Palm Beach, Royal Palm Beach, Wellington, Lake Worth, Boynton Beach, and Greenacres, Florida. Please don't hesitate to give us a call at 561-721-6060 today!


Tags: Loxahatchee Electronics, moving billboards, Nissan NV200, van wraps, vehicle wraps, Vehicle Wraps in West Palm Beach


Categorised in: Van Wraps, Vehicle Graphics, Vehicle Graphics Palm Beach County FL, Vehicle Vinyl Lettering, Vehicle Wraps, Vehicle Wraps Palm Beach County FL

This post was written by Bonnita Calhoun