30
Jul
2019
Published by Bonnita Calhoun Comments Off on Your Monument Sign Should Reflect Your Brand's Reputation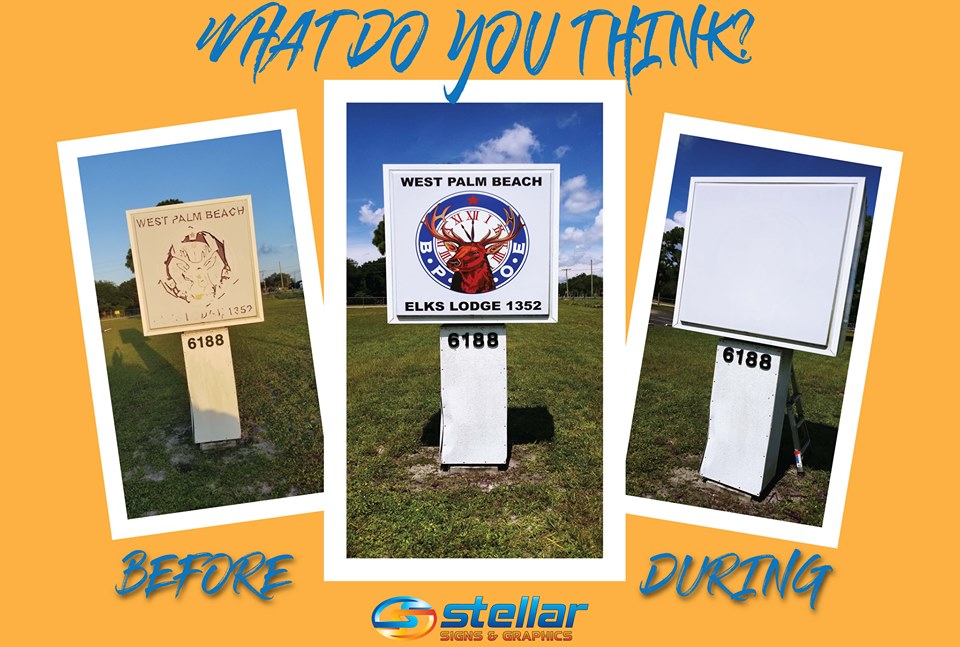 West Palm Beach Elks Lodge #1352 is a wonderful place to host an event! Located at 6188 Belvedere Road, the lodge has been a pillar of the community for over a decade. In addition to simply being a great venue to gather with friends and family, Elks Lodge offers a myriad of programs including youth basketball programs and programs for veterans.
"Elks Lodges bring so much more to their communities than just a building, golf course or pool," informs their website, "They are places where neighbors come together, families share meals, and children grow up. Elks invest in their communities through programs that help children grow up healthy and drug-free, meet the needs of today's veterans, and improve the quality of life."
Your signage should reflect your reputation.
With Elks Lodge having such a stellar reputation in its community, it deserves to be represented by high-quality signage. However, up until recently, that wasn't exactly the case for their Belvedere Road location. As you can see in the image above, its monument sign had gone many years without any repairs or refurbishments.
Needless to say, South Floridian weather can wreak havoc on outdoor signage. Between hurricane season and the often-extreme heat, a sign can look pretty damaged after a short period of time. As the above image also shows, the signage experts at Stellar Signs & Graphics were able to give the Elks Lodge monument sign a whole new life!
Earlier this month, we posted a blog that highlighted a few of the signs that show it's time to update your monument sign. Among them were the change of a company logo, a damaged or worn sign and a sign that was too small. Of course, there are many other valid reasons to update or refurbish your monument sign.
Does your monument sign look out of date?
Perhaps, the design of your sign simply isn't effective. Maybe it's not attracting enough eyes to give your place of business the attention it deserves. How does it compare to other signs in its area?
"Are the other signs in your area or along your street more attractive and appealing than yours?" asks TheSignChef.com, "Get with it! Modernize your look by 'spiffying up' your brand, or re-branding entirely. Add a touch of color, add some dimensional letters or make the sign itself 3-D. How about adding some custom lighting? Don't get stuck in the dark ages. Keep your brand alive!"
Let's get working on an updated version of your company's monument sign!
Contact the experts at Stellar Signs & Graphics today! We serve the business communities in and around Palm Beach County, West Palm Beach, Royal Palm Beach, Wellington, Lake Worth, Boynton Beach, and Greenacres, Florida. Give us a call at 561-721-6060.


Tags: Elks Lodge, monument signs, refurbish, repair, sign refurbishing, sign repair, signage, West Palm Beach


Categorised in: Monument Sign Letters, Monument Signs

This post was written by Bonnita Calhoun