16
May
2017
Published by Bonnita Calhoun Comments Off on What Advantages Do Vehicle Wraps And Lettering Have Over Billboards?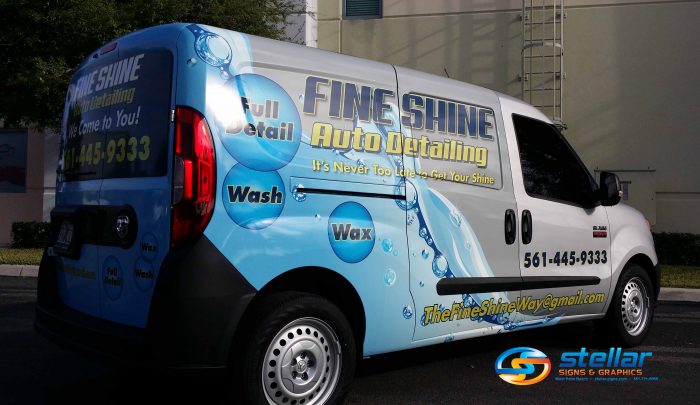 No matter the industry, there are so many different advertising methods for business owners to choose from. They are not, however, all created equal. Some marketing strategies are simply more successful than others. Business type certainly plays a factor. So, it's important for business owners to research their target audiences in order to know what types of advertising will most entice people interested in their products and services.
Some companies invest in billboards, knowing that countless drivers will travel past them each day. In many cases, billboards have been successful. But they're also incredibly pricey. As a result, other companies choose to drive the advertisements to the people instead of having the people drive to the advertisements.
We're talking about vehicle wraps and lettering! Certainly, you've seen them. Cars, trucks and vans complete with business logos, contact information and – in many cases – elaborately designed advertisements work wonders in bringing more attention to companies. Naturally, with vehicles, these advertisements travel. Wherever the vehicle goes, the company is advertised!
What are the advantages of vehicle wraps and lettering over billboards?
They are highly-visible, cost-effective advertising methods. As mentioned, billboards are expensive. Industry research has determined that the cost per 1,000 impressions is $3.56 for one billboard. Meanwhile, for the same 1,000 impressions, a vehicle wrap will only cost 35 cents.
They reach a wider audience. Obviously, vehicles can travel far distances while billboards are stationary. Depending on the number of vehicles you choose to use, how far they travel and how often they're on the road, you have the ability to reach hundreds of thousands of viewers each month!
They grab attention without being aggressive. Vehicle wraps are designed to be brightly colored and attractive so that the vehicles clearly stand out from all of the others on the road. And while they are great at grabbing the attention of drivers and pedestrians alike, they aren't intrusive in the way that radio and television commercials are. Vehicle wraps don't interrupt what you're doing – they offer a less "in your face" approach to advertising.
What are the different types of vehicle treatments that are available?
At Stellar Signs & Graphics, we offer a number of options so that you can select the one that best suits your business needs.

Full wraps, as the name implies, covers your entire vehicle. They can incorporate a wide variety of colors and informative content to clearly display your marketing message.

Partial wraps are cost-conscious ways of utilizing the already-established color of your vehicle. If the color blends well with your company's marketing message, only a partial wrap may be necessary to complete your advertisement.

Spot graphics are often used for vehicles that may not be owned by the company. In the event they need to be returned, sold or replaced, spot graphics for easy ways to temporarily use a vehicle to advertise your company.

Lettering is also available. Vehicle vinyl lettering is an ideal way to boldly display your company's name and logo to garner the full attention it deserves.

The vehicle wrap experts at Stellar Signs & Graphics serve the business communities in and around Palm Beach County, West Palm Beach, Royal Palm Beach, Wellington, Lake Worth, Boynton Beach, and Greenacres, Florida. Give us a call today at 561-721-6060 to discuss our vinyl wrap materials for your truck, car, trailer, boat or any other vehicle of your choice to advertise your business!


Tags: Types of Vehicle Wraps Available for Companies in Southwest FL, Vehicle Wraps and Lettering, Where To Buy Vehicle Wraps For Companies in Southwest FL, Why Invest in Vehicle Wraps for Companies in West Palm Beach FL


Categorised in: Van Wraps, Vehicle Graphics, Vehicle Graphics Palm Beach County FL, Vehicle Magnets, Vehicle Vinyl Lettering, Vehicle vinyl window perf, Vehicle Wraps, Vehicle Wraps Palm Beach County FL

This post was written by Bonnita Calhoun