30
Jan
2018
Published by Bonnita Calhoun Comments Off on How Can Vinyl Become A Money-Saving Business-Booster For Your Company?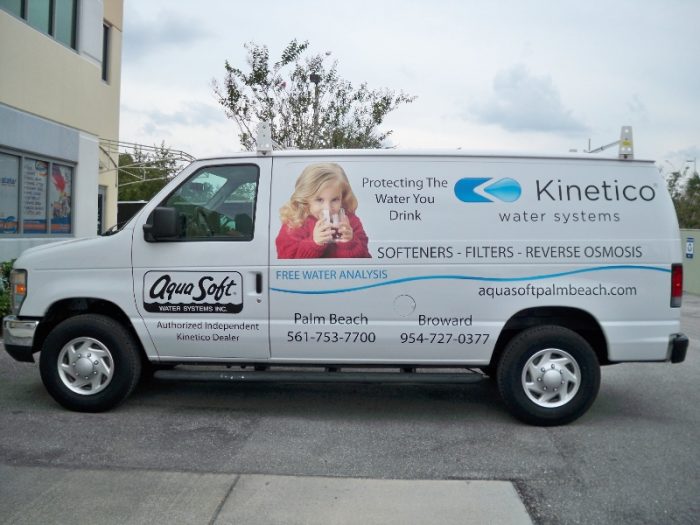 At Stellar Signs & Graphics, we have a lot of experience working with vinyl. And, no we're not a group of DJs! As cool as that sounds, vinyl records aren't our forte. Our expertise in the world of vinyl has everything to do with vehicle wraps and window graphics. From our vantage point, vinyl can actually be considered a money-saving business-booster for your company!
Vinyl can turn your company vehicle into a mobile advertising powerhouse!
When you decorate your company car, truck, van or even boat with vinyl-based vehicle wraps and lettering, you effectively turn it into a moving billboard. Because your vehicle has the obvious advantage of being able to travel (unlike traditional billboards), it has the potential of reaching more customers than any other form of advertising signage.
Complete with your company's logo, contact information, website address and list of services, a strategically created design for your company vehicle can significantly increase your company's ability to be recognized. Not to mention, studies have shown that vehicle wraps are the most cost-effective ways to promote a business. At just 35 cents per 1000 impressions (compared to $3.65 per 1000 impressions for billboards), the savings are abundantly clear!
Vinyl can turn your storefront into an attention-grabbing, foot-traffic builder!
Vinyl-based window graphics are incredibly affordable ways to add attractive signage to your place of business. Because they are not permanent and can be removed at any time, they give you the option of changing the designs of your windows as often as you like. Furthermore, they don't take up any additional space on your property the way others signs do. Window graphics allow you to utilize existing surfaces at your business to display your company message and attract walkers-by.
Window graphics and lettering are great for all business types – especially those that wish to regularly update their branding. In other words, whenever you have a special sale or in-store event, you can advertise it by using the space you already have – your windows! Another great aspect of this signage is that it provides you with added privacy. People can't see in, but you can still see out!
You have many options when it comes to your vinyl-based signage projects!
At Stellar Signs & Graphics, we customize each project to uniquely match your company's specifications with regards to style, size, images, colors and shapes. Our signage experts serve the business communities in and around Palm Beach County, West Palm Beach, Royal Palm Beach, Wellington, Lake Worth, Boynton Beach, and Greenacres, Florida.

Please don't hesitate to give us a call at 561-721-6060 today!


Tags: vehicle wraps, Vehicle Wraps and Lettering, vinyl, window graphics, window graphics and lettering


Categorised in: Vehicle Vinyl Lettering, Vehicle Wraps, Vehicle Wraps Palm Beach County FL, Vinyl Graphics, Vinyl Signs, Vinyl Window Graphics, Vinyl Window Graphics Palm Beach Gardens FL, Vinyl Window Wraps

This post was written by Bonnita Calhoun