11
May
2021
Published by Bonnita Calhoun Comments Off on Helping 1st Mortgage Solutions With A 1st Class Marketing Solution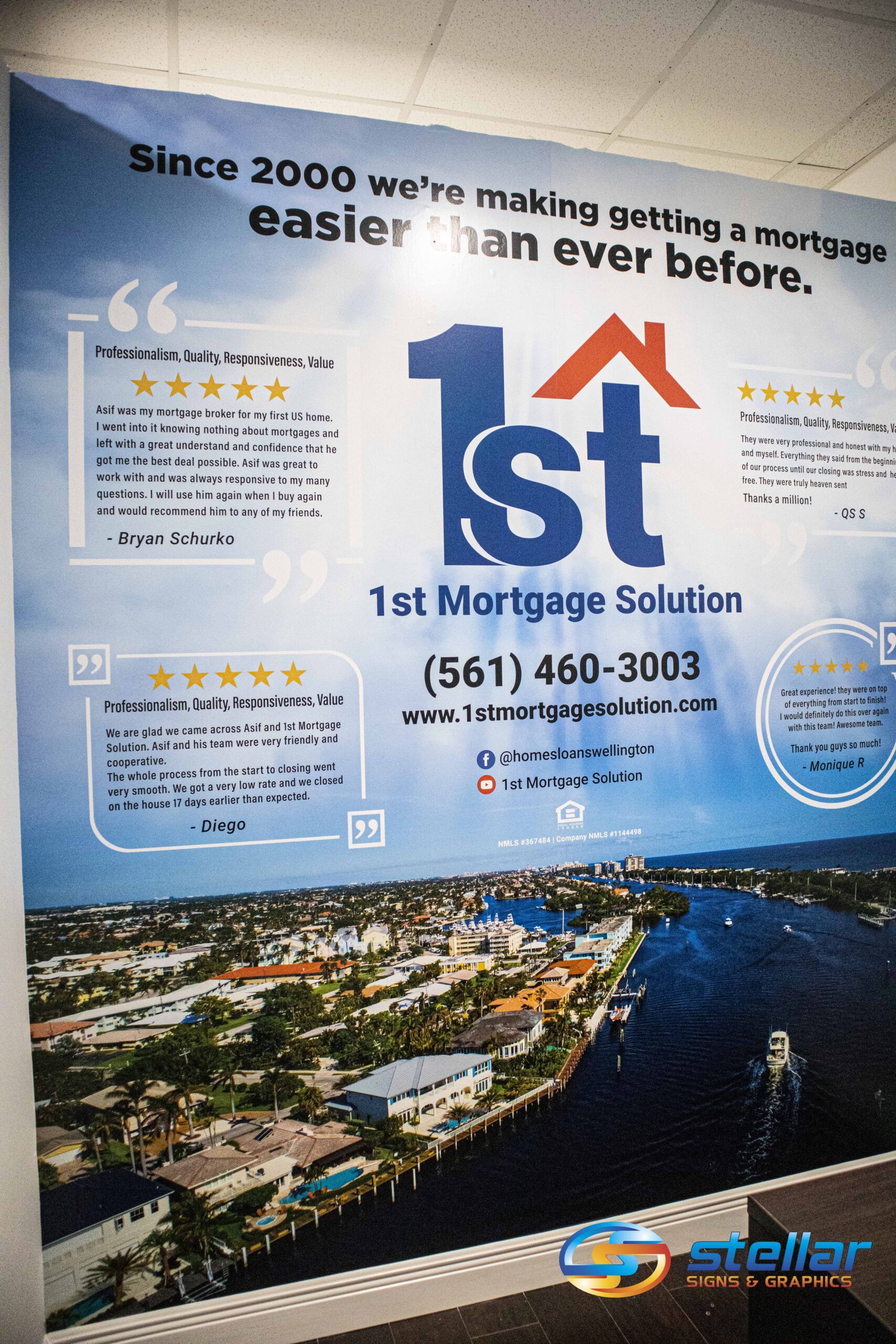 Are you hunting for a new home? Are you looking to sell your current property? Whether you're buying, selling, refinancing or building your dream home, you have a lot riding on your loan officer. Since market conditions and mortgage programs change frequently, you need to make sure you're dealing with a top professional who is able to give you quick and accurate financial advice. These are the confident words of 1st Mortgage Solutions.
1st Mortgage Solutions is a team of experienced loan officers.
They have the knowledge and expertise you need to explore the many financing options available. Ensuring that you make the right choice for you and your family is the ultimate goal of 1st Mortgage Solutions. Their team is committed to providing its customers with mortgage services that exceed their expectations.
The Stellar Signs & Graphics team had the good fortune of recently working with 1st Mortgage Solutions. We beautified not one, but two of their offices with large and eye-catching wall branding. To complete the project, we added 3M IJ40 vinyl that was full color prints with 3M lamination to the office walls. As you can see from the photo above, the end result was an unmistakably eye-catching piece.
Of course, this wall branding project does more than just simply catch the attention of visitors of the 1st Mortgage Solutions offices. The image vividly and proudly displays the company's penchant for making it easy for people to get mortgages. This is made obvious by its heading, "Since 2000, we're making getting a mortgage easier than ever before."
We really love that the 1st Mortgage Solutions wall branding project contains testimonials.
In our estimation, this is one of the best ways to get visitors of their offices to gain confidence that they're working with the right mortgage company. Testimonials have long been known to be received as genuine responses to businesses and the work they do. Who better to believe than others who have experience with the company you're considering?
"Asif was my mortgage brother for my first US home," testified Bryan Schurko in his 5-star review, "I went into it knowing nothing about mortgages and left with a great understand and confidence that he got me the best deal possible. Asif was great to work with and was always responsive to my many questions. I will use him again when I buy again and would recommend him to any of my friends."
Would you like to start work on a wall branding project for your office?
The experts at Stellar Signs & Graphics serve the business communities in and around Palm Beach County, West Palm Beach, Royal Palm Beach, Wellington, Lake Worth, Boynton Beach, and Greenacres, Florida. Give us a call at 561-721-6060 today!


Tags: 1st Mortgage Solutions, branding, buying, mortgage, new home, property, selling, testimonials, wall branding, Wall Murals, wall signage


Categorised in: Wall Lettering, Wall Murals & Graphics, Wall Signs

This post was written by Bonnita Calhoun