13
Oct
2020
Published by Bonnita Calhoun Comments Off on Helping Friends Of Palm Beach To Beautify The Community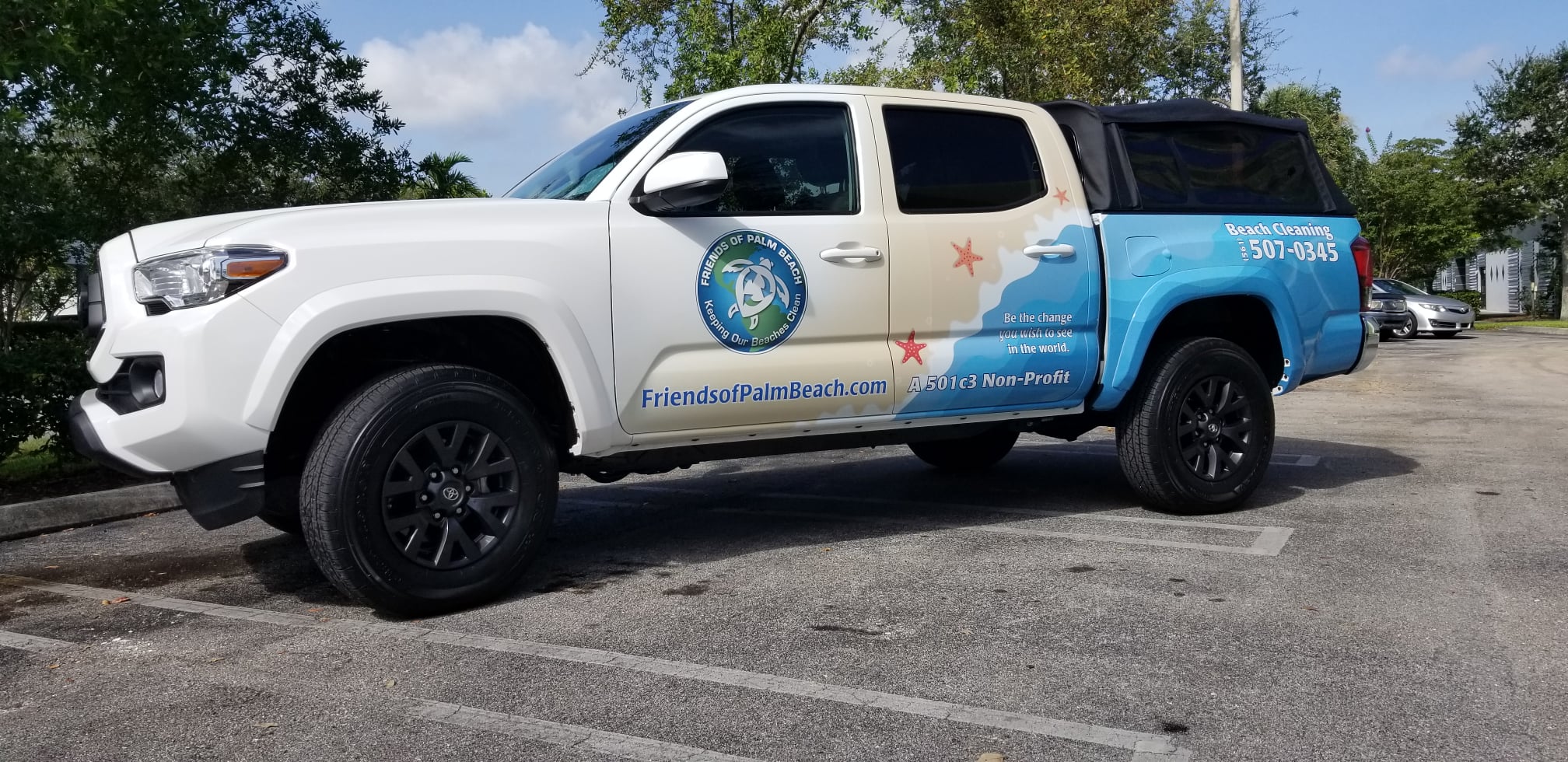 Friends of Palm Beach is a wonderful organization that cleans the beaches of Palm Beach regularly. They remove incoming plastics, trash and unnatural debris. However, they also educate the community about the effects of pollution on our environment and marine life. Their slogan, "Be the change you wish to see in the world," calls upon others to do their part to protect and preserve the environment.
"Most of you know our beaches are littered with incoming trash and marine debris," proclaims the Friends of Palm Beach website, "This causes a serious threat to the health of our ecosystem and to the amazing creatures that reside in our ocean…Whether it's a monthly volunteer event or our weekday cleans with our crew, we seek to eliminate incoming ocean trash from our beach."
Check out the Friends of Palm Beach pickup truck!
Take a look at the photos both above and below. The Stellar Signs & Graphics team is proud to have recently completed a vehicle wrap project for Friends of Palm Beach. The new graphics for their pickup truck was designed by graphic designer, Melanie Haskell. Our team completed the printing and installation. Melanie has over 15 years of experience in the graphic design industry. She has worked in nearly every stage of print and digital graphics.
Her design philosophy is simple. "It doesn't matter how pretty your graphics are: if a design doesn't communicate its message quickly and easily, it is worthless," says Melanie on her website, "The ultimate goal is to deliver your message to your audience effectively. My objective is to do that beautifully."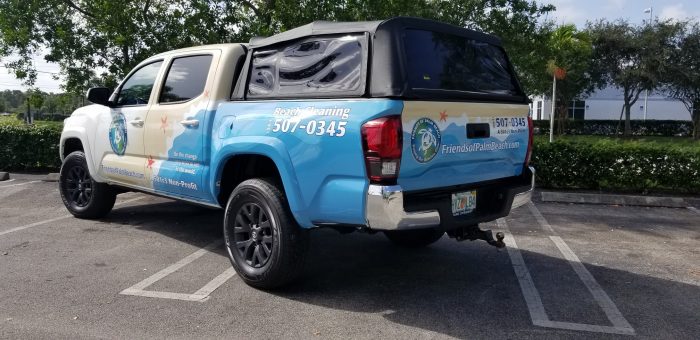 This vehicle wrap conveys the beauty of the Friends of Palm Beach mission statement.
Friends of Palm Beach has been performing beach cleanups in their community since May of 2013. Their wonderfully-designed vehicle wrap showcases a "clean" look with a pollutant-free beach and pure blue waters. As Melanie points out, an effective design must convey a message. In addition to the clean beach is the Friends of Palm Beach slogan. The design also displays their declaration of being a non-profit organization and, of course, their website and phone number.
If you want to get involved with Friends of Palm Beach, give them a call at 561-507-0345 or email diane@friendsofpalmbeach.com.
Do you have a vehicle our team can beautify with your message?
The experts at Stellar Signs & Graphics serve the business communities in and around Palm Beach County, West Palm Beach, Royal Palm Beach, Wellington, Lake Worth, Boynton Beach, and Greenacres, Florida. Please don't hesitate to give us a call at 561-721-6060 today!


Tags: beach cleaning, Friends of Palm Beach, graphic design, Melanie Haskell, pickup truck, vehicle graphics, vehicle wrap, Vehicle Wraps and Lettering


Categorised in: Vehicle Graphics, Vehicle Graphics Palm Beach County FL, Vehicle Wraps, Vehicle Wraps Palm Beach County FL

This post was written by Bonnita Calhoun