26
Jul
2022
Published by Bonnita Calhoun Comments Off on Helping Saylor Physical Therapy Patients To Find Their Way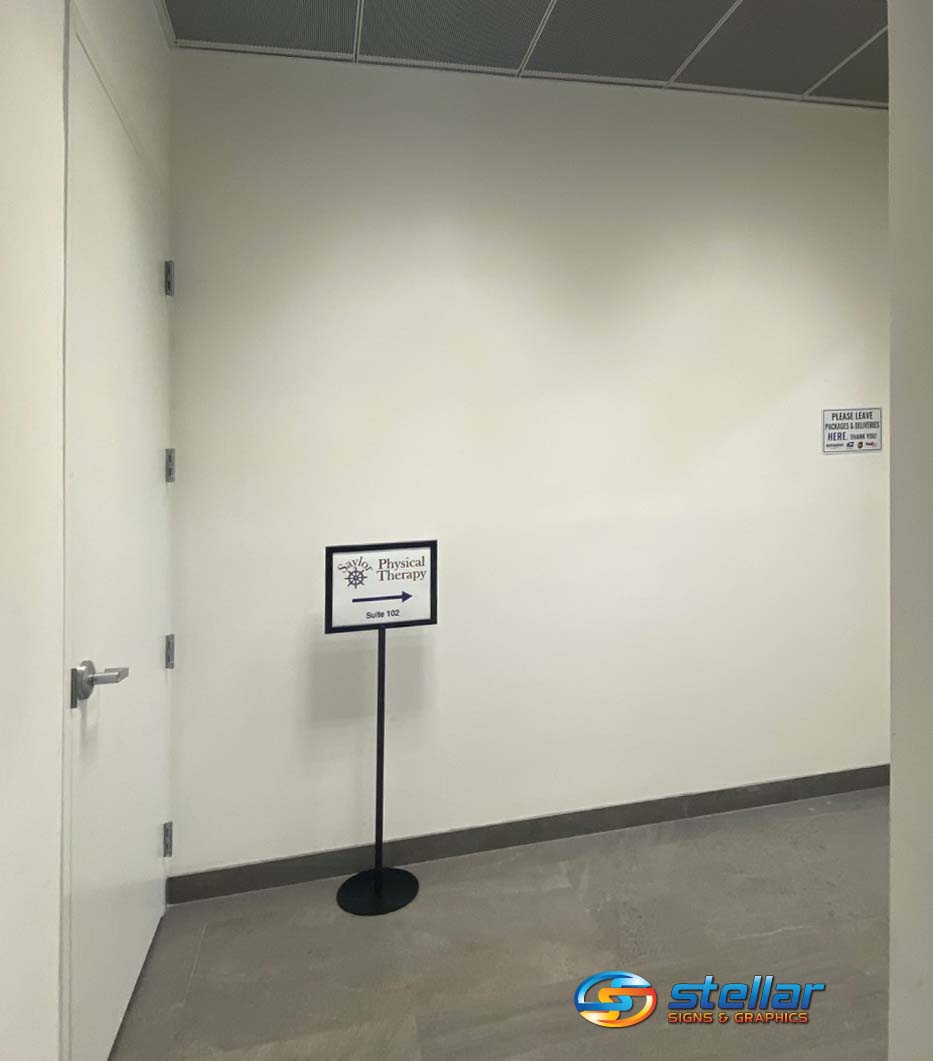 Saylor Physical Therapy is an independent outpatient physical therapy clinic. It has several locations throughout Florida and North Carolina. They are dedicated to being a quality-based as opposed to quantity-based clinic. Specializing in trauma, sports, work-related and pre and post-surgical cases, the Physical Therapists at Saylor Physical Therapy pride themselves on providing individual care.
Their ONE-factor method of care is based on each patient's comprehensive situation. Patients who visit Saylor Physical Therapy clinics receive one-on-one treatment visits and access to private therapist treatment rooms. As a result, they enjoy decreased recovery time and a continuum of care. "Our ultimate goal is your functional return to a pre-injury lifestyle," declares Saylor Physical Therapy.
Check out the new Saylor Physical Therapy pedestal stand!
The Stellar Signs & Graphics team is very happy to have recently completed a small project for Saylor Physical Therapy's Jupiter-based clinic. We were told that many of their clients were having some difficulties finding their office. It happens to be located around a corner and at the end of a hallway.
To remedy the situation, our team constructed a 14×11 pedestal stand. Very simply, it contains the clinic's logo, suite number and an arrow that points visitors of the clinic in the right direction. With this new pedestal stand, Saylor Physical Therapy's clients now have a very easy way to find the clinic.
Sometimes the smallest things make the biggest impacts.
The Stellar Signs & Graphics team has long been known to construct some of the most elaborate signage projects for businesses all over Palm Beach County. We must say, however, that we're quite proud of this little project because of its extreme usefulness and functionality. It reminds us of the small gestures that we should offer each other every day.
We recognize that Saylor Physical Therapy's new pedestal sign is a small one. By the way, it can easily be changed with new information when needed. Therefore, it can serve many functions and be very helpful with directing people where they need to go.
Holding the door for a stranger is a small gesture. Offering someone a kind compliment is another. But both have the ability to make someone's day. Our team is glad that we are able to help Saylor Physical Therapy's clients have better days thanks to their new pedestal sign.
Looking to have a signage project completed for your business?
The experts at Stellar Signs & Graphics serve the business communities in and around Palm Beach County, West Palm Beach, Royal Palm Beach, Wellington, Lake Worth, Boynton Beach, and Greenacres, Florida. Please don't hesitate to give us a call at 561-721-6060 today!


Tags: clinic, health care, office, pedestal stand, physical therapy, Saylor Physical Therapy, signage, signs, wayfinding, wayfinding signage


Categorised in: Office Signs and Graphics, Wayfinding Signs, Welcome Signs

This post was written by Bonnita Calhoun