14
Nov
2016
Published by Bonnita Calhoun Comments Off on Illuminated Lobby Signs in West Palm Beach FL Great for Insurance Companies!
When you want to go for the gusto and impress clients who visit your office, illuminated lobby signs in West Palm Beach FL, are an excellent product selection. They are still unusual enough that they instantly make your setting stand out in the minds of those who have visited there. Moreover, these signage solutions add a good deal of pizzazz to any setting. What do you need to know about lit reception area signs today?
Top Three Design Choices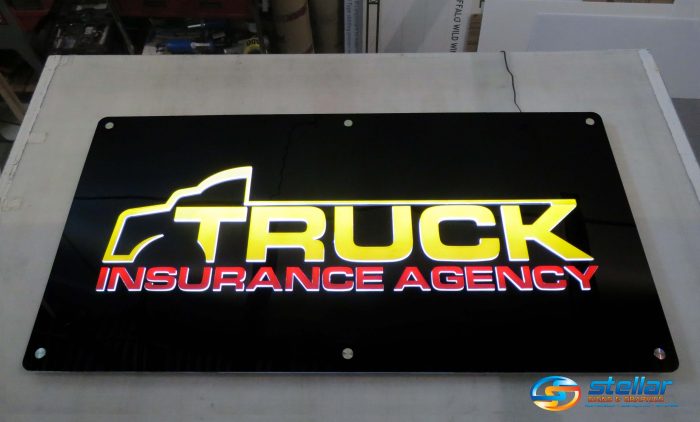 When ordering this signage solution, there are usually three product options most clients prefer.
Backlit LED board. The technology involved in this design mimics that of a lightbox cabinet. Rather than featuring a large metal box, however, this part of the construction is frequently reduced to a sleek frame or nonexistent with the technology being hidden behind the board. In the case of the Truck Insurance Agency, we designed the product to feature an overlay that displays the name and logo of the business with slight white framing around the letters for a dimensional appearance. The rest of the board is black, which makes the red and yellow colors stand out once the LEDs turn on.
Push-through acrylic letters. When you favor a larger, 3D presentation, we can accommodate your taste. Choose from an acrylic or metal panel. Next, we create acrylic letters that push through from behind the board. With the LEDs being hidden inside the board itself, the light escapes through the lettering. We recommend creating this type of signage display with unusual shapes to heighten the visual appeal.
Channel letters. Scaled down to suit the dimensions of an office's interior, these channel letters are quickly catching on in popularity. Business owners like the idea of having a lobby marker that copies the appearance of the building sign. Other companies opt for a look that is completely different from what they currently use as exterior signage.
Incorporating Lights into Standard Lobby Sign Displays
Another form of illuminated lobby sign has little to do with the integration of light sources into the design of the marker and everything with the way the elements work with the light that is already there. Case in point is the addition of dimensional letters. When you train a spotlight at a sign made up of these elements, you create shadow play. To boost the shadow formation, we install letters made of sign foam, which we can use to put together displays measuring up to three inches in thickness. When you add this look to an acrylic board and pick standoffs as your mounting hardware of choice, the resulting presentation is nothing short of stunning and eye grabbing.
How to Order Your Lit Lobby Sign
Whether you need lobby signs for retail, financial, health, service, or insurance companies in West Palm Beach FL, contact our experts for assistance. If you have decided that you want to try illuminated products, we can show you what your marker could look like on paper before you commit to the purchase.
Call us today to find out more!


Tags: Illuminated Lobby Signs in West Palm Beach FL Great for Insurance Companies, Lobby Signs For Insurance Companies in West Palm Beach FL, Where To Buy Illuminated Lobby Signs in West Palm Beach FL


Categorised in: Illuminated Lobby Signs, Illuminated Signs, Lobby Signs

This post was written by Bonnita Calhoun